Spinomenal Games - Interesting Facts That You Need To Know
Spinomenal
Table Of Content:

Facts About Spinomenal Slot Provider
Spinomenal slots provider is an online casino game provider founded in 2014, with assets of more than 100 gambling games. The Spinomenal Gaming company also offers roulette and lottery games in addition to its slots. The company's primary goal is to produce high-quality, engaging, multi-platform online Spinomenal slots. All games are integrated with modern HTML5 technology and suitable for any electronic device to provide an enjoyable gaming experience.
Spinomenal slot machines are available on a variety of social media platforms as well as popular online casino locations. It is estimated that more than 2.5 million players have spun Spinomenal slots around the world. It shows that the company providing this game is doing its job very well and that Spinomenal gaming products are in high demand.
What Makes Spinomenal Slots Appealing To Many Players?
Every game that Spinomenal gaming offers has free trial versions that encourage players to experience before wishing to spend real money to bet. Of course, nobody doesn't like free and available things. Therefore, Spinomenal slots of free play are the best opportunity for fun and fastest learning.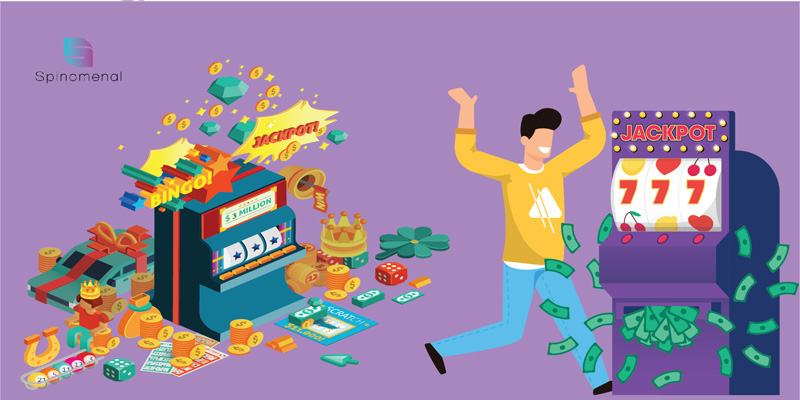 Spinomenal slot machines demo version also offers free bonuses or other features identical to the paid version. Using the search engines available on online casinos, you can spin Spinomenal slots reels free play without spending any money. Some Spinomenal gaming demo versions you can try spins like 8 Lucky Charms slot, Demi-Gods slot, Fire & Ice slot, Slot Bound slot, etc.
How To Evaluate Attractive Spinomenal Slots
Spinomenal Casino is known for its production of engaging and innovative video slots. The quality of Spinomenal gaming is considered to be excellent thanks to the top-notch HD graphics solutions, realistic animations, and beautiful background music. In addition, features including winning multipliers, icons stacked, moving features, and growing icons are also reasons for the huge player base. You do not have to worry too much when you are not sure which Spinomenal slot machines should be best to play; we have a few good suggestions that you can refer to:
Forest Harmony Slot
Enter a magical world full of mystery. You will have to unleash the power of light and darkness to transform the game's scroll icons into evil beasts or benevolent creatures. This is considered one of the slots with the best graphic design and attractive gameplay of Spinomenal gaming.
Viking Glory Slot
Attractive features include a two-way payline, scatter symbol, wild symbol, and free spins, which will bring excitement as players embark on a Nordic adventure in Vikings Glory slot. Winning in the game is also very attractive, with jackpots up to 4,000X.
Terracotta Wilds Slot
This game offers 5 standard reels and 100 paylines that work staggering, meaning players have multiple ways to win great prizes and payouts. Wild symbol in-game features maximize your chances of winning.