Top Helpful Slot Machine Tips From Expert
Top Helpful Slot Machine Tips From Expert
Last updated Monday, 02/11/2020 08:08 by Thomas Andrei
Table Of Content:

A slot machine (sometimes referred to as a poker machine, or pokies in Australia and New Zealand) is a gambling machine with spinning reels. Each reel has a certain set of symbols on it, and will land randomly upon placing a bet and spinning the reels. If those symbols line up and fulfill the requirements, you will win prizes according to the game rules.
Originally, slot machines were mechanical devices that relied on springs and gears to control the reels. However, this outdated mechanic limits the variety of symbols, gameplay and prizes that a slot can offer. For instance, the brick-and-mortar slot machine can hold up to 5 reels at once, each one has around 10 symbols. The chance for 5 Lucky 7 on a winning line, hence, should be 0.001%. Still higher than today's slots, though.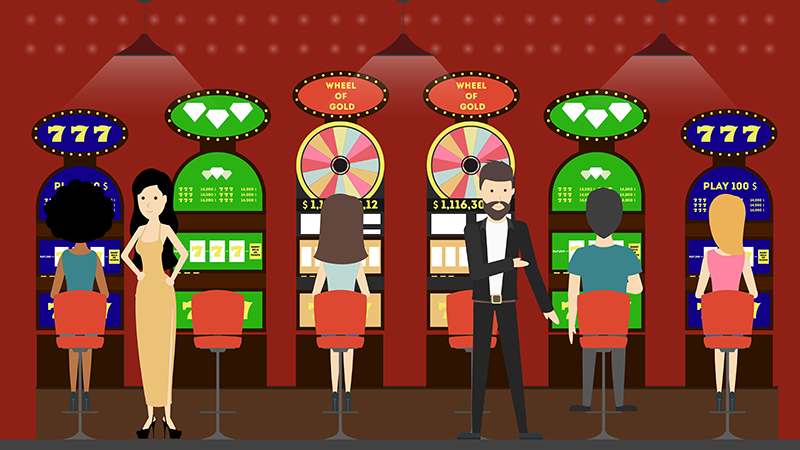 Modern slot machines use a computer program called Random Number Generator, or RNG, to determine which symbols land where. Whenever you spin, the program will generate a random number from thousands of cycled numbers, corresponding to how the symbols appear on the reels. With the new system implemented, today's slots can offer more reels, different layouts and change the landing frequency of each symbol. In another word, the recurrence of each icon isn't physically affected by the reels anymore, but can be programmed by the gaming providers and casinos instead. This opens up the chance for more engaging bonuses, features and prizes, especially the progressive jackpots.
So, what is a slot machine? A slot machine is a mechanical device that has multiple reels with a certain set of symbols on each reel. Once you spin (or press the play button, pull the lever, etc.), a program called RNG will randomly generate the outcome of that spin and indicate the result on the screen. Win or lose, let fate decide. Isn't that why gamblers all around the world deeply fell in love with this game of chance?
How We Categorize Our Slots
Based on our first-hand experience and what we have researched into the gambling industry, we could categorize slots into 4 types, depending on the distinct dissimilarities between them. Let's take a closer look at our findings.
Slot machines, as we named it, initially can only be played by putting one or more coins into a slot and pulling the handle. They were also called one-armed bandits, as the machines resembled the figure of a man with only one arm, and they took away your money with very little chance of paying back. Depending on the denomination of the coins, we can classify the most common slots into penny slots, nickel slots, quarter slots, dollar slots and high limit. Going for the right denomination is necessary to play in the long term, especially if your bankroll is limited.
By Layout
Head into the game, and you will find countless different slots with various themes, graphics and gameplay. However, their layouts do not differ that much, with only a certain number of reels and rows. Traditional slot machines have 3 reels and 1 row, while the more advanced ones have 5, 6 or 7 reels with additional rows beside the middle line. Things would have been easier to understand like that if it wasn't because of an unexpected event.
In 2016, Big Time Gaming introduced Bonanza, the first-ever slot game that integrated the Megaways, a game-changing feature that shook the entire gambling industry and continued to amaze the gaming world to this day. This was also the birth of changeable reels slot games (as we called them), with a different number of symbols on each reel for every spin. With a little calculation, for a 6-reel slot with Megaways enabled like Bonanza, there are 117,649 ways to win in the game, much more generous than the standard 20, 25 or even 40 paylines. Isn't that so sweet?
By Game Type
Another classification that we considered is the game types. Basically, there are 4 types of slots that we can come across: classic slot, video slot, progressive slot and 3D slot.
Classic slots are those old-school 3-reel machines that focus on the gambling feel rather than the outer design or the storyline. Your thrill comes from the mechanical sound of spinning reels and the ka-ching of coins spilling out from the payout tray.
Video slots are similar to the classic ones, but with a more engaging look. You can still enjoy the game while immersing yourself in its impressive design.
Progressive slots are either one of those above categories but with a progressive jackpot attached. A small percentage of your wager will contribute toward the big prize, and all the progressive slots are linked together to form one progressive jackpot only. The more players take part in the game, the higher the jackpot will be.
3D slots are the most advanced ones among all the aforementioned slots. They come with great graphics, a storyline of their own and very complex gameplay sometimes. Basically, they are a mixture of modern video games and the usual video slots.
This classification is more subtle than the previous two, as players have to actually play the game to figure out which one they are staying on. Nevertheless, it is still recognizable, unlike the last category that's about to be mentioned in our next paragraph.
By Slot Machine Type
This categorization is based mainly on the gameplay. There are 4 types of slot machines according to what we have experienced: the single-coin, the multiplier, the buy-a-pays and the progressive slot machine.
Single-coin slot machines are the slots that require only 1 coin or anything of such to fully operate. The classic slots are the most common examples of this category. Players need only one coin to spin and all the features are enabled. Well, those classic slots don't have anything to enable actually.
Multiplier slot machines are similar to the single-coin ones, in terms of operating requirement. However, each additional coin wagered will multiply the payout by one more time. For instance, a single coin will give you a 1x multiplier, while 2 or 3 coins will increase the multiplier by 2 or 3 times.
Buy-a-pays slot machines refer to the ones that have more than one paylines. However, unlike the multiplier slot machines, each additional coin wagered will unlock more winning combinations (or payline) instead. Players often go with the maximum paylines for more chances to win, but sometimes they prefer playing with one payline only. In this case, buy-a-pays slot machines are no different than the single-coin ones.
Progressive slot machines may be the easiest ones to recognize, due to the massive jackpot board blinking on top of every slot. However, some slot machines have their boards hidden inside the game, unlike the majority of this kind. Players should play with caution, as this type of game is harder to hit and cost more than the regular slot game.
How to Pick a Slot to Play
Choosing a suitable slot is and will always be a challenging task, as your income is directly affected by your decision. There are many ways to do this, but we have narrowed them down to just 5 main indicators: RTP, variance, paytable, paylines, and betting range (or denomination).
By RTP
So, what is RTP? RTP stands for Return to Player, a theoretical percentage in which the player receives that maximum value on average compared to how much they have wagered, if they win. For instance, an RTP of 96% indicates that for every $100 put in the game, a maximum of $96 will be paid out. However, there are a few conditions to this. Since this is a theoretical number, the actual figure will almost be lower, depending on how many times players have bet in this game. The other condition is that the RTP can only be applied if the players win the game many times, or if many players win at once (that's why we put the term "on average" there). For more details, take a look at what is RTP and how RTP works.
An RTP is considered to be high if it's over 96%, and that's the goal players should aim for. Higher RTP means higher prizes, and who doesn't love some big bucks? However, there's more to think about than just the RTP, as the RTP only indicates how MUCH you would win, not how OFTEN you would win. And that's where variance shows up.
By Variance
Variance, as the name stated, indicates how much A varies from B. In this case, A and B stand for the small wins and big wins, or the low risk and high risk, whichever way you decide. There's a saying in economics: "High risk high reward", meaning that in order to gain more, you must sacrifice more. The same rule applied to gambling: to land on some big wins, you must offer something in exchange, which is your time and money in this situation. Low variance means you will gain more time to play with a lower wagering cost overall (small bet) at the expense of frequent small wins, and vice versa. Feeling dizzy yet?
By Paytable
Let's loosen up with some eye-catching gemstones from Starburst slot's paytable.
>>>>
Is there anything special here? Why do all the payouts are quite close to one another? What does that mean?
There is a faint connection between paytable and variance. The small wins (or low payouts in this image) make up a majority of the paytable, meaning that most of the time your prizes will come in trivial amounts, which also serves as an indicator for the low volatility of the slot. However, the variance can be determined by many other factors such as how many symbols are there, what are the differences between low pay group and high pay group, what are the in-game features and bonuses; the list goes on. Since the developer does not indicate the variance directly in their games, looking at the paytable is a good way to guess how often you will grasp that big and juicy jackpot.
By Paylines
The paylines are your paths to glory, and your keys to Santa's gift boxes. Payline - You will get paid if the symbols land on a line. That's how it used to work. With the more advanced and complex slot games, the definition has changed. Players no longer need to line up the symbols anymore, instead the paylines can come with various patterns. We have categorized them into 3 groups: the conventional ones, the all-ways and the megaways.
Conventional paylines are the ones that come with a small amount, usually smaller than the maximum paylines possible, i.e. 20, 25, 40 and so on
All-ways is the maximum paylines possible in a slot game, namely the 243 ways, and it can land from either left to right or right to left
Megaways is a new type of paylines, and it always comes with a changeable-reels slot
By Betting Range and Denomination
The last category that we want to mention is the betting range and denomination. You cannot bite off more than you can chew, and that's why these aspects are so important to every gambler. So what are those, and why do they matter so much?
Betting range is the minimum and the maximum that you can wager in a slot game. A wide betting range will account for most slotters and their bankroll limits, while a narrow one will leave players with fewer options to choose from. If your bankroll limit is $1000, will you go for ten $100 spins, or one hundred $10 spins? Of course it's up to your liking, but this is still something to be considered about.
Denomination, on the other hand, is the price of your entrance ticket. The higher the denomination, the more costly your bet will be, but the overall prizes will also be larger. There are 5 main denominations for slot games in circulation, specifically the penny, nickel, quarter, dollar and high limit.
Enjoy Slots Free Play on Our Site
"Knowledge without practice is useless. Practice without knowledge is dangerous". That's why we want to introduce all gamblers to our site, a place where you can enjoy all the newest and hottest slot games, on the house! In addition, slot game enthusiasts are entitled to a plethora of intriguing welcome packages and deposit bonuses (?), exclusively on CasinoMentor. What are you waiting for?
Some Tips and Myths about Slots
Now you have some rough answers of what slot games are, how to classify a slot game and how to choose a suitable slot, let's move on to the most important question: How to play a slot in the smartest and most efficient way? We have written down a complete guide to all the slot tips and tricks on our page, and you can have a look by clicking on this link. Still feeling fuzzy about what's to expect? Here are some hints for you:
Do you want to waste all your time and money on some slots that seem to never pay out?
Have you ever wondered why those massive jackpots are so hard to get? Can you do anything about it?
Is there any difference between the "tight slot" and the "loose slot"?
Is there anything called a hot/cold slot machine? A due slot?
And so much more...
Whether you are a hard-edged gambler, or just a newcomer to this game of chance, no one knows exactly how to beat the game. Our guide is only the knowledge and experience of many experts and reviewers putting together, but has proven to be helpful to many of our readers ever since, and you are welcome on board.
Choosing the Best Slots by Provider
Different software providers have different ways to design their slot games. Slotters, therefore, are given so many options to choose from, depending on what they want from the slot itself. Long for a game with state-of-the-art graphics and engaging gameplay at the same time? Try out our NetEnt free slots here. How about bagging some big bucks for yourself? Say no more, Yggdrasil Gaming slot games are the ones for you. What about slot games with rich storylines and unique themes? WMS Gaming slots, of course. The detailed list about all the top providers will give you all the information you need to refine your choice. Check it out, and you won't be disappointed.
Published: 02 November 2020 08:08