RTP for Dummies: Understanding Return to Player of Slot Games
RTP for Dummies: Understanding Return to Player of Slot Games
Last updated Monday, 02/11/2020 08:20 by Thomas Andrei
Table Of Content:

Return to Player for Dummies
Fact: one of the most searched terms in gambling vocabulary is RTP. RTP stands for Return to Player. This mysterious variable exists in every aspect of the multi-million industry: casino games are built around it, gaming operators reap massive profit from it, gamblers go crazy about it. So, what made this 3 - letter word so significant to all of us, especially to you - one of our readers?
RTP in a Nutshell
As the name itself suggests, it is an indicator of how much money will the game return to the player. In a more specific and terminological way, RTP represents the long-term statistical percentage of total wagered cash returned to winners. There are 3 things to take note of:
Statistical percentage: RTP is statistically calculated, hence the amount of money you can receive cannot exceed this RTP, or come close to this number
Long-term: Since RTP is based on statistics, the population must be large enough. Therefore, either the number of players must be tremendous, or the number of times played per player must be equally significant. In another word: Long-term
Winners: Players need to win for the RTP to be relevant. Whether gamblers win or lose is determined by RNG - Random Number Generator, and that's a story for another time
Now we have had a rough understanding of what RTP is, let's move on to the next sections: How to find the RTP of a slot and Why does that matter.
How to Find the RTP of a Slot
RTP is expressed in terms of percentage, meaning that it must be based on at least 2 components. The first part is the total money wagered on that particular slot, from all the players involved. The second part is the total money returned to the winners. We get the RTP by dividing the latter one by the former one. The difference between those two parts is called the house edge.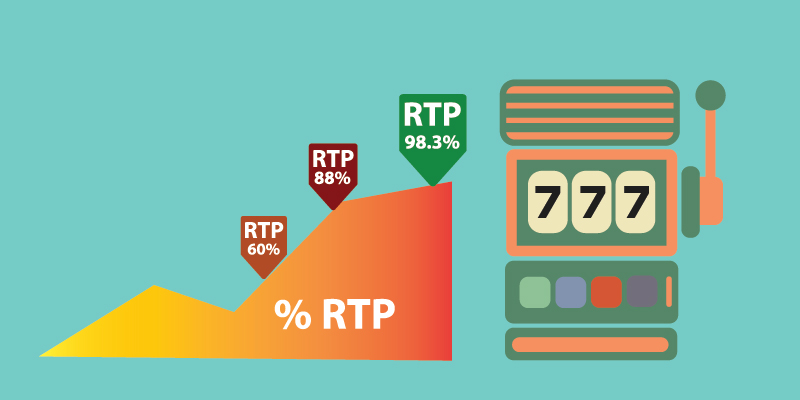 For instance, a 95% RTP means for every $100 wagered, $95 will be returned to the winners while the remaining $5 will be kept by the casino (house edge). We can see that a high RTP slot is more favorable to the gamblers than the casino operators, and vice versa. For online slots, the common rate of return is 96%, and most casinos choose this rate for their games. It's very hard to find a slot game with a higher-than-average RTP, which is often referred to as a "loose slot".
The Significance of RTP to Slots
All casino games are designed to have a negative expectation, meaning that players will never win in the long run. So why should we play slot games at all, if we are meant to lose?
The point is, slot is a game of chance, and isn't played in single player mode. Thousands of gamblers play the same slot everyday, but only a few of them can come home with a heavy pocket. It doesn't matter how many players win, the total money they won will always be, or come close to the RTP. What if you are one of the winners? Wouldn't you want a bigger slice of the slot pie? The only possible way to achieve that is by raising the RTP, or the total size of the pie. That's why gamblers rush to those slots with the highest payout percentage, hoping for a chance to keep that slice for themselves. And that's what makes slot games so exciting to play.
Remember, RTP IS NOT equal to the winning chance, hit chance or anything of such, like in what gamblers used to believe: Higher RTP means higher win rate. High RTP only partially reflects that your possible wins can cover most of your losses. Just because your balance is more or less the same whenever you look at it, doesn't mean you have won more often than usual. That's the job of the variance, or the risk-o-meter like we usually joke with our colleagues.
Land-based vs. Online Slots: Which One Has the Higher RTP?
Technically, land-based slots do not have a fixed RTP. The reason is, game developers usually offer a list of payback options for the casino to choose, and different operators will go with the payback that they strategized around. For example, WMS is offering Monopoly Party Train slot with three RTP options: 92.5%, 93.5% and 94.5%. Caesars Palace orders the 93.5% version, The Venetian goes with the 94.5% one and Treasure Island takes the remaining option. It will be difficult to determine the exact RTP for Monopoly Party Train slot, and some review sites just go with the middle one, which is 93.5%. However, this number is only true for those who ordered the 93.5% option, not for those who took the other two.
Online slots, on the other hand, are more rigid in terms of RTP. Most online game providers offer a unity RTP across all their casino operators. A 95% RTP means a 95% RTP, whether you play the slot on 888 Casino, BitStarz Casino or Magic Red Casino. There are some exceptions though. Gaming software developers can offer a few versions for a particular online slot here and then, but that's not often the case.
So, can you figure out the RTP of a land-based slot? The answer is, yes and no. You can look at the coin denominations of that slot to guess its approximate RTP. Here's our example of how it works:
Penny slot machines: 88% - 90% RTP
Nickel slot machines: 91% - 94% RTP
Quarter slot machines: 93% - 95% RTP
Dollar slot machines: 94% - 96% RTP
High limit slot machines: 95% - 97% RTP
However, some casinos use the same RTP bracket for slots that have relatively close denominations. Remember how we discussed the payback tiers of different denomination groups? That's why you should consider our example as a reference only, and determine the RTP as you play.
Top Slots with the Highest RTP
We are at the end of today's lesson. Now it's time for some practical examples. Let's see whether you understand the mechanics behind RTP by trying those top paying slots on our site:
Mega Joker: up to 99% RTP
Being a NetEnt classic slot with a fruity theme, Mega Joker has a changeable RTP that can rise up to 99%, a whopping payout ratio that all gamblers dream of.
Jackpot 6000: up to 98.8% RTP
Another classic slot from NetEnt with a similar design. Jackpot 6000 offers the same level of RTP: 98.8%, as long as gamblers know their way around this slot.
Chess Mate: up to 98.7% RTP
This title may be unfamiliar with our readers, as it came from a relatively small developer, MultiSlot. Many online casinos do not include this slot in their catalog due to its incredibly high RTP of 98.7%.
1429 Uncharted Seas: 98.6% RTP
This is a fairly dated slot from Thunderkick, which offers nothing too striking apart from its crazy 98.6% RTP.
Monopoly on the Money: up to 98.1% RTP
The game is different from the above slots,, as it offers 2 separate RTP: 94% for the base game and 98.1% in the Big Bet mode.
Published: 02 November 2020 08:20