Loco The Monkey Slot Review
Loco The Monkey Slot is a slot about Loco, a cute monkey living in a fun forest with green trees and delicious fruits. Step into the jungle and make the monkey happy; you will find a prize of 6829 times your stake hidden behind the 50 different paylines that the monkey generates.
Loco is a generous monkey, and he will help you gain valuable prizes with special features, including Bonus Scatter, More Monkey! Respins, MonkeyFrenzy! Free Spins and Wild Monkey Symbols. Enter the jungle of fun now with high volatility and a good RTP, of 96.15%, in the online game from Quickspin.
Delightful Forest Full Of Surprises
Suppose you have ever seen The Jungle Book or Tarzan from the famous Disney filmmaker. In that case, you will feel familiar with the graphic design when it depicts an exciting forest with verdant trees and all kinds of animals playing with each other. It is a vivid natural world, where the life of monkeys, who are also the main characters of the game, goes on peacefully without the presence of humans.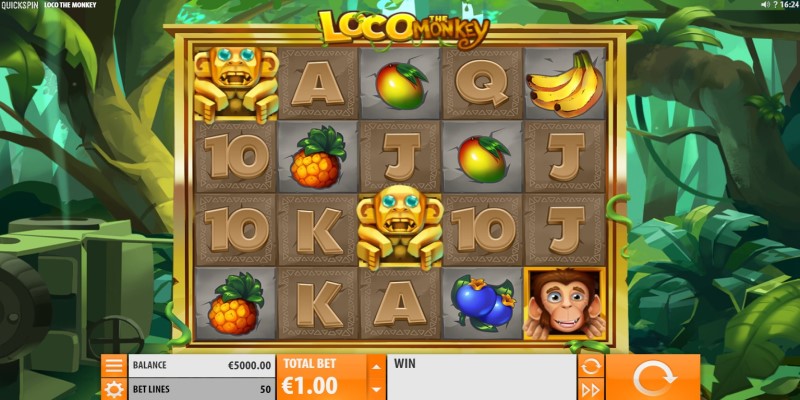 The icon system of the game is also designed based on the most typical fruits of the forest. These are bananas, pineapples, blueberries, mangoes, and plums. These five incredibly delicious fruits are beautifully designed and are the five highest-paying symbols among the base symbols. The lower paying symbols are cards designed from tree trunks.
Besides, to create a fun and attractive atmosphere of the forest, the publishers have built impressive background music with a catchy melody and fast drum beat. This music has a natural style because it is created by musical instruments made from wood. So the game's soundtrack becomes a great addition to its jungle theme.
Discover Delicious Fruits
The first step in exploring your forest is to consult the reward value that delicious fruits bring. All the information you need about the pay-value will usually be in the menu's lower-left corner of your screen.
You will bet on this game's 50 paylines, with the bet range extending from 0.25 coins to 100.00 coins. This particular jungle welcomes the participation of everyone with its extensive range of bets.
You can create winning combinations by landing three or more matching symbols that match any game's available paylines. Different fruits will fall on your grid and bring the prize value corresponding to their value.
Loco The Monkey RTP and Variance
Loco the Monkey free play has a good RTP of 96.15%. So Loco will pay you back 96.15 coins for every 100 coins you bet on a winjungle spin, regardless of the amount of money that the fruits of the jungle provide.
However, conquering the forest is not an easy task, given its high volatility. This volatility implies that the prizes will infrequently appear during the base spin, but it will surely satisfy you whenever you make consecutive wins.
Hospitable Monkeys
Loco the monkey and its friends will welcome you to the jungle with their hospitality through special symbols. Those are the wild symbol and the Bonus Scatter symbol.
Similar to other slots, this game's wild symbol features Loco monkeys, and it can substitute for all other characters except the Bonus symbol to create winning combinations.
The Bonus Scatter symbol will only appear on reels 1, 2, and 3 during the base and free spins. If you can land this symbol with a certain number on the reel, it will trigger two special regular game features. These two features will be analyzed shortly.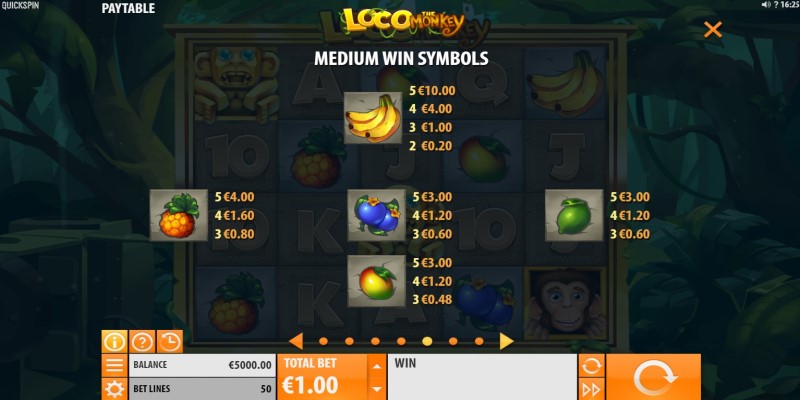 More Monkeys! Respins
This round will be triggered when you land four or more wild symbols in the base game. Loco Monkey will increase your chances of winning this round by keeping the wild symbols you landed in place for the rest of the spin.
If you can land more new wilds during this special turn, you will get extra spins. Conversely, this game will end if you can't land any more wild symbols.
Monkey Frenzy! Free Spins
You need to land three Bonus Scatter symbols to get your ticket to this round. It will award you ten free spins at the start. Wild symbols will have their positions locked during these ten spins, and any wild symbol that lands in that locked position will upgrade its multiplier by 1. The maximum multiplier a wild symbol brings in this round is 3.
During the free spins period, if you land three more Scatter symbols, Loco will award you an additional five free spins.
Welcome To The Forest
Loco the Monkey demo from Quickspin is an impressively designed nature-themed slot with cute graphics and lively sounds. The playing style of this slot is also not too complicated as it is formatted in the classic 50-payline mode. However, the bonus features are pretty exciting, and they can land you big wins with a constantly increasing multiplier.
What are you waiting for? Head to the mysterious jungle and experience the hospitality of Loco monkey and his friends in this game and take home a jackpot of up to 6829 times your initial bet.
Similar games to Loco the Monkey