Fairy Gate Slot Free Play
The Quickspin video slot machine Fairy Gate transports you to a mythical far-off woodland where fairies, gods, and other magical beings reign. Five reels and 20 paylines are where they work their magic to help you win some great prizes along the road.
You can play this game on various electronic devices, including phones, PCs, and tablets. At the same time, you can use our website to access the demo version without charge.
About Fairy Gate Slot
If you have faith in fairies, let their magic work for you as you pass through the Fairy Gate to win wonderful rewards. This game will take you to a woodland illuminated by the summer light during the main game and a purple hue at night during the Free Spins mode.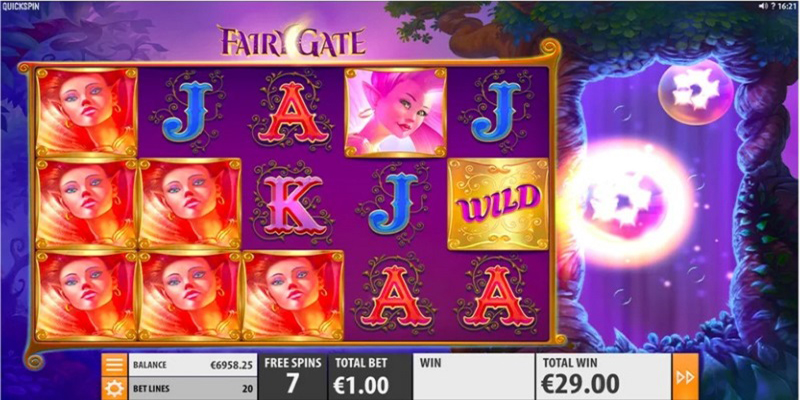 Despite having an unusual background, the game has gained popularity among players because of its gorgeous graphics, random wilds, free spins, and re-spins for those who are bold enough to enter the Fairy Gate.
RTP, Its Volatility, Min And Max Bet
With a house edge of 3.34 percent, the Fairy Gate slot's return to player (RTP) is 96.66 %. This RTP suggests a medium to high variance. With this level of volatility, you can anticipate a reasonable hit frequency of low wins. However, like volatile slots, this one rarely has significant wins with modest rewards. Theoretically, gamblers might anticipate an average payoff of €96 for €100.
Additionally, the publisher has set a minimum wager per spin of €0.2 and a maximum bet of €100. High-rollers, as well as regular players, can perform at this level.
In-Game Bonus Features
Fairy Gate appears to be a straightforward little slot, but as soon as one of the two bonus modes is triggered, it transforms into a feature-rich adventure game. It's impossible to predict when the Fairy Wild Re-spins feature, the first feature, will begin; however, you can be sure that it will start after any random spin.
Two additional reels are revealed when the gate in the tree on the side of the reels opens, and they only have Fairy Orb special symbols landing on them. When the Fairy Orb disintegrates, the little butterflies are released onto the base grid, and 2 to 5 Wilds are added to the payout. Only one of them is required to continue with re-spins.
Next, players can enjoy the other bonus round, which is free spins. When three or more scatter bonus symbols appear anywhere on the screen, the Fairy Wild Free Spins feature begins to run, and the player is given ten bonus spins. The round could be played while the seven reels are still spinning, resulting in a significant win and the addition of many Wilds, but the re-spins would no longer be available.
Graphics and Audio Sound
Magic and fairies are the themes of the Fairy Gate slot. In the game, purple reels are placed in front of a magical forest. The fairies' dwelling is a magnificent tree next to the forest to the right. The elves can be seen on the reels during the day. They would take part in the additional rounds at night.
Quickspin meticulously designed this game to enchant you. You get to witness fairy dust that resembles pyrotechnics with every successful spin. You occasionally receive magic from the magical tree as well. There are four fairies, but they don't have names. However, because they differ in appearance and color, it is simple to tell them apart.
In addition, the mystery of this game is also reflected in the sound. This game will undoubtedly make you feel as though you've gotten lost in a real wonderland with its soothing song.
Conclusion
Fairy Gate is a neutral slot machine with a fairytale theme. It uses colorful graphics and attractive colors to keep players interested while providing some essential functions that are exceptionally skillfully implemented. Although players cannot access high volatility and massive payouts, this game will make a fantastic slot machine for those seeking a genuine experience with a few added extras.
Similar games to Fairy Gate