GoldFish Slot
Goldfish online slot machine is known to be one of the most simple video slot games released by WMS. It hit massive popularity for slots at land-based casinos. Therefore when it comes to online slot machines, I was not too surprised to see their popularity too.
With the underwater background with a school of fishes inspired from Find, Nemo movies swim up around the five-reel slot machine with also some exotic coral breeds.
What I impress the most with the GoldFish slot are the six features offered, simple design, high variance, and maximum payout. Let's play the free version right on this page and share your thoughts on what you impress.
A Great Game for For any Kinds of Players
Goldfish free online slot which has 25 paylines and a layout of 5 reels and 3 lines. Entering the gameplay, you are allowed to bet from 0.01 to 3.00 for coin size with the maximum bets of 75.00 and the biggest payout is 10,000 coins.
The RTP of just slot is just above 96% which is quite in an acceptable range for the best online slot.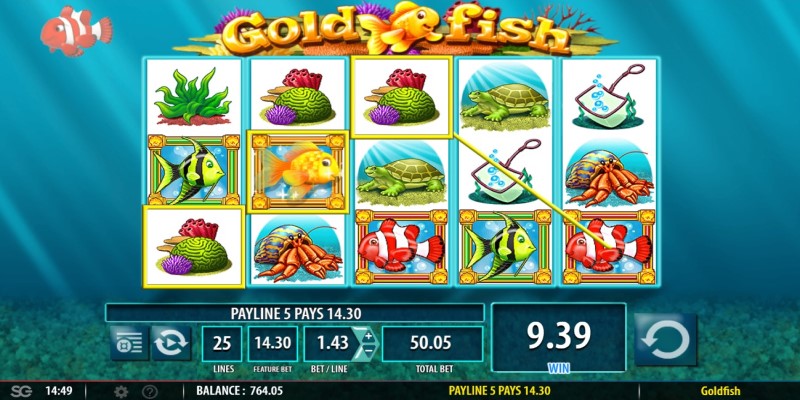 The variance of this game is high. You could expect to drive into a long journey without any winning.
Get Amazed by Bonus Features
In this section, It will be worthwhile to understand how this slot works and its payline. Before going to the details, I would say this Goldfish review is important as you can not find the information tab anywhere on the slot' board.
There are 5 fish symbols in this online slot. The first fish which you should look for is the Goldfish slot machine. This symbol will trigger the free spins round by jumping in the fishbowl on the reel. The bubble will reveal the number of free spins that will be initiated. After that, you will be asked to select another bubble from 5 to pick your multiplier during the free spin round. Therefore I guess Gold Fish is one of my most favorite symbols in this gameplay.
What about the jump of purple fish into the fishbowl. While it does not take you into the Free Spin round as the Goldfish does, you will receive the fish's feature. Players do not have to do anything to trigger these symbols as it plays out automatically. The bonus of this symbol will be hidden in the form of bubbles and reveal the bonus value that you get.
With the redfish jumping into the fishbowl, you will have to choose between a treasure chest, a clam, or a castle. The bonus amount will be revealed by your choice of bonus.
The kiss of each kind of fish also increases your chance of winning. A kiss of purple fish will increase your prize amount up to 25X and 200X while one from Redfish will give you a prize of 20X to 100X. Greenfish will grant you a multiplier from 5X to 50X for each kiss while just double the prize from a kiss of Golden fish.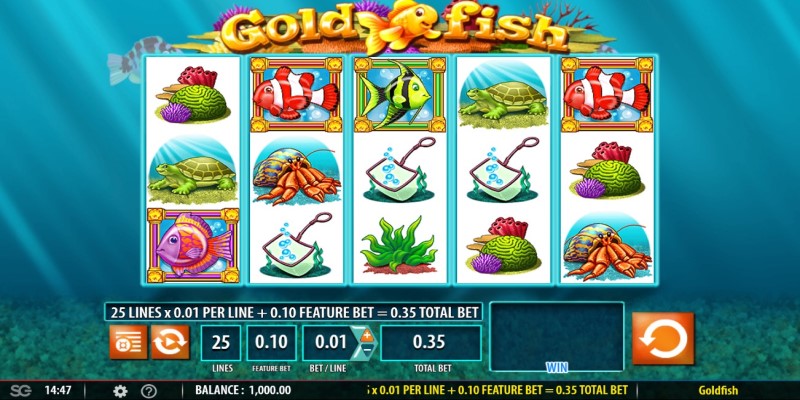 The Green Fish feature will give you a selection of bubbles. You can choose one of them to real your bonus.
The last Fish symbol is the Blue Fish when it takes a trip to the fishbowl, you will be rewarded between 1 and 3 super scatter bonuses. When this feature is activated, all matching symbols on the reel will form a winning combination.
My Conclusion
This Water World theme slot machine is no stranger to online slot players as it has been played widely at land-based casinos. With an interesting winning mechanism, I have no doubt that you will enjoy playing this online slot. WMS also spreads out the genre of Goldfish to others online also with the same DNA such as Gold Fish 2 and Goldfish Race for the Gold.
If you are interested in this online slot, please select our top online casinos with the best welcome bonuses.
Similar games to GoldFish