Tropicool Slot: Enjoy the Fresh Fruits from a Tropical Island
Tropicool makes an online slot from ELK Studios that is themed on a tropical island. Three different colored fruits are now frozen and made into super delicious cocktails by two special birds of the game. All your wins are now supplemented with side wins by avalanches falling from the Feature Reel. In addition, sticky wilds, wild multipliers, and free spins have been added to this 6 x 6 grid online game to give your winnings up to 10,000x the amount you bet.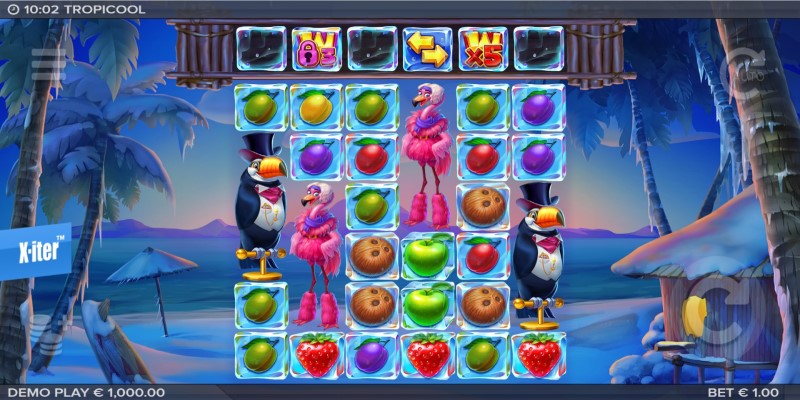 A relaxing and fun theme
True to its name, everything that happens in this game has a very relaxed and exciting tropical style. This slot will take you to an island in the middle of the Pacific Ocean, where there are only three main fruits: strawberries, plums, and coconuts. These three fruits will be evenly coated on your nets with the image of two charming birds, a toucan bird wearing a luxurious costume, and a bright flamingo full of pink jewelry on her body.
Combined with the background music inspired by fun melodies on the background of an agile Bongo drum beat and a very melodic saxophone, Tropicool creates a very wild and tropical atmosphere in both graphics and sound for all players who want to experience this slot.
Collect baskets of frozen fruit from the beautiful island
Players can start the game with two different bets. The first bet is the traditional bet with stakes ranging from 0.20 to 100.00 coin value. However, assuming you are a risk-taker, the game will also suggest another type of bet called X-iter. This type of bet requires a higher bet value, but it will trigger special features to increase your odds of winning.
Tropicool Slot is a slot machine with six lines and six columns corresponding to 46565 different ways for the symbols to land on your grid. It's not always that these two unique birds will land with all their parts. Instead, the pattern of these two birds will be spread over three cells of a column. Whenever either of these birds lands completely on your grid, they will substitute fruit symbols and complete winning combinations.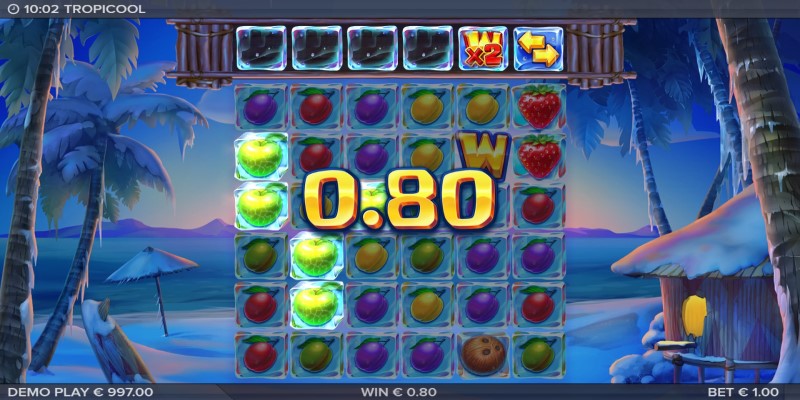 Variance and RTP
This slot has a medium to high rated volatility and 95% RTP. This RTP allows players to comfortably bet with the guarantee that they will take home a large portion of their winnings. For example, if a player starts his stack with $100, he can get back $95 at the end of the spins regardless of his winning prizes.
Please notice that the winning multipliers of different fruits can be found in the Info section of the game settings.
Generous reward from two tropical birds
At the top of your grid, you'll see a horizontal row of symbols that appear simultaneously in every spin. This horizontal row is called the Feature Reel. These symbols will land on your grid whenever you make winning combinations, and they will land in the place of the characters that made those winning combinations when these characters disappear. This feature will help you to get more bonuses for any winnings.
System of four special symbols
In addition, Tropicool Slot gives you a system of three different wild symbols and a special symbol that allows you to transform fruits on the same row. The first special symbol is the base Wild symbol. It substitutes for all other symbols except Wild Features, Bonus, and Row Swap symbols.
The Locked Wild symbol
The Locked Wild symbol is the second special symbol that allows them to stay in place for a certain number of spins corresponding to the number that appeared on the character itself. It's basically the same as the base Wild symbol, but they will stay in place for longer to increase your chances of winning valuable prizes.
Multipliers Wild
The third special symbol is the Multipliers Wild. Whenever you successfully land these symbols and make winning combinations from them, your bonus will be multiplied by a corresponding multiplier.
Row Swap symbols
And the last unique feature that generous birds give you is Row Swap symbols. When they appear on any line of your grid, the feature of this symbol allows them to select any character on that line and transform all the fruits on that line into the selected symbol. Since a whole line containing the same symbol type appears, you will have a better chance of creating winning combinations.
Bonus Round
The festive atmosphere of a tropical island does not stop there as you even have the chance to land a wide variety of bonus rooms via the Bonus symbol. This symbol designed as a yellow "B" will give you an avalanche number of 10, 15, 20, 25, which corresponds to 3, 4, 5, 6 of their landings on the grid, respectively. It is possible to win massive amounts of money with this generous bonus round.
Make yourself a cool fruit cocktail
This delightful island paradise will welcome you with two fun birds and all your favorite cool fruits. Please hunt for special symbols that land on your grid and bring home a considerable amount of money, possibly up to 10,000 times your stake, after leaving this exciting island through Tropicool Slot from leading developer ELK Studios.
Similar games to Tropicool