Fairytale Fortune Slot Free Play
The fairy realm in Fairytale Fortune is prepared to give you the best possible means if you want to infuse a little magic into your daily life. Through an excellent user interface and captivating animations, this game will transport players to a realm filled with enchantment and vibrant colors.
Classic fairy tales inspired this slot machine's concept, but it still has some highly realistic bonus features. So get ready to escape the ordinary and enter a fantastic slot that will restore your faith in fairy tales!
What Is Fairytale Fortune About?
The lovely Princess, charming Prince, unicorn, spell book, and deadly Dragon are waiting for you in Fairytale Fortune. On a 5x3 grid with 15 paylines, your goal is to aid the Prince and Princess in slaying the Dragon through exciting adventures. After all, you can make your winning fantasies come true as you amass payments up to 4,500x your stake due to several outstanding features.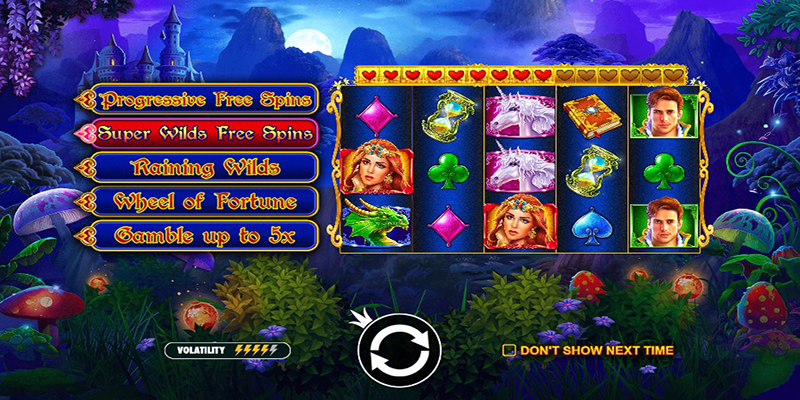 With a blend of imagery from fairy tales and some rich and diamond-related images, this game will provide you with an exciting gaming experience. So don't wait any longer. Get your hourglass and keep adding new stories to this exciting slot machine.
Storyline
Every fairy tale needs a villain; in this case, it is the Dragon. At his core, he's a pretty decent guy, but the scenario demands a giant fire-breathing behemoth, so he'll play his part. You will also encounter the unicorn in the game, another mystical creature necessary for maintaining equilibrium.
The ancient narrative of a Princess being abducted by a dragon is told in Fairytale Fortune, but only Prince Charming mustered the resolve to save her. In the end, these two will undoubtedly be together with the aid of the Book of Spells and the Rose emblem.
Game Information That You Need to Know
Open the fairy tale book and let the story of luck and fortune come alive in your every spin. The Fairytale Fortune slot machine from Pragmatic Play has five reels and three rows where winning combinations can be formed on any of its 15 active paylines. For a chance to win significant prizes up to 4,500x your investment, immediately look for the Progressive Free Spins, Super Wild Free Spins, Raining Wilds, and Wheel of Fortune features.
RTP, Volatility, Min, and Max bet
The default RTP of this game is 96.52%. However, this RTP can range from 96.04% to 96.52%, depending on the casino. Therefore, you must thoroughly verify the RTP level at each casino you play in to maximize your profits.
Additionally, this game has a high volatility rating. This indicates that although it often wins less frequently, it frequently wins substantially in a short period. Usually, slots with high volatility will be preferred by high rollers because of the benefits it offers.
Fairytale Fortune can accommodate your needs regardless of how much you want to wager. In this game, the smallest coin size is 0.01 credits, making the minimum bet 0.15. You can increase the coin value to 0.5 credits and wager up to 10 coins per line for a maximum stake of 75 credits every spin if you want to wager more.
The Theme of the Slots
Thanks to Fairytale Fortune, you will travel to a mythical realm with undulating hills, glistening blue water, and beautiful plants. This magical experience is enhanced by the charming, quiet soundtrack, which has a fairy-like quality.
The Wild, the Fairytale Fortune symbol, and the bonus symbol, Precious Diamonds, are the first two symbols to appear on the reels during the game. Next, you must collect the Prince or Princess icons to maximize your winnings. If three of these symbols match, you can win 30x your wager; if four or five of the same symbols match, you may win 60x and 300x your wager, respectively.
The Dragon, Unicorn, Spell Book, and Hourglass symbols can also bring you substantial rewards in addition to the romantic couple, with payouts ranging from 5x to 200x stake. However, even if no high-paying combinations show up in the following round, you are still guaranteed to be eligible to win respectable rewards by employing the game's four standard card sets.
In-Game bonus feature
Thanks to the Prince and princess's enchanting love story, you will have numerous opportunities to win the game. However, to expect true, lasting successes, you need something more substantial than romance. Fortunately, this fairy tale has numerous ways to get wealthy.
The true magic begins when you obtain three or more Diamond Bonus Symbols. They can transport the player to the bonus game, which has four different functions and only show up on reels 1, 3, and 5.
Wheel of Fortune
To begin with, you are given a spin on the Wheel Of Fortune. You have a chance to win several multiplier prizes here. If you're lucky, it might even award you 50x and an additional spin. This feature's multipliers can range from 5x to 10, 15, 20, 25, 30, 35, 40, 45, or 50x.
Raining Wilds
After landing three Scatters in the base game, you are in for a treat if the Raining Wilds feature appears in the Bonus Game. You are given ten free spins, during which three to ten wild symbols are randomly inserted into any place on the reels. They vanish after the spin and are replaced by new ones during the subsequent spin.
Super Wilds Free Spins
When the Super Wild game feature occurs, you will receive ten free spins and 1 Super Wild free spin. After then, you'll see a different screen. You have ten free spins to collect up to fifteen wild symbols scattered throughout the reels. All Wild symbols accumulated throughout the previous ten spins will show on the reels on the eleventh round.
Progressive Free Spins
The Progressive Free Spins is the best Bonus Feature to win in this game. At least the truly Big Wins could occur here. You are given 20 free spins, during which you can gather the Roses symbols that appear on the reels. A Rose is worth one point. You can advance through the stages by accumulating points. The higher you go, the more Wilds will appear on the reels. The five tiers are as follows:
0-4 points: Level 1 with Wilds stacked on reel 1
5-9 points: Level 2 with Wilds stacked on reels 1 and 2
10-14 points: Level 3 with Wilds stacked on reels 1, 2, and 3
15-19 points: Level 5 with Wilds stacked on reels 1, 2, 3, and 4
20+ points: Level 5 with Wilds stacked on reels 1, 2, 3, 4, and 5
Graphics and Audio Sound
The design of Fairytale Fortune exudes a sense of wonder. In the distance, animated castles, hills, and waterfalls are clearly visible. This slot game is precisely created with attention to every last detail, just like every other Pragmatic Play title. The pastel colors that predominate in the reels give you a genuine sense of being in a mythical land, much like in Disney fairy tales.
Additionally, a violin-performed background song begins to play as soon as the reels are spun, enhancing the lovely ambiance. You'll daydream about far-off castles and the kiss of true love thanks to the music's authentically romantic ambiance.
Expert Verdict
Fairytale Fortune must be a good slot machine for themes and graphics. It offers you a fairy experience that includes all the elements like a princess, Prince, spell book, Dragon, and magical unicorn along with regularly designed low-paying icons but Still inspired by magic.
This game also boasts a unique combination of features. Thanks to the game's numerous bonus features, you have several opportunities to win up to 4,500x your stake. Overall, playing this game is enjoyable and straightforward. It gives you the most vivid opportunity to try your luck.
Similar games to Fairytale Fortune