Rock Vegas Slot Free Play
In this time, the Pragmatic Play's Rock Vegas slot will transport you back in time to prehistoric eras with a jungle and untamed. This game is a fantastic concept with a title that combines two exciting aspects: prehistoric times and the gambling capital of the world, Las Vegas. Your goal will be to take pleasure in the adventure while collecting rewards. Special features are also available to help you earn up to 10,000x your initial investment.
You can test out the free demo version on our website if you're not ready to play for real money yet.
What Is Rock Vegas About?
You will go to a cave where a caveman lives in Rock Vegas. This caveman is most likely a distant relative of the well-known fisherman whose likeness you may have previously seen at the Big Bass Bonanza Megaways slot machine.
But it is the only similarity. This game's appealing Mega Hold & Spin mechanics are what will introduce you to a fresh gaming experience. Once you enable the additional feature, the gameplay and layout will drastically change. Here, you can participate in the dreaded spins, which have a potential payout of up to 10,000x your initial wager. Sounds intriguing, right?
Storyline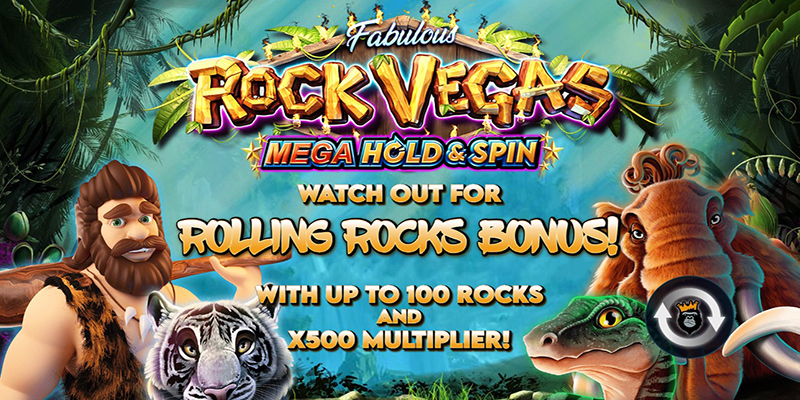 Since tiles used for games of chance were uncovered in ancient Chinese, it is thought that humans had been engaging in gambling since at least 2,300 BC. What about the distant past? Have you ever tried to envision what it might have looked like if cavemen gambling then? Would prehistoric gamblers wager on bone necklaces like cartoon-style?
It's unfortunate that you probably won't ever be able to pinpoint the precise answers to these queries. However, the newest slot machine from Pragmatic Play will provide a humorous and engaging portrayal of this unusual concept. Set in stone age people, the game will help you discover interesting gambling lifestyles of our ancestors that you would never have imagined.
Game Information That You Need to Know
Rock Vegas transports players to two distinct locations in a sweltering prehistoric jungle. The first one can be found in the base game, which has 20 fixed paylines and 3 rows, and 5 reels. Three or more symbols must be matched from left to right to win this set, beginning on reel 1. On the other hand, if you can activate the Hold & Spin function, the game's layout will change to a grid 10x10 and become more intriguing. In addition, the details of some additional crucial information are supplied below.
RTP, Volatility, Min and Max bet
You will go in this online slot game against a vendor-rated 10/10 highly volatile pattern. This will entail scarce but precious rewards. It has a vast maximum possible payout of up to 10,000x the investment, which can result in significant earnings when combined with a sizable bet. High rollers typically enjoy these high volatility slots more than regular players.
Additionally, this game has a standard RTP of 96.64%. Nevertheless, depending on the casino you play at, it might go as low as 94.50%. So before you start spinning, make sure to double verify this parameter.
Last but not least, this title offers player bets from 0.20 to 240 credits per spin. To start betting, you will have to choose a coin value between 0.01 and 1.20 and the number of coins you want to play on each line. The game will automatically multiply your selection by the 20 available paylines.
In-Game bonus feature
Pragmatic Play doesn't provide Rock Vegas with a lot of additional features. Despite the absence of the well-known Wild feature, the Mega Hold & Spin feature more than makes up for it. It gives players a sizable boost, keeping them occupied while pursuing your prize.
This function is activated when three, four, or five scatter symbols appear simultaneously. Then, you'll be taken to a new slot with a 10x10 reel configuration with colored stone symbols or blank spaces. The stones have various values. The blue, green, yellow, pink, and red stones are worth 0.1, 0.2, 0.4, 0.6, and 1x the bet, respectively. There will be fewer symbol types available to you as you land more scatters that act as triggers. In other words, you can only play with the red rocks if you get 5 triggering scatters.
Moreover, throughout this bonus round, you will receive three respawns. New rock symbols on the reels will be locked in place, and the respawn duration will reset to three each time. A random multiplier is added if a 2x2 or 3x3 cluster is landed, forming a massive stone. The coefficient will increase as the cluster gets bigger. You will have a chance to get from x35 to x500 your stake.
Additionally, principal symbols can be uncovered to open chests containing a variety of rewards:
A multiplier of up to x500 will be attached to one of the symbols;
A cash prize of up to 500x the stake;
Up to 10 additional keys;
A random multiplier of up to x100 will boost the overall reward;
An additional retrigger.
Theme, Graphics and Audio Sound
The game's appearance and feel fit the overall theme and mood perfectly. It takes place in a prehistoric forest populated by ice age creatures. Both sides of the reels are covered in overgrown vines and flowers, while the reels are constructed to resemble stone blocks. A muscular caveman who will be your companion during the game may also be seen on the left side of the reels.
On the base game reels, the lowest paying sign is the 10, J, Q, K, and A symbol, surrounded by ferns. After that, a giant lizard, a white tiger, and a mammoth will be among the better-paying symbols. The caveman symbol is the most lucrative, paying 37.5x your stake.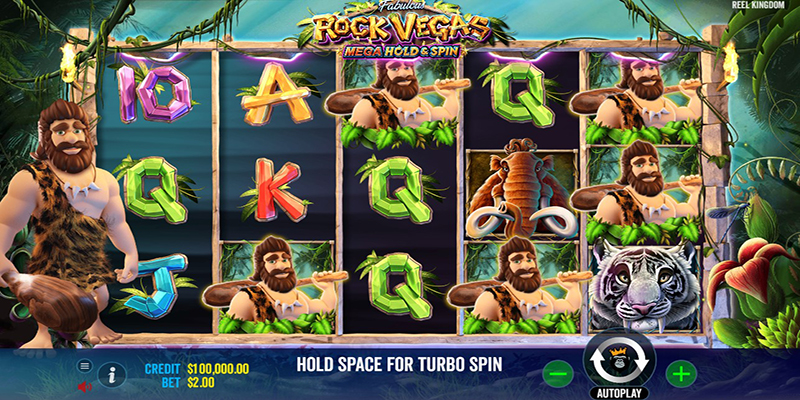 The unfortunate issue is that Rock Vegas does not feature wild symbols. However, it does offer a rock-shaped scatter symbol that you may use to help launch the thrilling Mega Hold & Spin function.
An immersive experience is what you can anticipate in this game, thanks to the superb visual design and incredibly lifelike graphics. You will experience a lush prehistoric forest hidden in the background, while the reels are made of wood and stone. As would be anticipated from a reputable developer like Pragmatic Play, all of the symbols in the game are professionally created.
The music that plays continuously is quite enjoyable and energetic, which helps you feel very at ease. When you utilize the Mega Hold & Spin feature, the song pace will also quicken for a livelier and more energizing tone. Sound effects featuring birdsong are also nicely combined with the music and theme.
These two elements work flawlessly to give players a significantly better entertainment experience.
Expert Verdict
Overall, the Rock Vegas slot machine's gameplay is rather straightforward with a 5x3 grid. Once you activate the additional feature with the innovative 10x10 grid format, things will start to get better. In addition, the game provides a thrilling gaming experience with a prize pool of up to 10,000 times your stake, thanks to a highly mathematical model and the possibility of large variance.
Similar games to Rock Vegas