5 Lions Megaways Slot Review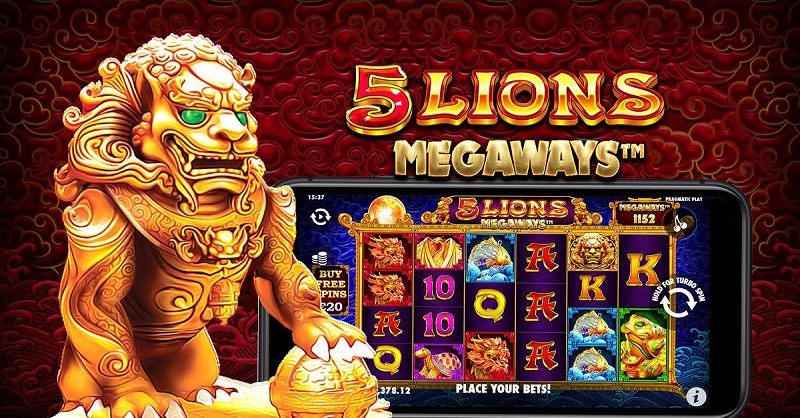 The unfinished stories of Pragmatic Play's 5 Lions Dance and 5 Lions Gold are continued in the 5 Lions Megaways slot. Therefore, there won't be many noticeable modifications to the UI with its Chinese theme. But this time, you'll have more fun than with any of its predecessors, mainly because Megaways function offers up to 200,704 ways to win.
This high volatility slot game has six reels and 2 to 7 rows, a well-known Asian theme, and symbols representative of the region. In gameplay, you'll enjoy fun features like multipliers, free spins, and wilds that can help you win significant sums of money up to 5,000x your wager. In addition, the tumble feature is also provided to give you more chances of winning.
Game information that You Need to Know
The lion is regarded as a highly terrifying and violent animal. Hence, the lion combined with the Megaway in the 5 Lions Megaways slot is even scarier. Due to its extreme volatility, this game has a high bonus value but also comes with a lot of danger. Therefore, before exploring the riches of ferocious lions, you need to be prepared entirely with essential knowledge through the part below.
5 Lions RTP, Megaway, its Volatility, Min, and Max bet
The RTP default setting for this slot machine is 96.50%, higher than the 96% industry standard. However, be reminded that Pragmatic Play offers a variety of RTP options for casinos, and some will select RTP levels for this game that are around 94% or even as low as 92%. As a result, you ought to consider picking casinos with an appropriate RTP level that benefits you most.
Additionally, the game has a high level of volatility (10/10). This implies that you won't win as frequently throughout the game. However, the enormous bonus you could receive makes the wait for the win well worth it.
Last but not least, this game allows wagers between 0.20 and 100 credits every spin. Therefore, players who wager small or large sums will find what they seek. Simply click the plus or minus arrow next to the spin button to access the necessary parameters and change your bet amount.
How to Get 5 Lions Big Wins? 
5 Lions is back with an attractive Megaways version. The design of this game is the same as in previous iterations, which had a Chinese theme with a heavy emphasis on the lion emblems. A lovely blue pattern can be seen on the reel's background, and most other elements, including the reel's frame and the symbols, are gold-plated. This slot is an excellent option if you're looking for online mobile phone slots because it was designed to work on all platforms.
This is a 6-reel slot with a tumble feature. With each spin, you'll see that the number of symbols on each reel varies. The remaining four reels can include up to 8 symbols, while the two outer reels can have 2 to 7 symbols. More symbols mean more opportunities to win. The reels here provide a maximum of 200,704 winning combinations. Starting with reel 1, you must get three or more matching symbols or wildcards on adjacent reels to form a winning combination.
This title has twelve symbols, both standard, and special levels. Starting with 10, J, Q, K, and A are the lowest paying symbols. You'll win between 1 and 1.25x your wager if you get six of the same symbols. Following this are the game's medium-paying symbols, which include a turtle, a koi, a Jin Chan toad, and a golden bird and yield payouts between 2.5x and 5x your stake. Finally, a dragon will be the highest-paying symbol and return 25x your bet.
The show's headliner, the golden lion, is the wild emblem. When it lands on reels 2, 3, 4, and 5, it immediately replaces all other ordinary symbols to aid in winning and activate the multiplier. Finally, the negative and positive symbols represent the scatters that enable the Free Spins bonus.
Bonus features in-game
Players can take advantage of a variety of features at 5 Lions Megaways. This game includes a Tumble feature and the main Megaways feature, which allows you to generate more winning lines in a single spin. In addition, the wild multipliers and free spins provide gamers with additional alluring winnings, up to a maximum of 5,000x your stake. Let's take a closer look at how these features function.
Tumble
A winning combination on the reels triggers the Tumble feature. The winning symbols are then all erased from the reels, and new ones appear to take their place.
As a result, you have the opportunity to spin again and produce new winning combinations. As long as you create winning combos, the Tumble function keeps running.
Wild Multiplier
The Wild Multiplier feature is activated each time a winning combination with a wild symbol is formed. Then, a random multiplier will increase your payment. A 2x, 3x, 5x, 8x, 10x, 15x, 30x, or 40x multiplier can be used.
Free Spins
If at least three yins and yang scatter symbols appear on the same spin, you will be awarded free spins. When you get three, four, five, or six scatter symbols to start the feature, you'll win the corresponding 3, 5, 25, or 100x your original wager.
You will be given the option to select one of the following free spins options before the feature begins:
25 free spins with 2x, 3x, or 5x wild multipliers;
20 free spins with 3x, 5x, or 8x wild multipliers;
15 free spins with 5x, 8x, or 10x wild multipliers;
13 free spins with 8x, 10x, or 15x wild multipliers;
10 free spins with 10x, 15x, or 30x wild multipliers;
6 free spins with 15x, 30x, or 40x wild multipliers;
Mystery Free Spins is any combination of free spins and wild multipliers.
The Free Spins feature can be reactivated by getting three or more scatters during a single free spin. You will be awarded the exact amount of bonus spins you selected the first time. After that, there are an infinite amount of retriggers.
Graphics and Audio Sound
Chinese-themed slot machine 5 Lions Megaways has a very well-done design. The structure is the same as in 5 Lions Dance and 5 Lions Gold. However, Pragmatic Play has put much effort into improving this game's graphics and animations. Its navigation is smoother and sharper. When you correctly use the wild symbol to combine wins, you will hear the roar of the golden lion. Therefore, if you enjoyed the earlier chapters, you will undoubtedly enjoy this game.
In addition, the game's background music is classically composed, quite catchy, and entirely appropriate for the plot. As a result, you'll feel more realistic, and your gaming will be more dramatic.
Why Should Play 5 Lions Megaways Free Demo on Our Website?
The classic game and the Megaways component are brilliantly combined in 5 Lions Megaways. The overall aesthetic and Asian theme, as well as the majority of its fundamental elements, will remain, but you may still anticipate some cool tweaks. This Megaways feature can create a lot of rows, giving you up to 200,704 ways to win. It also has a fantastic Tumble feature that might allow you to produce many wins in a row.
This slot machine provides a ton of enjoyable plays, but there are no fantastic surprises to be found when the spins are being played. It's only a slot machine where you can predict the features that will appear, but its thrilling Wild Multiplier feature has the power to completely change the way you play and multiply your stakes by up to 40x.
Similar games to 5 Lions Megaways