GameArt Gaming is an online casino software developer and supplier in the wagering industry, established in 2013. Despite being released after many other major companies, the company team is perennial insights into the game world. In a short time, GameArt Casino has successfully built a name and quickly gained popularity. GameArt slots show innovative thinking, with impressive artwork incorporated into the game.
GameArt Slots
GameArt online slots specializes in land-based and online casino solutions, including real money, social media, and white label platforms, among many other additional services. With that said, GameArt slots are highly artistic, the state-of-the-art game features, and impeccable sound effects. GameArt Gaming also offers cross-platform game management and maximization for player retention.
Suppose you're ready to explore GameArt slots, then congratulations! Fortunately, you can play GameArt slot machines without any deposit, no registration steps required, and no downloads as all GameArt games have a free-to-play version.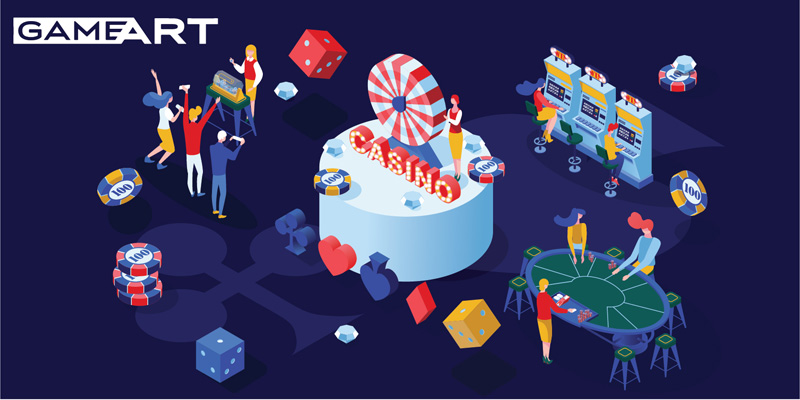 With these versions of entertainment, even though you don't need to bet with real money, it helps you decide if you want to play new GameArt slots and avoids certain risks. If you have not chosen for yourself the right GameArt slot, you can refer to a few games below:
King Of Monkey 2
The game has the theme of ancient Chinese treasure finding. This slot will bring players to the world of the exciting adventures of Sun Wukong, Tang Sanzang, Zhu Bajie, and Sha Wujing.
Tiger Heart
This is a betting game for the boldest and most reckless gamblers, but if you are not brave enough, you can still try the free version. The maximum victory in the game is 25,000 coins. Players will enjoy a massive amount of payouts on offer that offer a chance of winning between 8 and 150 free spins.
Royal Gems
The game only has 10 payment lines and doesn't have any complicated rules. The slot's simple functionality will satisfy both beginners and skilled gamblers.
How Much No Deposit Bonuses Can Players Get?
GameArt currently offers more than 80 slot machines and is now available on the major online casinos. GameArt's focus is on developing quality slots for both online and land-based casinos. You can choose from reputable online casinos such as Playgrand casino, N1 Casino, BitCasino.io, Bitstarz Casino, etc. to play GameArt slots and receive no deposit bonuses from the casino!
With the fierce competition in the industry, almost all online casinos offer generous bonuses to new players to attract and retain customers. You can collect no deposit bonuses if you first register an account at your favorite casino to play GameArt slots.
No deposit bonuses are available; you only need to provide accurate personal information to create an account and quickly claim the prize. After completing the account registration, you will receive up to 50 free spins or $ 10 in cash.
No deposit bonuses are great bonuses for both parties as it makes it possible for any new player to gamble for free and the casino to have a new client.
Spin The Best GameArt
Whether you are a novice or a long-time player, GameArt offers quality game slots, and the company also focuses on what gamers want by offering free spins, bonus options, calculators. Attractive features help make a profit easy. Besides, the GameArt slots also bring art to the product. These beautiful graphics make you unable to take your eyes off, providing the most realistic experience for any demanding player! With a varied game list, it is difficult to choose the best GameArt slots games. However, if you want an unforgettable experience, try the slots below!
Tesla Spark of Genius
Scatter symbols in the game trigger multiple free spins up to 25 times, while the multiplier goes up to 20 times. This is considered one of the best GameArt slots because it offers 243 ways to win potential.
Five Elements
Rated for superior graphics than any GameArt slots, showcasing creativity and experience of the production team.
Circus Of Horror
The content is about a horror circus with gore graphics, with the main characters are vampires, monsters, a sad clown, and a wonderful mistress of a snake. Carefully designed sound effects add to the awful complete picture.
Best GameArt RTP
For the average RTP of the GameArt slots, all fall around 95.8%. Interestingly, most of the slots have an almost identical RTP, equal to 96%. None of the GameArt slots have an RTP of more than 97%. The GameArt games with the highest RTP include:
Circus of Horror slot - 96.68%
Spartan's legacy slot - 96.35%
Night at KTV slot - 96.28%
King of Moneys slot - 96.20%
ThunderBird slot - 96.10%
Monkey Pirates slot - 96.09%
Flaming Reels slot - 96.06%
Captain Candy slot - 96.03%
Play Anytime
The way GameART slots keep pace with the day-to-day evolution of modern games is to integrate their games with cross-platform HTML5 support. In addition to the player's ability to experience the software vendor's extensive range of slot machines across multiple web browsers for PC, GameArt slots are also compatible with smartphone devices allowing players to explore positions on the go. Here are some attractive GameArt slot machines suitable for mobile devices, such as Ramses Treasure slot, Caligula slot, Wild Dolphin slot, etc.
Ramses Treasure slot: The story tells the Egyptian Pharaoh Ramses II. Players will sink into a period of countless treasures and terrible secrets about the Egyptian pyramids. In general, the graphics and plot of the game are beautiful regardless of whether you play on any device.
Caligula slot: Eye-catching interface with 2 primary tones designed in the classic colors of the Roman Empire, red and yellow.
Wild Dolphin slot: The theme of the slot is the underwater world, giving players the feeling of a real underwater treasure hunter with detailed and eye-catching graphics.
Safety and Quality
GameArt Gaming company has been licensed by the Malta Gaming Authority and is gradually asserting its position in the online betting game market. The company has brought a new approach to the iGaming industry through innovative thinking and high creativity. Most of the betting games that GameArt Gaming company offers are colorful, attractive, with exciting bonus features. In short, the future of the GameArt slots provider promises to be even brighter if the company continues to maintain its stated goals and nature.