Loose Slots or Tight Slots? Which One Should Gamblers Play?
Loose Slots or Tight Slots? Which One Should Gamblers Play?
Last updated Tuesday, 01/12/2020 04:06 by Thomas Andrei
Table Of Content:

As a slot machine lover, you have certainly heard the concepts "loose slot" and "tight slot." You may be wondering what those terms mean and, more importantly, how they change the way you play slot machines. In fact, it is true that not all slot machine games are created equal. You can deeply understand all about a slot machine before diving into "loose slot" and "tight slot."
The fact of the matter is that these terms are often used to evaluate the payouts of a given slot machine.
"Loose slot" is a term used for ones that pay generously. In fact, loose slots will pay more than the average percentage of return and probably equal a significant return.
In contrast, people use "tight slots" to describe ones that are not generous. Tight slots pay less than the average rate of return, sometimes by a considerable margin.
The actual difference between these two concepts is in their theoretical settlement rates. When a slot machine is advertised as having a 96% payout ratio, it means that it returns 96% of the accumulated amount to the player.
In general, loose slots are those that are regularly paying or with amounts considered above average. On the other hand, tight slots give players less than expected.
For example, let's say there is a slot machine with a 98% payout ratio. That means you can expect it to pay you back 98 cents per dollar staked when you win. On the other hand, casino operators rely on this ratio to predict their slot earnings of 2 cents per dollar staked from each player. Another casino can offer a payout ratio of 98,2%. Although this may not seem to make a significant difference, the "loose" will manifest in the increase in the number of players winning and the decrease in casino income.
Learn more about what is payout ratio of a slot machine to find out the most beneficial slot to play!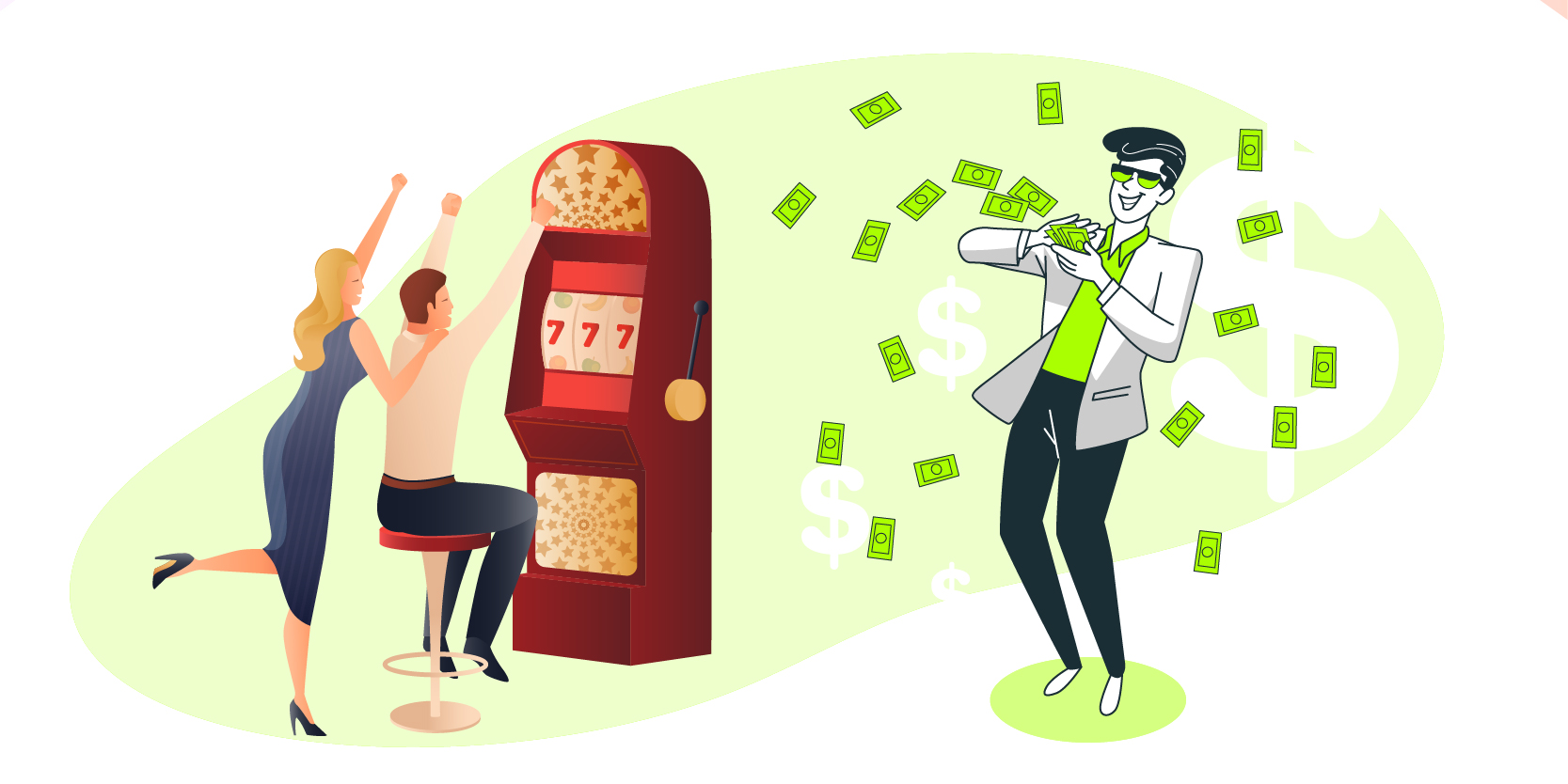 Comparing Between Loose Slot and Tight Slot
It is possible many people will wonder why casinos offer loose slot machines for less revenue when they can absolutely only offer tighter games. In fact, everything is in the operator's calculations. They do so so that slot machine players are more likely to keep playing or return to the casino easily. In fact, if the player continually loses money then they are more likely to stop playing and move elsewhere. The fact of the matter is that the more time the player spends on the slots, the more money the casino makes. Hence, keeping players happy and playing is what they really need.
When setting up the theoretical payout ratio of the slot machine, the casino operator needs to weigh the balance between "too loose" and "not earning enough" or "too tight" and "not earning enough".
By comparing "loose slot" and "tight slot", I can say that there is no better method than the other. Indeed, if you are a tight slot enthusiast, you can judge that you are more likely to win. However, you also have a large chance of losing. While you will likely win more often, that is not to say that a loose slot is completely advantageous over a tight slot.
Although loose slots have a high RTP and offer more advantages to the player, all figures are calculated theoretically and over a long period of time. Therefore, it can be said that slots still largely depend on your luck. However, you can benefit from the best slot machine if you know what the best slot machines to play at an online casino are!
How to Determine the "Loose" of a Slot
The fact of the matter is that for both land-based casinos and online casinos, it is not always easy to tell which are loose and which are not. I will give you two main ways to determine the relative "loose" of a slot.
For the first, try to find out a placement's billing rate. There are several of the slots that are audited and announced for this ratio. However, casinos usually only publish the overall payout ratio instead of publishing detailed rates for each one. As a result, sometimes you will have trouble doing it this way.
On the other hand, you can play a machine in a certain number of spins or intervals to evaluate them. If you find that you get nothing during those shoots or time, move over and compare it to another location with the same number of turns or duration. Thanks to that, you will be able to tell if the machine is loose or not.
Although the payout rates of slot machines are usually set by government agencies, it really depends on the software vendor or casino operator.
Find Loose Slot Machines at Casinos? 3 Ways for You
Loose slots are designed to return winnings to these players to keep them playing longer. Therefore, you may be interested in them. Here are 3 ways to find loose slot machines at casinos
Playing to Win
Many slot machines will require you to play with the maximum amount for the best chance of winning. You should check the payment sheet before you get started. Then, if you do not want to pay the maximum, find a slot machine that suits you better.
Whenever you choose a slot, you need to check its payout rate. The easiest way is to try to put a few dollars and see how much you get in return. After a while, if you break even, it could be a loose slot! If not, give it up.
In addition, experienced players will often play several slots at the same time because they believe that increasing the number of slots they use increases their chances of finding loose slots.
Before getting started, figure out how much money you could lose. Also, if you make a big profit, consider taking a profit and give up. This will minimize your damage.
Choosing a Machine Type
You should play machines with good payouts. Usually, the payout ratio is higher the more money you spend playing. However, be wary of the casinos that advertise that their machines pay up to 99.5%. In fact, they only need a 99.5% installment machine .
You should not play progressive jackpot machines. By playing on progressive jackpot machines, you could potentially win millions of dollars! However, the rate is very rare. They entice customers to engage with multi-million dollar jackpot promises, so do not be fooled by these marketing tactics.
Similarly, you should not play multiple payline slots. They seem attractive, but do not be fooled! They usually have a lower payout rate than your standard slot machine. A quick look at how slot payline works will definitely give you the best answer.
Scouting a Location
You should only gamble in casinos. In fact, the slot machines in casinos usually have the highest payout of 95%. So for every dollar you put in, you'll get 95% of that money at some point. Other gambling venues include airports, bars, and grocery stores that typically offer machines with payout rates ranging from 50% to 75%.
Ask an employee whenever possible. It is right to say that casino staff see many people gamble, so they know the locations of the most profitable slot machines and they may gladly share this information with you.
I believe that casinos strategically place slot machines in high-traffic areas to encourage more participants. Therefore, choose machines where they are easy to see because there is a high chance they are loose.
Finally, try to avoid low payment locations. Specifically, avoid the main slot areas. Likewise, avoid the slot machines next to the game table area as well as the ticket line.
We hope that players can benefit from these knowledge offered in the article to choose the most suitable slot. If you want to add more colors to your slot adventure, have a closer look at other slot types such as penny slot machines, dollar slot and so much more.
Published: 01 December 2020 04:06