Turn Your Fortune Slot Free Play
Turn Your Fortune Slot is a game full of mystery and fun with a perpetual machine that can give you a bonus of 2,000x your total bet. Although the theme of this game looks old-fashioned, with its unique visual design that exudes elegance and simple gameplay combined with many attractive features, it has succeeded in attracting hardcore players.
So are you wondering where the key to unlocking your luck is? To find the best answer, try the free demo version on our website immediately.
What Is Turn Your Fortune About?
Try your luck on the Turn Your Fortune slot machine, which offers incredibly motivating winning rewards. Early in 2019, NetEnt created this game inspired by the French Art Nouveau design, providing players a timeless and opulent sense with each spin.
Your curiosity will be piqued when you notice the gold coin-winning meter to the left of the reels on a 5-reel, 4-row slot with 40 paylines. Plus, the Bonus Games, Respins, and Free Spins bonuses ensure that you will have more activity on the reels. In the features, the keys that land on reel five will also turn your winning numbers higher and higher until they reach their maximum value.
This game's volatility is minor, nevertheless. As a result, low-stakes slot gamers frequently prefer to play it because they can and will have a chance to win big even when playing it for a modest amount on each spin.
Why Should We Play the Turn Your Fortune Free Demo?
The Turn Your Fortune slot machine employs the less common 5x4 reel structure with 40 paylines available from the leftmost to the rightmost reel. It challenges your luck with a chance to win on every level through many attractive features.
In addition, this game is intended to be minimalist, if not a little dated. However, it will be ideal for people who focus more on the benefits than on the game's aesthetics.
Game Information That You Need to Know
Before playing any online slot machine, you should arm yourself with the appropriate knowledge. Thus, in the Turn Your Fortune slot, you must know a few key indicators to employ luck appropriately.
RTP, Volatility, Min, and Max bet
Rather than the usual 96% RTP, this game offers a generous RTP of 96.24%. You'll be able to pay back more rapidly as a result. However, this RTP level will change depending on the casino you play at. So to choose the finest casino for you, constantly keep in mind to double-check this indicator.
In addition, as we mentioned, this game is added to the medium to high variance category. According to this statistic, your chances of winning will be greater, but the prize money will not be huge. High rollers won't be too interested in these low volatility slots. Therefore, it will be better suited for regular players.
Install the permanent machine on your mobile device and start working at 0.20 credits up to 200 credits. Through the NetEnt control panel, you can quickly change the face value and bet level. Additionally, you can activate between 10 and 1,000 consecutive spins using the AutoPlay mode.
In-Game bonus feature
Various intriguing features have been incorporated into the game to enhance your amusement. Some of them are free spins, Fortune Re-Spins, and Fortune Wins, where you can win up to 2000x your wager.
Fortune Wins
This is one of the game's most thrilling aspects since it gives you the most excellent chance to win large. By filling the meter after each collection of symbols, you will advance in Fortune Wins. Additionally, Fortune Wins will level up if a key symbol appears on the reels during Fortune Re-Spins or Free Spins. There are a total of 5 levels, and each level consists of 5 steps with escalating winning values from 5x to 2000x. The game's paytable contains a detailed explanation of this.
Free Spins
To trigger the game's free spins mode, you need to land 3 Scatter Symbols anywhere on the reels, not necessarily on the active payline. All symbols can be gathered to fill the Fortune Wins meter during the free spins. Anywhere on reel 2, a +10 special symbol land, adding 10 to the meter. You will advance on the Fortune Wins Wheel by 20 additional vacant spaces filled in the meter.
In particular, you will receive an additional free spin for any Scatter Symbol that lands on reels 1, 3, or 5 while in the bonus round.
Fortune Re-Spins
You must get two Scatter Symbols on reels 1, 3, or 5 together with a bet line in the main game to activate the Fortune Re-Spins.
All collectible symbols are gathered during Fortune Re-Spins to fill the Fortune Meter. The Fortune Wins Wheel will only advance you one position this time when the meter fills up by five spaces.
Theme, Graphics and Audio Sound
The decor of Turn Your Fortune has an elegant French Art Nouveau style. The color yellow predominates the color scheme and is used throughout the visual design. Dark reds, greens, blues, and oranges contrast with this dominating color to create the sense that the player is a wealthy royal family, presumably from the Middle East or specific regions of Asia.
This game comes with four low win and five high win symbols. The royals J to A stand in for the lower value symbols, while emerald-coated mussels, fish, turtles, owls, and lions symbolize the higher value symbols. The top symbol, the lion, pays out 10x your bet. Additionally, the butterfly serves as the game's Wild sign, which can be used instead of any other symbol (aside from the peacock Scatter Symbol) to assist in constructing winning combos.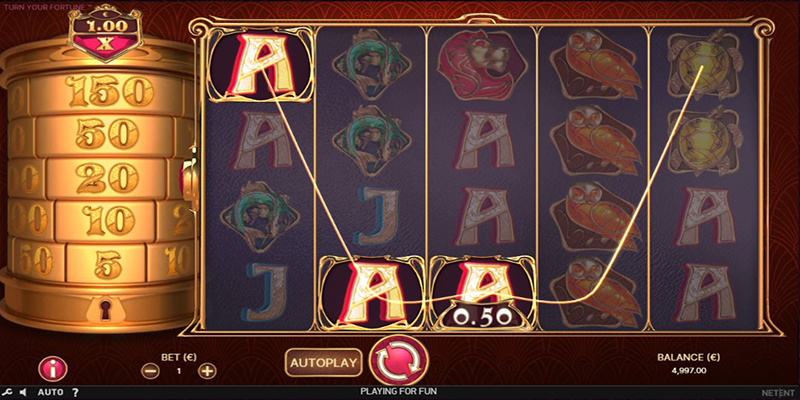 Turn Your Fortune employs a richly detailed style that tends toward realism without losing sight of its theme of luxury and splendor. The dark background of this game contrasts with the gold-framed game window and the intricate, vividly colored pay symbols. The Fortune Wins meter also increases the display's brightness.
The game's sound design mostly gives the impression of wandering through a wealthy desert city where the streets are covered in gold. Harp and other stringed instruments are used in the exquisite soundtrack. The music will match the tempo, especially when the free spins or other thrilling parts of the game begin.
Expert Verdict
As for the visuals, Turn Your Fortune is not as well built as other slots at NetEnt. But in terms of rewards, it still falls short of its sister's thanks to the Fortune Wins feature that has the potential to pocket you some hefty prizes. Overall, with the elements above combined with low volatility, this game will be appropriate when searching for light amusement that allows you to make money while taking a vacation.
Similar games to Turn Your Fortune