San Quentin Slot
San Quentin Slot is a slot game built by Nolimit City based on the most famous prison in the world. This prison is the detention place of the top criminals and notorious drug lords. You will have to play the role of a criminal, venture into this dangerous prison, and use 243 different ways to find your freedom.
This prison hides a jackpot of up to 150000 times your initial bet. That is a dream number for all the criminals in the world. You can use the game publishers' special tools, including Enhancer Cells, Lockdown Spins, Split Wilds, and Jumping Wilds, to defeat all the other prisoners and claim that jackpot back to yourself.
The Most Dangerous Prison In The World
San Quentin slot demo prison in California has become too popular for those who love crime TV shows. This place is rated as the prison with the highest level of incarceration and is only for criminals with serious crimes. The game will bring you into the prison's courtyard, with barbed wire coils and a 24-hour strict surveillance security camera system.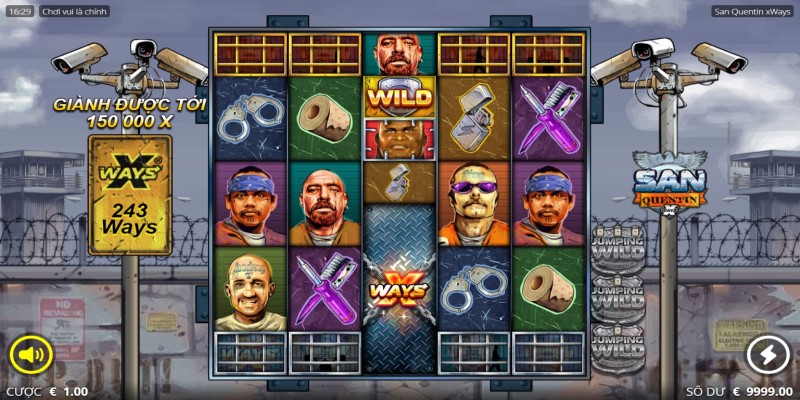 Dangerous criminals have always been a favorite topic with leading psychologists, and they are also included in the game's icon system. Besides, it is impossible not to mention typical prison items such as handcuffs, toilet paper, soap, toothbrushes, and weapons made from simple objects. They will act as the game's lower-paying symbols.
A thrilling soundtrack complements the game's unique theme. It showed the toxic atmosphere of the San Quentin prison, where you rarely see sunlight. Although this theme looks a bit strange for an entertaining game, it is excellently rendered in terms of graphics and sound to aim to create enjoyable moments for you.
Learn About The Jail
You can find your luck in a place no one wants to enter by placing bets between 0.20 coins and 32.00 coins. This game offers 243 ways to make winning combinations on a simple 5x3 grid. You will create these combinations by landing three or more adjacent identical symbols from left to right.
You'll find out how much the symbols you land payout through the game's paytable, the three dots symbol in the lower-left corner of your grid. Check this out for higher-value characters and their hopes and appearances on your reels.
RTP And Volatility
San Quentin offers players a high RTP of 96.03%. This number describes how you will get 96.03 coins for every 100 coins to bet on any spin. This amount does not take into account your reward for creating winning combinations. However, keep in mind that you won't get anything if you don't make winning combinations during your spins.
The dangers of prison mean great opportunity. Therefore, the volatility in this game is high, and it implies vast wins are waiting for you. However, their occurrence rate is relatively low, and you will have to be patient to make the final result.
Escape From Prison With Big Money
You will be given many tools to win your freedom in prison, which are two types of wild symbols and Bonus symbols. But before learning about them, let's look at a unique game mechanic that will help you activate special characters, namely Enhancer Cells.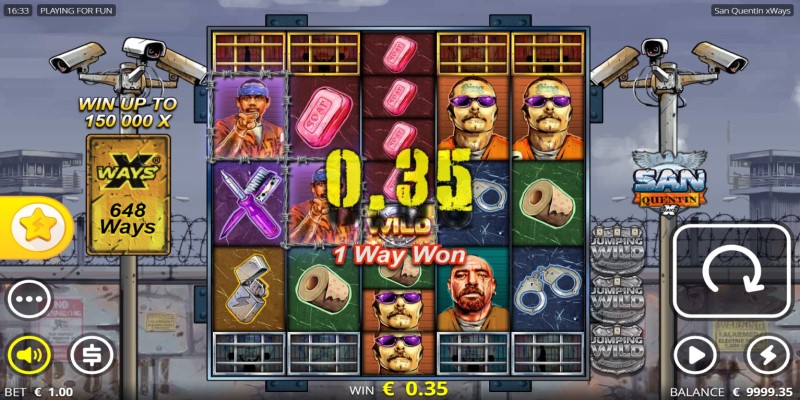 Enhancer Cells
You can see the locked positions at the beginning and end of the reels. These sites are called Enhancer Cells. They are designed as special cells with prisoners practicing and living behind bars.
During any spin, the Watchtower Bonus symbols that appear on random reels will unlock two Enhancer Cells on that reel. These Enhancer Cells will reveal themselves and reveal the five highest paying symbols in the game, Wild, Razor Split, or xWays symbols. The newly revealed characters increase your chances of creating winning combinations.
After learning about this special mechanic, let's analyze the two types of wild symbols, along with a special symbol, and their effect in increasing your odds of winning the jackpot.
Split Wild
When these symbols appear, they increase your total winnings by halving all the characters above and below, which means the number of symbols on the reels it lands on will now be doubled. However, Split Wilds cannot split itself.
Jumping Wild
This feature only appears in Lockdown Spins. These are multiplier symbols that appear randomly on your grid. During the special round, whenever it lands with the Razor Split, your multiplier will be doubled up to a maximum of 512x for the round duration.
XWays
This Special Icon will split any column into small tiles to create more places for icons. These new slots will then be filled with the same symbol, which will increase your odds of generating winning combinations.
Lockdown Spins
As noted above, Bonus symbols can unlock one or two Enhancer Cells and create space for special symbols to appear. However, if you are lucky enough to land all three Bonus symbols simultaneously on three different reels, you will trigger the Lockdown Spins feature.
This particular round will unlock all 5 Enhancer Cells during its course. In addition, if you land the Bonus symbol during this round, you will be rewarded with an extra Jumping Wild symbol and some extra spins.
Also, you can land the crime symbols in this round. The number of crime symbols that land during the spin can award a multiplier to a random character.
Finally, all the features from the base spin are preserved in this mode.
Find Your Freedom
San Quentin Slot free play from Nolimit City is a very creative-themed slot. Not only that, the sound and graphics of the game are also attractive enough and give you a dangerous atmosphere of the terrifying prison. The high volatility of this game makes it suitable for those who are looking for big wins with significant investments.
If you are a person who is interested in the criminal world, this game is a perfect place for you to try your luck, defeat other prisoners and leave with bonuses up to 150,000 times your stake.
Similar games to San Quentin