Hotel Yeti-Way Slot Free Play
Hotel Yeti Way is a high-quality slot from the developer Play 'N Go. It was launched on July 15, 2021, and received many compliments from the player community thanks to its popular gameplay and outstanding graphics.
The game consists of 6 reels and 4,096 available paylines. Its RTP is regulated at 96.18%, but this number can go down depending on the online casino of your choice. This slot is highly volatile in return, with the biggest prize pool of 30,000x the stake for the luckiest players. On our website, you can experience the demo version of this game for free.
What Is Hotel Yeti-Way About?
First, let's learn about Yeti, the famous snowman of the cold and barren Himalayas. This Bigfoot-like creature has appeared in many movies and documentaries with a hairy outlook and is hungry for human blood. It sounds pretty scary, but coming to the Hotel Yeti-Way demo, those prejudices will completely change when you get to know a cute Yeti with a kind heart!
The game tells a funny situation of Yeti when he accidentally picks up a suitcase full of clothes in front of his house. The adorable hairy creature made a brave decision, temporarily leaving its familiar habitat and going on an unprecedented vacation. Yeti decided to head south, all the way to the tropics, to experience bungee jumping, scuba diving, and chilling by the pool.
You'll take advantage of the game's 6 reels, three base game modifiers, and three bonus rounds to help Yeti raise his bankroll and prolong his paradise vacation. There are up to 262,144 winning ways available in the game, and you will try to use them to win valuable prizes.
Storyline
The Himalayas have always been the conquest of the world's top explorers. There is nothing better than the feeling of standing on Mount Everest, the highest place in the world, the roof of humanity, and enjoying a one-of-a-kind view of all of humanity at our feet.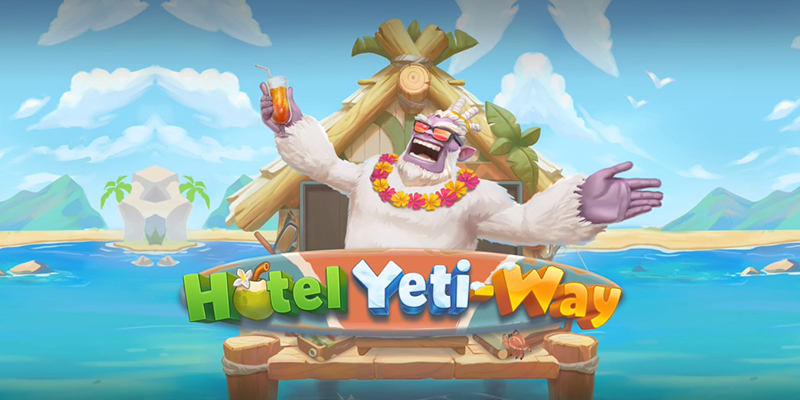 However, everything changed when the age of technology invaded the Earth. The dream of conquering the Himalayas is still there, but the idea of instant gratification has led countless people lacking knowledge and experience to embark on this arduous journey. They are willing to spend thousands of dollars on travel in exchange for a new experience, regardless of whether they can afford it.
As a result, environmentalists have witnessed an explosion of abandoned items on the mountain range, leading to more than 11 tons of waste tools being discovered here in 2019.
Hotel Yeti-Way chose this situation to tell its story. Our Yeti, the Himalayan creature, discovered an old suitcase full of vacation clothes while walking through the mountains. The hairy creature quickly decided to take advantage of this luck to have a vacation in the southern hemisphere, where there are beautiful tropical seas.
Game Information That You Need to Know
Before starting the game, you need to know a few basic information to have the most favorable vacation with Yeti. The Hotel Yeti-Way slot's base game action takes place on a 6-reel, 4-row machine with 262,144 ways to win. Land three, four, five, or six matching symbols or wilds on neighboring reels beginning with reel one to form a winning combination. In addition, other game parameters are also included below.
RTP, Volatility, Min and Max Bet
Before playing any slot game, you should always check the game stats to decide if it is the most profitable option for you.
Let's start with RTP. Hotel Yeti-Way comes with a theoretical RTP of 96.18%. However, this number is also a point of contention for the game, as it can fluctuate, or worse, be manipulated by casinos, to drop to just 84.34%. At its best, the game's RTP is within the industry standard. However, keep in mind that to take advantage of that optimal RTP, you must play the game at reputable and transparent casinos.
Next, let's talk about volatility. On a 10-point scale, the game has volatility of 10/10, which means its variance is very high. This information will make the high-rollers happy as the game becomes especially suitable for them, along with the biggest prize of 30,000x the stack. However, if you are a regular player, consider this stat as it can cause your bankroll to drop rapidly after many consecutive death spins.
In the end, the game bet ranges from 0.10 to 100 credits per spin. This disparity is large enough to make the game accessible to almost any type of player.
In-Game bonus feature
There's lots of action at the Hotel Yeti-Way, starting with the trio of wild modifiers in the main game. The primary bonus is a free spin round in which the modifiers play a significant role.
The Wild Yeti Modifier
When a wild yeti symbol appears during the base game, he grants one of the following micro features:
Bungee Jumping Yeti feature: stacked wilds cover one to four reels.
The Surfing Yeti feature adds between 2 and 8 wilds to random spots on the reels.
Scuba Diving Yeti: a re-spin is granted here. If a shark lands on this re-spin, another will appear. This feature can award up to 24 re-spins.
Free Spins
The wild modifiers are also at the heart of most of the finest actions in the free spins. You must land three or more scatter symbols anywhere on the reels during the same spin to activate them. The more scatters there are, the more free spins there are. 3, 4, 5, and 6 Scatters result in 8, 12, 16, and 20 free spins.
You'll then have an option between three distinct free spins features:
Bungee Free Spins feature / Medium Volatility: Each time a wild Yeti lands, from 1 to 4 stacked wilds are added to the grid.
Surfing Free Spins / Medium/High Volatility: Each wild Yeti provides between 2 and 8 more wilds randomly placed on the reels.
The Scuba Diving Free Spins feature / High Volatility: Awards a re-spin each time the wild Yeti appears. Shark symbols increase your total number of re-spins up to 24.
All three free spins features use a novel gaming mechanism. On each free spin, at least one reel will have a 2x payline multiplier, double the number of chances to win on that reel. It is possible to combine up to six payline multipliers. When this occurs, the number of possible outcomes grows to 262,144. (4,096 ways to win x 64).
Landing 3, 4, 5, or 6 scatters triggers a retrigger, which adds another round of 8, 12, 16, or 20 free spins to your total. You can retrigger the free spins once for 40 free spins.
Graphics and Audio Sound
Slot games from Play 'N GO always praise us for the animation and graphics. With a theme as creative as the tropics, the publisher has satisfied the visual experience of players with bright, colorful, energetic, and sharp designs. Regardless of whether you are using a large screen device or a small screen, the game's graphics are always of high quality and give you the most impressive visual experience.
Besides, the background music with a fun style will always immerse you in the world of vacation. The soft melody and the added sounds of nature will make you feel extremely relaxed. Thanks to that, you will comfortably rest and enjoy the fascinating spins of the friendly and lovely Yeti.
Conclusion
Hotel Yeti Way offers a great sense of entertainment for those who love to travel. The game has sharp graphics, smooth sound, and eye-catching visual effects that will immerse you in a new tropical world with the Yeti.
Besides that, the game's modifiers and bonus features also play a big part in its appeal. They will help players feel less tedious, and the fact that you can choose from 3 different free spins modes to participate in depending on volatility is also a big step for the publisher.
To sum up, the Hotel Yeti Way slot is a game for everyone. Join the whimsical Yeti for a one-of-a-kind trip to tropical waters in search of a prize of up to 30,000x your stack!
Similar games to Hotel Yeti-Way