Information
Pragmatic Play has released a betting machine with a 7x7 layout called Fruit Party slot, which promises to bring a lot of fun to look forward. The Fruit Party slot machine is a classic game with modern features. If you are looking for an interesting but not too risky game slot, then the Fruit Party slot is the right choice.
Although not a game with too many cult things like graphics, the Fruit Party slot is still considered a betting game suitable for all gamblers and can create a lot of fun. If you are not too ambitious and patient, then Fruit Party slot free is a right stop to learn the features and advantages that the game offers.
Playing the Fruit Party slot demo is the best way to reduce risks, and your balance won't be affected. Fruit Party slot machine free can be played on any electronic device, at any time.
RTP and Variance of Fruit Party Slot
Fruit Party slot has 7x7 scrolls, and players will use the Cluster Pay system to form combinations. Payouts can go up to 5,000x the stakes, suggesting that the Fruit Party slot machine can deliver massive wins, especially when the multiplier combination is in effect. The game is rated for volatility on average, with the RTP at 96.50%.
The game has 20 active paylines, the minimum stake is $ 0.20, and the maximum is $ 100 per spin. Players can get up to 10 coins for every 20 paylines and worth up to 0.5 dollars per line.
Playing Fruit Party slot is uncomplicated if you are familiar with the gameplay of classic fruit machines. The first step is always to set your stake, then select Autoplay if you want the reels to spin automatically without interruption.
Additionally, a minimum of 5 symbols is required for a single payment, and a cluster of 15 or more all receive the same award. There are 7 different fruit symbols, offering other potentialities:
Strawberry - Bet 150x on a cluster of 15+
Orange - Bet 100x on a cluster of 15+
Apple - Bet 90x fold on a cluster of 15+
Grapes - Bet 80x on a cluster of 15+
Full - Bet 60x on a cluster of 15+
Golden Star - Bet 40x fold on a cluster of 15+
Heart - Bet 20x on a cluster of 15+
Engaging Party for Everyone
When spinning the reels of the Fruit Party slot, players will enjoy 3 attractive features, including, Tumble Feature, the Random Multiplier Feature and the Free Spins.
Tumble feature
Form winning combinations disappear from the screen after the payment is made, and new symbols are replaced. The Tumble feature continues until no winning combinations have formed.
Random Multiplier feature
Any symbol can have a 2x factor when forming part of the cluster. If there are multiple symbols in a winning combination, the maximum combined reward is up to 256x.
Free Spins
Land at least 3 on the screen and unlock 10 Free Spins, 4 with 11 spins, and 5 times for 12 Free Spins. Landing symbols have a chance to carry a 2x or 4x multiplier. There is no limit to the number of free spins, and they can be reactivated. To make the bonus round more interesting, Coefficient of Random can be 4x as well as 2x, pushing the payout potential to explode up to 5,000x.
Basic Theme but Brings Fun Feelings
Fruit Party slot has an easy-to-see and easy-to-use interface with a beautiful sunny meadow background. The Apple house on the right side of the screen is illuminated. Pragmatic Play has created a beautiful and fussy slot machine. The simple, colorful image is great for the fruit theme. The fun soundtrack creates an exciting atmosphere for gamblers while spinning the reels.
Fruit Party slot is a fun betting game with high prizes. Quickly join this fantastic party to win 5,000x the stakes. Although the graphic is simple, what the Fruit Party slot gives players is extremely attractive. Whether you love the classic fruit-themed slot machines or not, the Fruit Party slot is well worth a try at least once.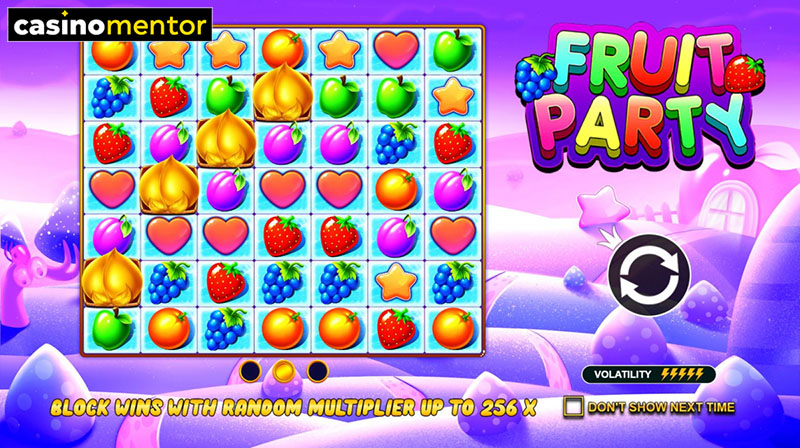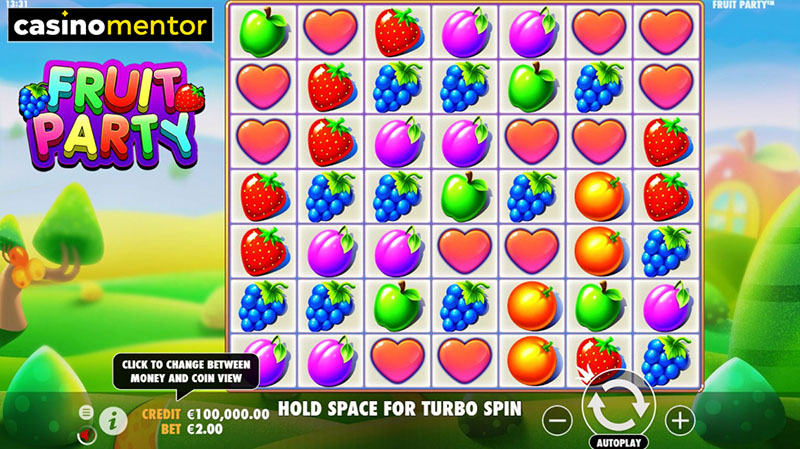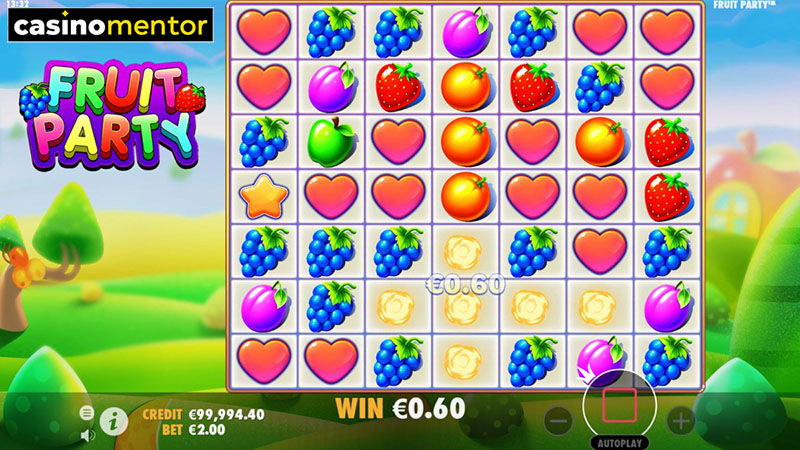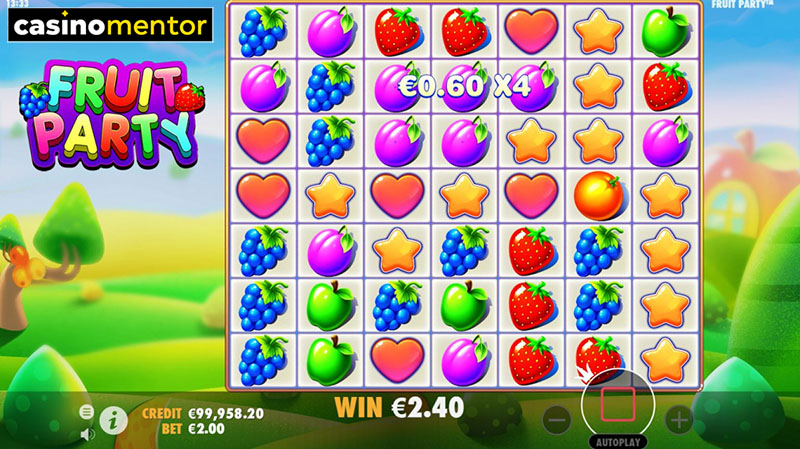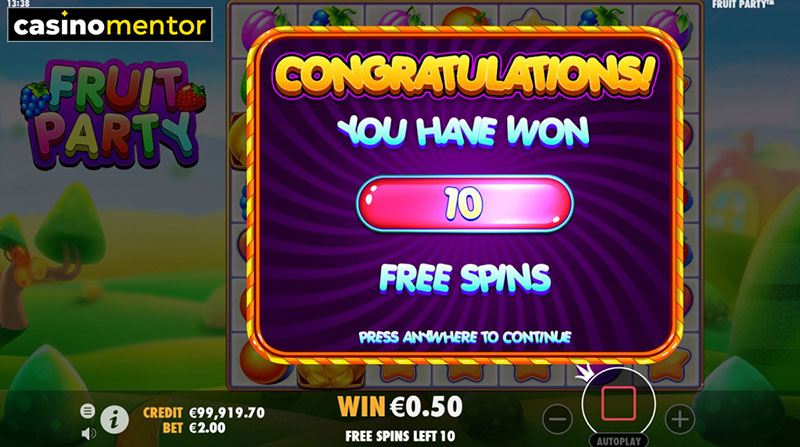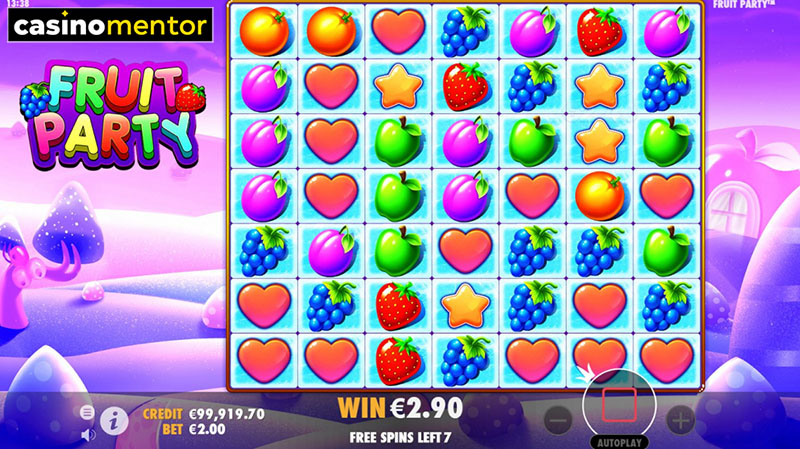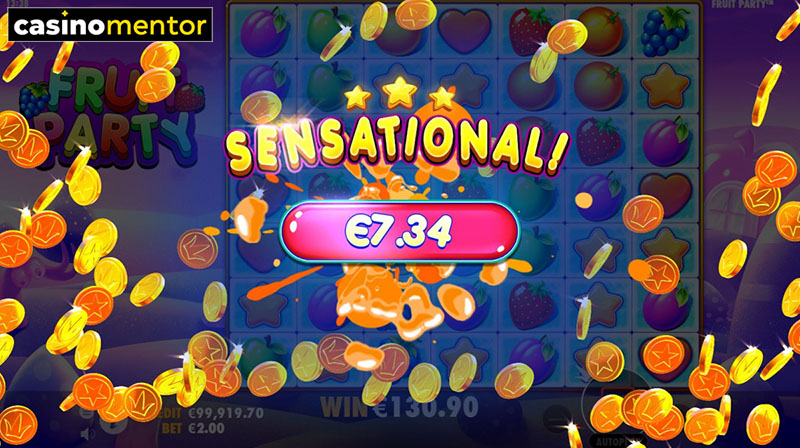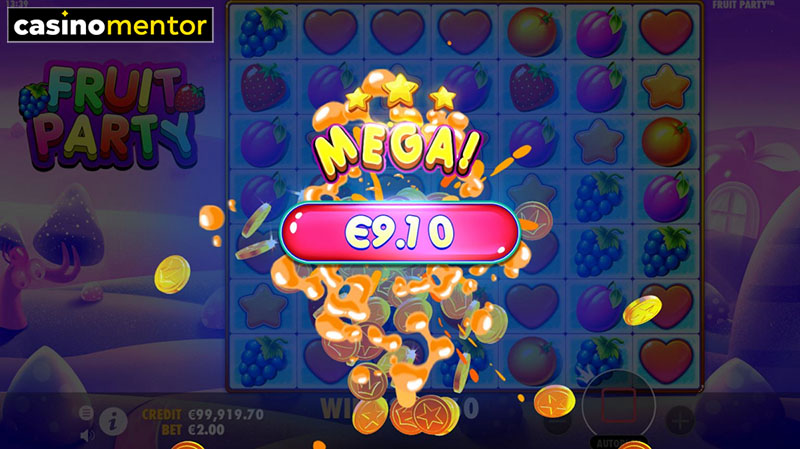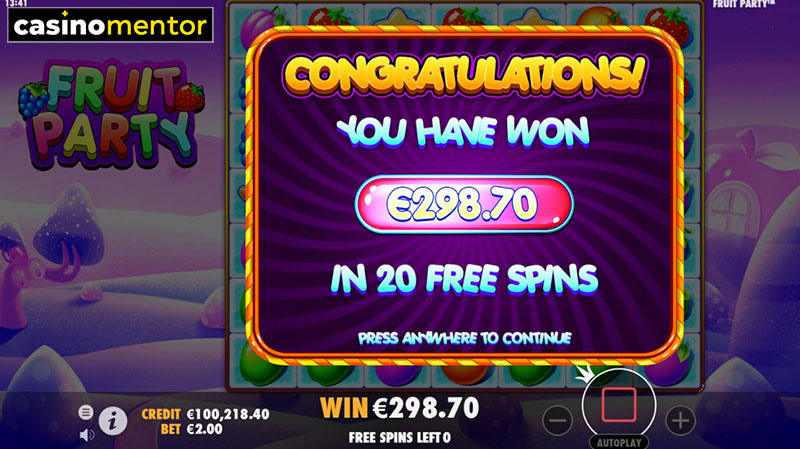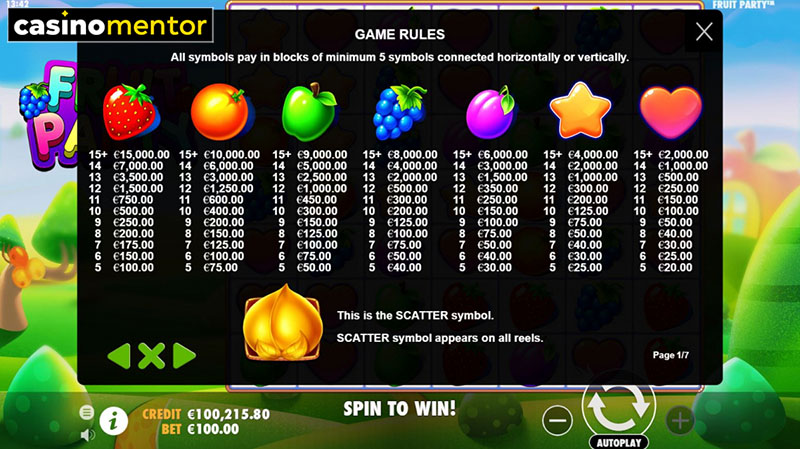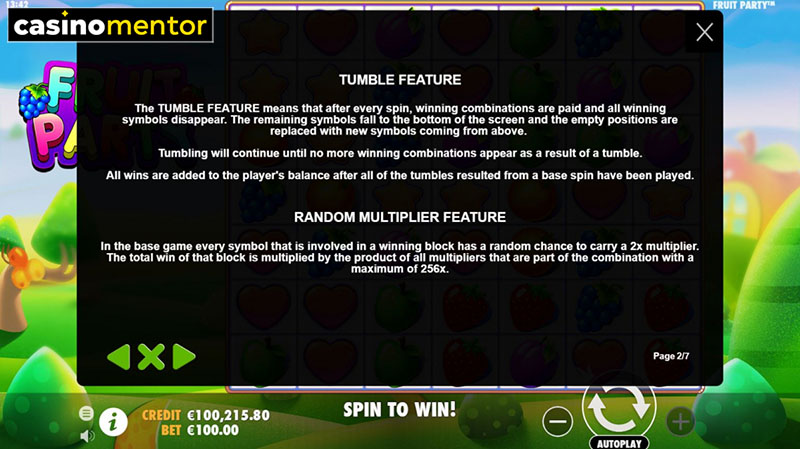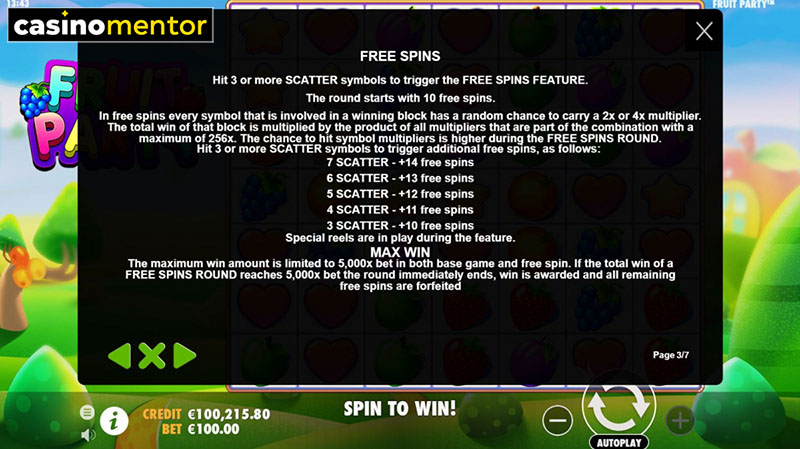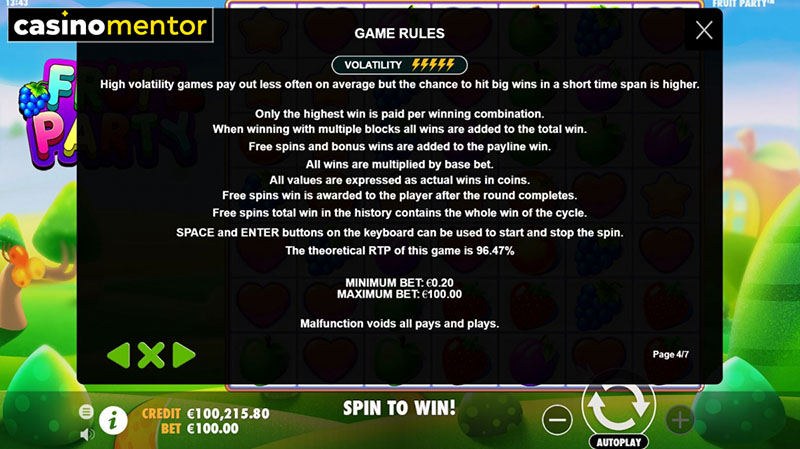 Similar Games to Fruit Party
Game FAQs
How Many Fixed Paylines Does Fruit Party Slot Have?
Fruit Party Slot has 7 fixed paylines which can be won both ways. You can take advantage of this to increase your chances of winning and winning big.
With the RTP of 96% the Fruit Party Slot - Does That Mean That I Should Win 97% of the Money That I Have Wagered?
No! You should never expect actual RTP to be similar to theoretical RTP. It can take you 100,000,000 spins to reach the desired RTP.
What Game Technology Does the Game Use?
Fruit Party Game uses HTML5 technology.
Is Fruit Party Game Worth Playing?
With prizes up to $5000, Fruit Party Game is a game you'll want to play again and again. It may not be fully equipped with the features that most other games out there, it really just makes it very simple to play.