Candy Island Princess Review
Candy Island Princess is a unique game with a theme that can be said to be the rarest in the world of slot machines, which is three charming anime girls. Developed by Play'N'Go, this game will give you a chance to enjoy a beauty contest with three talented female contestants along with their skillful posing skills in search of the biggest prize worth 2,200x your initial stake.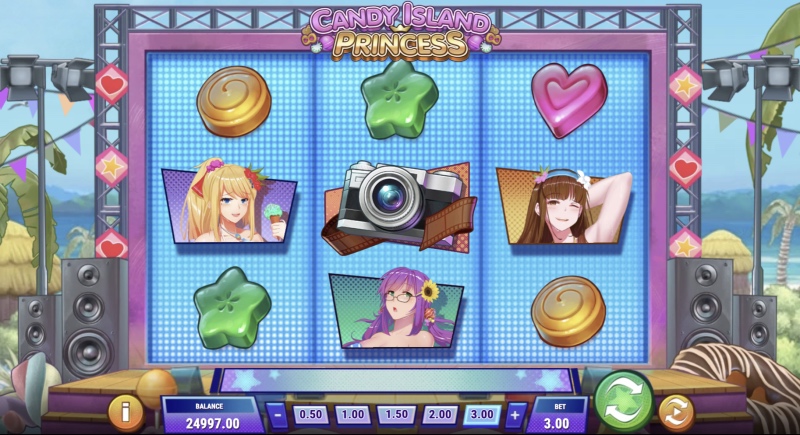 With an exciting theme, it is surprising how simple the gameplay of this game is with a basic 3x3 grid along with five paylines available to create winning potentials for you. In addition, bonus features such as lucky respins or free spins that can be re-triggered up to 5 times will increase the entertainment in this 96.2% RTP game.
The Most Entertaining Beauty Contest In Paradise Island
Play'N'Go developers have shown their breakthrough and interest in their die-hard anime fans in this innovative slot. Located in the middle of a beautiful Hawaiian beach with coconut trees swaying in the cool summer breeze, the Candy island is the place where an entertaining beauty contest takes place between three lovely female contestants under the guidance of the show's judge and MC, supermodel Johnny Bravo. A grand stage will be built in the middle of the island, combined with high-powered speakers located on both sides will signal to all people living on the island about this one-of-a-kind contest.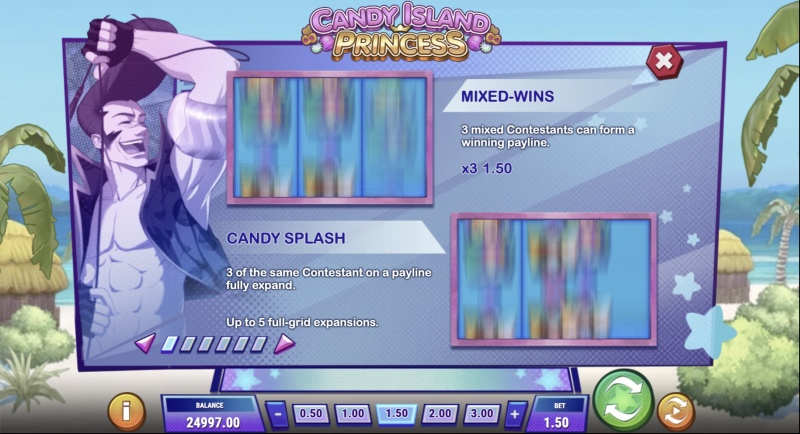 Our three beautiful princesses will combine with four different sweets to create the game's sweet symbol system. The glamorous brunette with brown hair will be the highest paying symbol, giving you 9x your bet on the appearance of 3 characters at once. Silver star tickets will provide you with access to free spins, while state-of-the-art cameras will unlock Behind The Scenes play, with impressive multipliers waiting to boost your prizes.
In the end, the soundtrack is an integral factor in the success of all Anime series, and that makes perfect sense for this slot. The enthusiastic sounds of the electric guitar combined with the electronic mix will make the atmosphere of the competition more exciting than ever. So now's the time to lay back on the couch, sip a cocktail, and enjoy the most dramatic beauty pageant of the summer at Hawaii's beach.
Basic Spins And Bet Options
Candy Island Princess free play allows you to bet between 0.05 and 100.00 coins per spin. This extensive range of bets will satisfy all players regardless of their budget.
The atmosphere of the competition will become more exciting whenever you create wins by matching three of the same symbols and matching the game's five available paylines. Of course, the prizes from these wins will depend on the value the symbols bring, and the three charming princesses are all you should aim for.
That is a rare slot that doesn't feature Wild symbols, though the features that reward wins with a combination of three talented contestants are still fun to enjoy, and it will excite you no less than the appearance of regular Wilds. Discover the specials they have to offer now.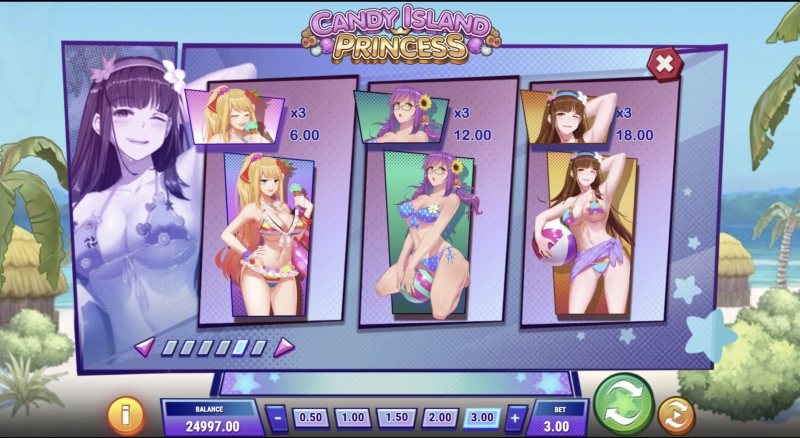 Mixed Wins
Any combination of three princess symbols suited with any of the paylines will be counted as a win for you. These are called Mixed Wins, and a 1.5x multiplier will immediately be activated to increase your winnings.
Candy Splash
With three symbols of the same lovely princess combining along an available payline, you'll see these expand and fill your grid. At the same time, it rewards you on all five paylines of the game and brings in huge bonuses that you cannot imagine.
Win The Backstage Tickets To The Competition
You can enjoy the competition in the most entertaining way with special tickets, plus the chance to see anime idols from behind the stage through Candy Island Princess by Play'N'Go bonus features. These are the Super Mega Fantastic Free Spins, Behind The Scenes feature, and the Jelly Jiggle Delight feature.
Super Mega Fantastic Free Spins
Owning three silver star tickets will give you a chance to enjoy a random number of free spins. Suppose you're a bit unlucky to be able to land only two tickets in a single spin. In that case, the judges will still give you a second chance when the Lucky Re-Spin feature is activated, and the reels containing the ticket will remain in place, while the remaining reels respin to increase the chances of a third ticket appearing.
Behind The Scenes
If you can land three Camera symbols in one spin, you'll enter Backstage and enjoy exclusive videos from three beautiful models. Also, multipliers from 5x to 2000x will be awarded to apply to the wins you make during this round.
Jelly Jiggle Delight
This feature will be activated after the free round is over. You'll get to choose one of three delicious Jellies so you can find the one with the 2x multiplier. This multiplier will be applied to the total prize pool of the free spins you receive.
Candy Island Princess RTP And Variance
The Candy Island Princess demo has an RTP that ranges from 84.2% to 96.2%. For those who don't know, this game's highest RTP, 96.2%, allows you to get 96.2 coins back for every 100 coins you bet on a winning spin. So choose the most reputable casinos to be able to experience this slot with the maximum RTP to ensure optimal profit after you return home from your memorable trip.
The developers have aimed to create maximum entertainment for players in this game; that's why it is labeled with low/medium volatility so that the wins will happen often than in the basic game. As for those looking forward to the appearance of unexpected prizes, they will have to show a little patience with the three beautiful princesses.
Welcome To Candy Island
Candy Island Princess Slot offers a great entertainment experience whether you are a true fan of anime or not. With sharp graphics, modern sounds, and attractive bonus features, this quality game is a perfect choice for any gambler. Visit Candy Island now to enjoy a beauty contest featuring the most glamorous contestants from Japan and look for a chance to win a jackpot worth 2,200x your initial stake.
Similar games to Candy Island Princess