Hooligan Hustle Slot Free Play
In the world of free slot machines, the Hooligan Hustle slot is a brand-new title launched in 2021 by Play 'N Go. Thanks to its appealing concept and features, this game has received much positive feedback from gamblers.
Prepare to take up arms and join a gang to win rewards, along with Rumble Row, split symbols, mystery symbols, and wilds over 5 reels and 3 lines. 248,832 different methods exist to win. So climb the ranks for a chance to win enormous bonuses worth up to 10,000x your initial investment. Sounds good, right? On our website, you can access the game's demo without charge.
What is Hooligan Hustle Slot About?
Are you prepared for an away game with your kit on? Hooligan Hustle takes you to a big football match, where football hooligans from both teams are wreaking havoc on the UK's filthy streets with calluses, traffic cones, and rude gestures.
This game will give you a pretty crazy feeling with a 5-reel, 3-line playing field, using a total of 248,832 pay lines with many attractive bonus features. Players who are tired of playing games from the renowned company will especially like the new Rumble Row feature. So get ready to plunge into the thug mentality's vortex and discover the cause of the commotion!
Storyline
For fans who consider the battles outside the stadium as important as the game itself, sometimes a football match is more than just what they look in the outside. Instead, it served as a justification or catalyst for opposition supporters to raise a fuss and destroy everything.
It may sound like a modern phenomenon, but the first recorded violence at a football match dates back to England in the 14th century. Because of this issue, football was prohibited by Edward II in 1314 because he thought that disruptive behavior at matches might spark more widespread unrest.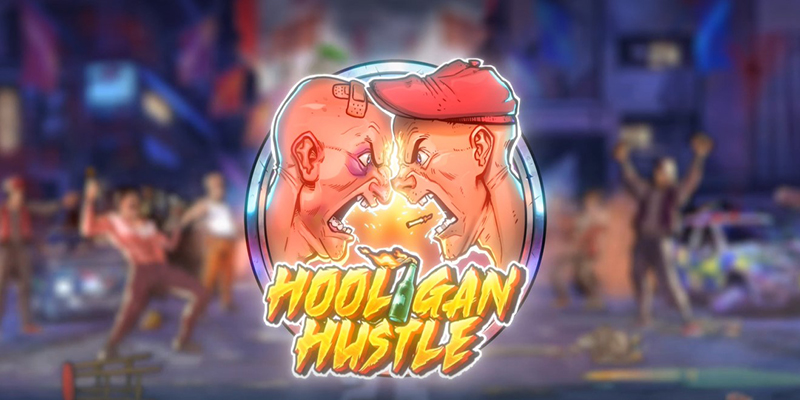 In fact, we must admit that thugs are a serious problem, causing property damage or personal injury. Despite the needless controversy, publisher Play 'N Go chose to create this Hustle Hooligan-themed game to depict the thuggish and tense behavior of some football fans in the UK and worldwide.
It's a game that uses the potent synergy between competitive sports, drinking, gangsta attitude, and testosterone outbursts typical of archetypal gangsters.
Game Information That You Need to Know
To obtain the fullest possible thug incarnation experience, you must first acquire some basic knowledge. This slot game's fundamental gameplay will take place on a grid with 5 columns and 3 rows. There will be 248,832 opportunities for you to create winning combos with at least three of the same kind.
Additionally, you'll receive appealing bonuses from various symbols, including wild symbols, mystery symbols, scatter symbols, and more. Below is a detailed list of the game's additional requirements.
RTP, Volatility, Min, and Max bet
Before beginning to play any slot game, it is always required that you double-check the stats. This will enable you to assess whether playing this game is your most lucrative choice.
The Hooligan Hustle has an average player return percentage (RTP) of 96.27 percent, 96 percent greater than the industry standard. It's recommended to select reputed casinos to test out this game because, as always, the RTP can change according to the casino you play at.
In this slot, the game's creator uses a very volatile mathematical model. The game's volatility is a 7 on a scale of 10. As a result, high rollers will find this game to be quite suitable.
Depending on the bet level, you can bet anywhere from 0.10 and 100 credits per spin. This significant distinction enables whales and regular players to experience the typical violent environment that follows intense football matches.
In-Game Bonus Features
There are four extra features in Hooligan Hustle. You can receive synced reels, multipliers, and wild reels due to random Rumble Row modifiers. Symbols can randomly split into two when they are mystery symbols, giving you up to 248,832 opportunities to win. Then comes the Free Spins bonus, where each free spin can include up to 4 Rumble Row features.
Mystery Symbols
Keep an eye out for the wooden box. This is the unidentified symbol that may appear at any turn. The Mystery Symbols function will then start working. The mystery symbols, except the scatter, change into a randomly selected symbol.
Splitting Symbols
The Splitting Symbols feature is active on any spin. Any symbol instance can be randomly divided into two in all cases. Any symbol can split, excluding the petrol bomb dispersion.
Splitting symbols will significantly improve the number of winning combinations. Up to 12 symbols may show up on your screen. With 12 symbols on each reel, there are a maximum of 243 winning combinations.
Rumble Row
The Rumble Row can randomly activate on any spin in the base game. This activates a number of features on the reel beneath it. The three features include the following:
Wild Reel feature: 1 wild reel will land
X2 Multiplier feature: A 2x multiplier is applied to wins from that reel
Double Trouble feature: 2 reels are synchronized to display the same symbols
Free Spins Feature
You need three or more Molotov cocktail scatters anywhere on the reels to trigger the Free Spins feature. 3 different free spins types are then available to you. The number of free spins and Rumble Row features activated during each free spin varies according to the selected option:
Lairy: 10 free spins, with 2 or more Rumble Row features on each free spin
Riot: 5 free spins, with 3 or more Rumble Row features on each free spin
Anarchy: 1 free spin, with 4 or more Rumble Row features on each free spin
You can take advantage of synchronized reels, multipliers, and wild reels. Additionally, the Splitting Symbols feature may also be activated, resulting in up to 248,832 possible winning combinations for every free spin.
The Theme of the Slots
Interestingly, the Hooligan Hustle slot machine has a hooligan/football motif. It looks like a comic book in terms of design. According to the plot, mayhem is about to break out at the most significant football game of the year. In this scene, hooligans from competing teams square off on the street outside the stadium.
The football hooligans are calling it on while throwing two fingers up at one another and smashing police cars and debris everywhere. This might seem like a scene from the iconic Green Street movie, starring Charlie Hunnam and Elijah Wood. Due to this, the game undoubtedly has a British focus.
In the game, the hooligans' weapons, such as bricks, pints of beer, crowbars, spiked baseball bats, and knuckledusters, are represented by symbols on the reels. Actual hooligans are used to symbolizing the four higher-value symbols. The highest paying symbol is the bald, fist-clenching hooligan, which awards 1, 1.4, or 2 times your total bet for combinations of 3, 4, or 5.
The wild symbol is a traffic cone, which pays 2 times your entire bet when five of them appear on a pay line. The wild also can replace each of the aforementioned symbols. Additionally, there are Molotov cocktail scatters and wooden box mystery symbols.
Conclusion
Hooligan Hustle is one of the most popular slots out there. This is large because it evokes the thrill of a football match in a recognizable setting with outstanding graphics and features.
On top of these solid fundamentals, we like it for its high volatility and decent return to the player. Both features make it a good match for our slot strategies.
Similar games to Hooligan Hustle