Try Razor Shark Slot for Free!
If you are a lover of sharks, the mysterious predator of the ocean, then Push Gaming's Razor Shark is definitely a title you should not miss. With its signature cartoon graphics style and vibrant soundtrack, the game will keep you excited just like you watched Finding Nemo, instead of leaving you feeling suspenseful.
However, the game's super-volatility contradicts that. It is an extremely volatile slot where huge prizes can appear suddenly after you have gone through thousands of dead spins. To unlock rewards up to 50,000 times your stacks, you will need the remarkable bonus features in Razor Shark. These include mystery stacked symbols, free games with rising win multipliers, and symbols that nudge into random positions.
Try Razor Shark for Free!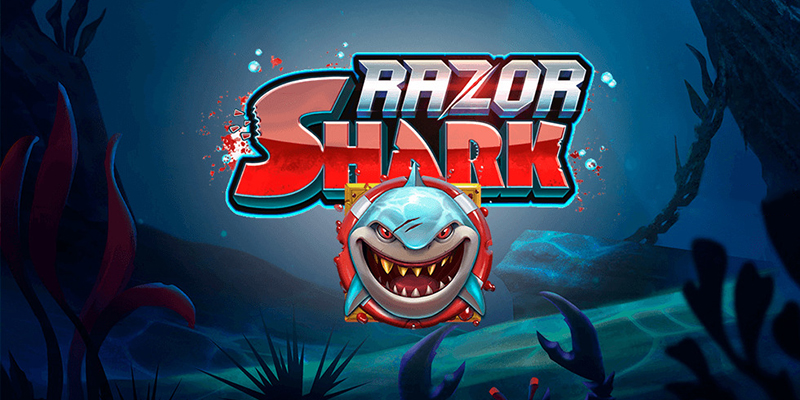 Before you are sure about the gameplay and bet level of Razor Shark, we recommend that you try its demo version. This version is exactly the same as the one coming from the publisher, but the only difference is that you won't have to risk your real money. In other words, some free credits will be offered for you to try out, in return, without any real money prizes available in the game's demo.
The Razor Shark demo version is the best way to familiarize yourself with the atmosphere, symbol system, and everything related to the real money version of the game. It will help you to know your suitable bet and how to unlock the special feature of the game, which directly determines whether you can win big or not.
How to Play: All Rules Explained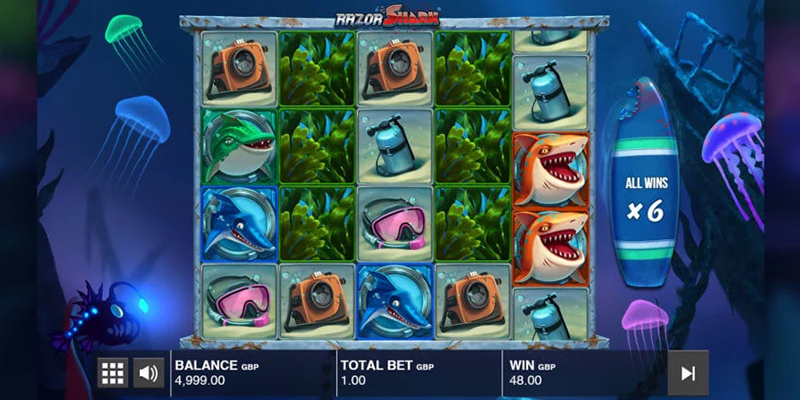 Built on a 5x5 grid and 20 pay lines, you will have no trouble getting used to the gameplay of the Razor Shark slot. Like every other free online slots, your job is simply to set your stack, spin, and hope the symbols land appropriately on one of those 20 pay lines to trigger wins.
In addition, the Auto Spin feature also proved extremely useful in speeding up the game. With only a few clicks or taps, you may activate the number of spins you choose, including up to 100 auto spins, and you'll be ready to swim with the five distinct sharks that appear on the reels. To stop this mode, simply press the "Stop" button, and the game progress will return to normal.
The Paytable: Symbols, Winning Combinations, and Payouts
Razor Shark has cartoon-style visuals and is situated in the water, with corals and colorful fish in the backdrop, as well as a few of Nemo and Dory's lookalikes spectating the reels. Dive tanks, swim fins, diving masks, and underwater cameras are among the lower-value symbols. The four sharks that are blue, green, purple, and orange are more rewarding. Specifically, the latter is the most profitable, paying out 25 times your bet for five on a full payline. The Great White shark acts as the Wild symbol, substituting for all other symbols except the Scatter. It's also the most valuable symbol, paying 50 times your bet for five of a kind.
To trigger wins, you need to land at least three matching symbols in the payable that match the game's 20 paylines.
The Mystery Stacks Feature And Free Spins
The Mystery Stacks feature is the most interesting bonus you'll come across when playing Razor Shark. As the reels spin, stacks of seaweed symbols will appear. When they finish spinning, the stack will reveal matching symbols that might help you win big.
The seaweed symbols shove their way down the reels with each consecutive spin, which is an attractive feature. Then, after each spin, a new mysterious symbol will be revealed.
In addition, the game can also reveal a golden shark symbol, which offers a payout ranging from 1x to 2500x your wager.
The free spins round is also activated when three or more bonus symbols appear on the reels. During this round, mysterious stacked symbols will appear on reels 2 and 4. Moreover, every time you reveal a new mystery symbol, the multiplier increases. This will continue during the free spins bonus, and there is no cap on how high your multiplier may rise, resulting in prizes of up to 2500x your bet.
Return to Player (RTP) and Volatility Levels
Razor Shark is regulated by Push Gaming with an RTP of 96.70%. That's a good number compared to most slots where RTP levels hover around 96%, the industry standard. So if you play the game for a long time, you will be guaranteed a generous profit margin.
However, the game's super-volatility can be controversial. Put in the context of the game's biggest prize pool of up to 50,000x your stake, that's understandable. Even so, you will see your bankroll drop rapidly while you wait for that impressive prize to appear. So perhaps the game will be more suitable for brave players with a solid bankroll.
Where to Play Razor Shark for Real Money?
Push Gaming products are always high-quality titles and attract many players, and Razor Shark is no exception. Given the popularity of the game, you will find a wide range of online casinos that have guaranteed to include the game in their catalog. So it won't be too difficult for you to find a casino with this game available for you to play for real money.
However, you need to know that not all casinos are the same in terms of safety. Some reputable and legit casinos will help you have a fun and entertaining Razor Shark playing experience, while others can ruin the game's emotions with scams of your winnings. In other words, the game itself is safe, but operator transparency is also a deciding factor.
To find a safe casino where you can play Razor Shark smoothly and with minimal risk, refer to the casinos in our recommended ranking. The list on our website consists of honest operators, licensed by reputable licensors, and have a good reputation for treating players.
Graphics and Audio of Razor Shark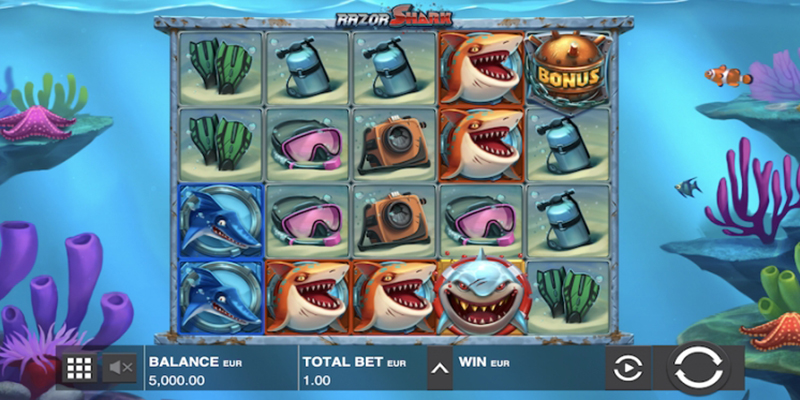 You'll be transported to a world of swaying corals and tropical fish when you play the Razor Shark slot machine. A relaxing melody lulls you into this tranquil setting, but keep an eye out for aggressive sharks and their tragic victims on the reels.
The underwater-themed symbols abound in the Razor Shark slots game, and everything is related to the theme. The pictures are bright and humorous, rather than frightening you with blood and gore. Players appear to appreciate the lighthearted cartoon look, especially when sharks land on the reels and become alive.
The slot's design is fully dynamic. When the symbols are engaged in winning combinations, they come to life, and the backdrop picture ebbs and flows as if it were truly underwater. This results in a fun slots experience that will keep you amused.
Furthermore, one of the first things you're likely to notice is the really catchy soundtrack, an enticing melody that not only adds suspense and excitement to the action but will have you vibing your body to the beat.
Conclusion - What Type of Players Are Suitable for This Game?
Razor Shark is a fun game with impressive gameplay from Push Gaming. It has all the ingredients to become a top slot game: high-quality graphics, vivid animations, fun sounds, and generous bonus features. Even so, the game's super-volatility may make it unsuitable for all players. If you have a limited bankroll, you should not try this game because its volatility can quickly bankrupt you before its biggest prize appears.
Similar games to Razor Shark