Emerald King Slot Free Play
Emerald King, a 2020 release from Pragmatic Play, is an entertaining addition to the well-liked Ireland-themed slot machine genre. You are competing against the goblin king in this game, and if you're lucky, you can get a win that increases your wager by 20,000 times. Sounds good, right? For more information, see the thorough review that follows.
What Is Emerald King About?
Those who have played slots for a while are familiar with this Irish-themed game. The gameplay has been updated, and there are many more intriguing features in the Emerald King slot machine this time. Nevertheless, you will still enjoy a traditional fruit machine with green tones of lucky grass.
This 5x3-reel slot game has 20 active paylines that could result in wins of up to 20,000x your wager. This is a huge number compared to the usual slot machines with the same theme. In addition, among the game's main features, you can experience giant symbols (2x2 and 3x3 sizes), wildcards, win multipliers, and exciting Mini Slots features.
Why Should We Play Emerald King Free Demo?
There is a nation ruled by the strongest, wealthiest, and kindest monarch in the hills and far away. The Emerald King is in charge of the Emerald Kingdom. Pragmatic Play welcomes players to visit this captivating Kingdom and compete for the King's favor. The King is so wealthy that winning his favor will give visitors the chance to play up to 15 mini slots and receive a bonus of up to 20,000x.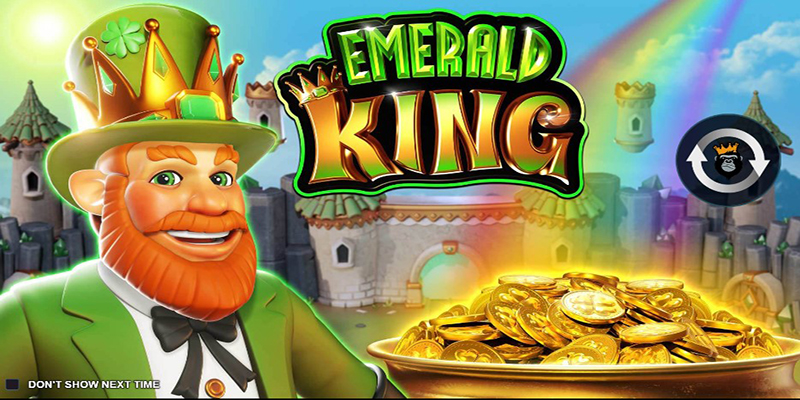 This game offers a 5-reel, 20-payline with the most exceptional earning potential and cutting-edge bonus features. This game's generous paytable and outstanding features make it a player favorite despite its unimpressive looks and animations.
Game Information That You Need to Know
With Emerald King, you can begin your adventure to the end of the rainbow, where valuable treasures and attractive bonuses await. You must thus prepare the best luggage to avoid encountering too many obstacles when accomplishing the challenge. Below are all of the specifics.
RTP, Volatility, Min, and Max bet
Naturally, this slot machine must have high volatility because of its substantial bonuses; it is rated 5/5. As a result, your victories will be much more impressive because they won't have come easily.
Additionally, Emerald King's RTP of 96.51% is slightly higher than the industry standard. This can also indicate that the game's extreme volatility won't significantly harm players, exceptionally high rollers. If you didn't previously know, this payment potentially means that you would receive £96.51 for every £100 you wagered if you won.
You can wager as little as 0.20 credits and as much as 100 credits. This slot machine is an excellent option for big rollers and those on a restricted budget because of the extensive betting range.
The Theme of the Slots
A panoramic image of the Emerald Kingdom with cartoonish walls, gates, and towers embellished with plumes of smoke pouring from joggled chimneys and traveling up to the mountains making up the horizon. This represents the plot of the slot machine in a literal sense.
Additionally, the black reels resemble those of a vintage one-armed bandit. Cherries, grapes, and 10 to K royals are all present there. The most advantageous symbol is the bearded Emerald King. If you get 3, 4, or 5 on a payline, he pays 2.5, 5, or 25x your total bet.
The best symbol is the pot of gold wild. This replaces all the standard symbols and offers awards of 50, 100, or 500x your stake if you hit 3, 4, or 5 in combination.
In-Game bonus feature
With two excellent extra features, including multiplier expansion and a Mini Slots feature that grants free spins on a single payline, this slot machine provides gamers with standard gaming.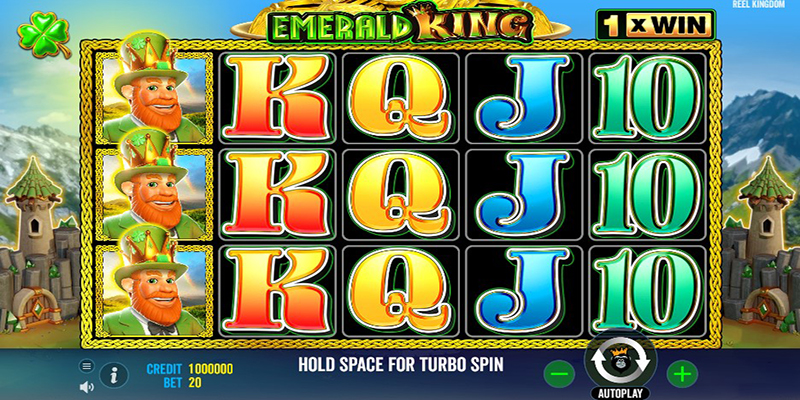 Win Multiplier
The Win Multiplier feature gives your chances of winning a significant boost. A multiplier rises by one if a winning combination is not made. This increases with each unsuccessful spin until you hit a winner, which returns to 1x. The meter in the top right corner of the screen allows you to monitor the size of the multiplier.
Mini Slots
Any spin could result in a reel turning green. The Mini Slot feature, the game's bonus round, will be triggered if all five reels turn green simultaneously. You will receive a payout that is equivalent to double your total bet.
After that, you'll receive up to 15 further spins on tiny reel sets with one payline each. This sum is chosen at random. Each of these Mini Reels comprises blanks, blue, yellow, and red 7 symbols.
Land 3 of any colored 7 on a payline to create a win that pays 2 x stake
Landing 3 blue, yellow or red 7s pays 10, 15, or 20x your stake, respectively
Each set of reels continues to turn until a spin results in a blank and, thus, no winning combination. After that, the reel is taken from the screen.
There were standard symbol mini reels as well as 2x2 or 3x3 machines. Any wins made with the gargantuan reels are multiplied by a chance multiplier shown in the Mini Reels' upper right corner.
Graphics and Audio Sound
Emerald King is a slot machine with a classic graphic design that does not use many vibrant effects. Additionally, there isn't much of a connection between Fruit Wheel and Emerald King combinations. makes this slot machine appear less polished than its sisters. Fortunately, it still offers a fluid gaming experience to players.
Contrarily, the background music, represented by a cheery jig accompaniment, and the harp sound effects have provided players with a relaxing experience with each spin.
Expert Verdict
Despite its aesthetics being quite subpar, Emerald King is one of Pragmatic Play's most extravagant games available at online casinos. This 5-reel, 20-line slot machine may pay up to 20,000x for a single line bet in the regular game or during the extra features. Therefore, if you are a player who isn't very concerned with graphics, try out this bountiful slot machine right away.
Similar games to Emerald King