Buffalo Blitz Slot Review
Buffalo Blitz slot is a popular wild-themed slot from Playtech. The game launched in 2016 and has attracted thousands of gamblers worldwide, making it one of the most successful slot machines. The game's success made the manufacturer decide to release a sequel to the game a few years later.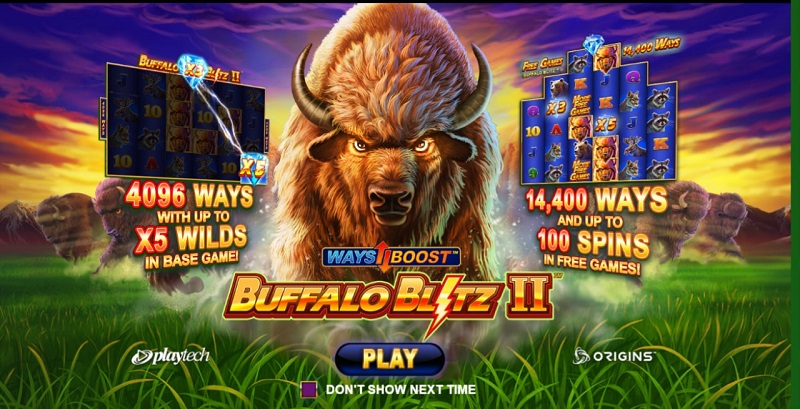 You will witness unique and beautiful wildlife in the world of Buffalo Blitz slot. Nature inspiration is featured in the game theme, with 4096 ways for you to win valuable victories. Bonus in-game features include wild multipliers and free spins, where you can win up to 100 free spins if you unlock special symbols.
Buffalo Blitz slot will lead you to the wilds of America. Conquer its famous wildlife for the biggest prize of up to 10,000x your initial stake. The game is designed with beautiful graphics, exciting action, and explosive free spins, up to 100 free spins for the luckiest players.
The slot is built on a basic 6x4 grid, with 4096 ways for you to create winning combos. This means that the basic paylines are gone. Instead, the game adopts the Cluster win mechanism, where you can create wins by land symbol combination from the left on adjacent reels.
Besides, pay attention to the Wilds symbols designed like diamonds. They come with random multipliers from 2x to 5x, so they significantly increase the wins they participate in.
Game Theme
The game is inspired by the wild nature of America, where you can witness many different types of wildlife, most notably the American bison, strolling on the vast green prairies under the dim sunlight of the sunset. In the background, you will see majestic mountains covered with white snow to create a pure atmosphere.
The low-paying symbols in this slot include cards 9 to A. A winning combo of up to 6 of these symbols will land you between 100 and 150 times your stake. Next, the more valuable symbols include the Moose and the Bear, which will land you 200x your stake if you land 6 of them in a winning combination. Raccoon and Cougar are the more generous symbols, bringing 250x the stake on wins. Finally, the Buffalo, the main character in the game, offers a vast win worth 300x your stake if 6 bison appear on your grid at once.
With that said, Wilds is designed like a sparkling diamond. In addition to providing multipliers, they can substitute all other symbols in the payable to complete your winning combinations. Be aware, however, that these symbols can appear on all reels except reel 1.
RTP, variance & technical data of Buffalo Blitz Slot
Cluster win mechanics are the most notable feature of Buffalo Blitz slot gameplay. Playtech has cleverly applied this mechanic to its classic 6x4 grid game. That helps players increase their chances of winning on every spin, just like what Megaways slots offer, in a game with simple gameplay. Perhaps, part of the success of the slot machine is attributed to this clever idea.
Below, we will provide some vital game stats for your reference.
RTP, Volatility, Min And Max Bet
Playtech applies an RTP of 95.95% in this title. This number is slightly below the industry standard of 96%, but the difference is not significant enough for players to worry about. You will get 95.95 credits back if you bet 100 credits on a winning spin, an acceptable rate of return.
Besides, the high volatility, as in the game description, is something that you should look out for. With the maximum possible multiplier up to x5, you have a great chance to land impressive wins. The maximum prize of up to 10,000x is also quite reasonable with this. However, volatility comes with risk, and you'll have to take this risk through multiple death spins in a row to access this x5 multiplier.
Regular players can start betting from 0.40 credits for a spin. This is higher than the 0.20 credits as in many other slots but is acceptable given that the additional reels offer many advantages to the player. Conversely, the high-rollers can bet up to 200 credits per spin, which is big enough to take advantage of the game's x5 multiplier.
How To Get The Buffalo Blitz Slot Machine Jackpot? 
The biggest prize in Buffalo Blitz is 10,000x the player's initial stake. You will need Scatters to unlock the Free Spins bonus to access this prize. Here, the x5 multiplier is the goal that you need to aim for.
Bonus Features In-Game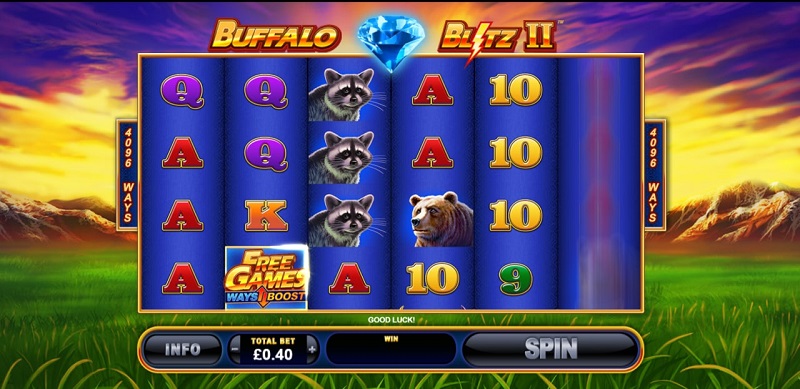 As mentioned, Wilds can significantly impact prizes in the base game. This symbol will randomly apply x2, x3, and x5 multipliers to the wins it participates in. This symbol can appear from reel 2 to reel 6.
The Scatters symbol will trigger free spins to increase your winnings without the need to wager real money. They will help you enjoy between 8 and 100 free spins, depending on how many Scatters you land on the grid. Specifically, the number of free spins based on Scatters is as follows:
2 Scatters- 5 Free Spins
3 Scatters- 8 Free Spins
4 Scatters- 15 Free Spins
5 Scatters- 25 Free Spins
6 Scatters- 100 Free Spins
Besides, when this bonus feature is activated, Wild Diamond retains its functionality. This symbol will provide a maximum multiplier of x5 on wins during this period, which can go up to 10,000x your stake
Graphics And Audio Sound
Buffalo Blitz slot graphics weren't as impressive as today's modern slot machines, but it was good enough to create a pleasing visual experience for players. The game's setting is set on a verdant meadow at sunset, while the bright green of the grass contrasts dramatically with the sky's deep blue. Finally, the game's grid is designed with a golden frame to accentuate the entire scene.
Besides, the delicate animations and smooth visual effects are also an advantage of the game. They are created in 3D and are sharp enough not to cause any discomfort.
Players will hear a piece of music with a smooth melody throughout the playing process. They are like the sounds of nature and create a relaxing atmosphere, so you can play this slot for a long time.
Play Buffalo Blitz Free Demo On Our Website
The Buffalo Blitz demo version is available on our website. This version will help you experience the most exciting things in the game without risking your real money. Rest assured, everything will be exactly the same as the original, from RTP and volatility to potential payouts.
In addition, this demo version can also be used with iOS and Android operating systems and devices such as tablets and PCs. Therefore, you can enjoy the wild American nature everywhere without any hindrance.
Conclusion
Buffalo Blitz slot is a globally popular slot machine that Playtech powers. The wild nature theme of the American West has been quite popular in the world of slot games, but Playtech has exploited it brilliantly with a remarkable degree of drama through its action and beautiful graphics. Besides, the bonus features are also simple enough and highly profitable, which will make players feel that victory is very close. Don't hesitate to visit American nature now and conquer beautiful buffaloes to win prizes up to 10,000x your stake.
Similar games to Buffalo Blitz