3 Clown Monty Slot Free Play
The Play 'n GO-powered 3 Clown Monty slot has 5 reels and 10 pay lines. Join the clowns, namely Bumbo, Schmucky, and Whatda, at this traveling circus with unpredictable wild multipliers of up to 25x. Wild multipliers are active on every free spin throughout the free spins. Then there's the Monty Spins feature, which sticky all wild multipliers. The game offers 20,000x maximum stake winnings each spin and an RTP of 96.23 percent. More information may be found in our 3 Clown Monty reviews.
What Is 3 Clown Monty About?
Anyone afraid of clowns should stay away from the spooky, wild 3 Clown Monty online slot, which has struck casinos like a gigantic custard pie. A wild gorilla can multiply rewards, and free spins with guaranteed multipliers are available. From within this round, engage the Monty free games to activate sticky wilds for the highest prizes.
The 3 Clown Monty slot transports you to the world's worst circus and focuses on three clumsy brothers, Bumbo, Schmucky, and Whatda. They appear sad and unsettling, but not as frightening as Pennywise the Dancing Clown from the It film. With a circus concept, they move from town to town, which they are pushed out of owing to their lack of skill.
Storyline
Stephen King, the horror writer, has a lot to account for. In addition to frightening readers for decades with his best-selling tales, he shares some blame for vilifying those painted-faced, red nose-wearing performers known as clowns.
Thanks to the shapeshifting monster Pennywise in 'It, clowns are just as likely to elicit fear as laughter in reaction to their hilarious actions. The circus-themed slot 3 Clown Monty from developer Play'n GO avoids creating thoughts of doom, but its characters evoke a certain level of melancholy.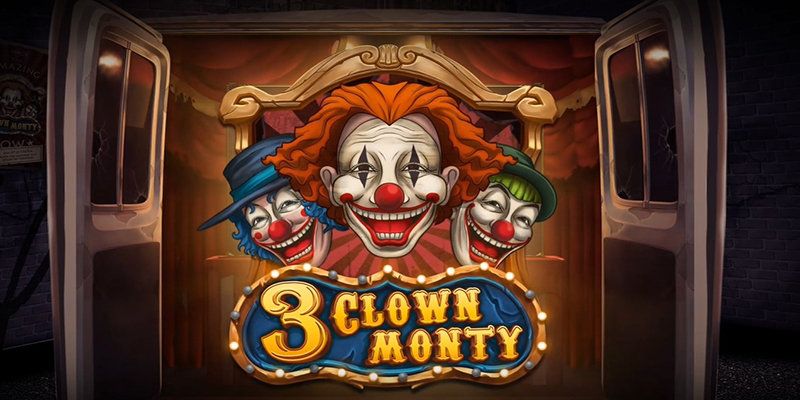 Along with the wistful emotions, 3 Clown Monty's backstory also tugs at the heartstrings. In summary, the Clown Show presented here never lasts long in one town before being chased out for frightening little children. On the plus side, while the motley crew's clowning talents may be lacking, the game offers substantial winning potential.
Basic Information About the Game
3 Clown Monty has ten pay lines, and players may win by landing three or more matching symbols on any of them. The red-haired clown is the most generous symbol in the game, delivering a top payout of 50x for a 5-of-a-kind combination, while the wild sign is the cigar-smoking gorilla.
Multipliers ranging from x2 to x25 may be found at the top of the reels. The multiplier is randomized after each spin. When wilds come in winning combinations, the multiplier value is applied, paving the door for some fantastic base game wins.
RTP, Volatility, Min and Max Bet
Stakes range from 10p to £100 each spin and are displayed along the bottom of the reels. More stake alternatives are available by using the plus and minus buttons. There is a lightning bolt symbol that activates Turbo Spins. There is also an Autoplay option for automatic spins.
The RTP for 3 Clown Monty is 96.23 percent, which is higher than the slot average and typical for a Play 'n GO release. The RTP will typically be the highest available in trustworthy casinos.
Play 'n GO rates it as 9/10 in terms of volatility. This means that significant wins will be difficult to come by. The potential profit is worth the risk because the maximum payout is 20,000 times your total wager. This is far greater than what is available for Play 'n GO games.
In-Game bonus feature
There are four additional features in 3 Clown Monty. There are multiplier wilds in the regular game and the two free spins games. These provide wild multipliers on every free spin and sticky wild multipliers.
The Wild Multiplier Function
Look out for Bite-E the Gorilla, who sits atop the reels, guarding the crown. He can randomly activate the Wild Multiplier function. Bite-E can multiply a wild that is already on the reels. This translates to a 2x, 3x, 4x, 5x, 10x, or 25x wild multiplier. The multiplier values are multiplied when there is more than one multiplier wild. If you obtain 2x and 5x multiplier wilds, you'll receive a total of 10x multiplier.
The Dealer's Choice Option
Keep an eye out for the 3 Clowns scatter sign. When two scatter symbols appear on the reels, the Dealer's Choice feature is triggered. They change into wild scatters, and one of two outcomes occur:
The reels now include more wild symbols.
A third scatter symbol is added, triggering the free spins.
Free Spins
You must land three or more scatter symbols to unlock the Free Spins bonus. The more scatters you collect, the more free spins you earn. Each scatters increases your chances of winning three different numbers of free spins:
3 scatters: 5, 7, or 9 free spins
4 scatters: 7, 9, or 10 free spins
5 scatters: 9, 10, or 12 free spins
Bite-E, if activated, will keep wild multipliers active on all free spins. This means that all wilds are multipliers.
Monty Spins
During the free spins, keep an eye out for scatters. If you land two or more scatters, the Monty Spins bonus will be activated. The quantity of scatters determines the number of free spins granted at random:
2 scatters: 4, 5, or 6 Monty Spins
3 scatters: 5, 6, or 7 Monty Spins
4 scatters: 6, 7, or 8 Monty Spins
5 scatters: 7, 8, or 9 Monty Spins
All wilds that land during the Monty Spins become sticky wild multipliers. The triggering multiplier meter value remains constant during the Monty Spins. At the end of the feature, you can return to the Free Spins feature or win three additional Monty Spins.
Graphics and Audio Sound
A terrifying traditional carnival melody plays with its inexorable notes full of furious glee. The reels whirl with the vigor of a traditional carnival game. Meanwhile, victories are enthusiastically cheered, giving the impression that an audience is present.
Each of the clowns has a distinct brilliant color for their hair. These clowns have not had a happy life, judging by their smeared makeup and sad and maniacal grins.
A brick wall can be seen behind the reels and an angry smoking gorilla. This heightens the sense that there is more at risk in this game than just having a good time. Players will enjoy getting into the rough and tactile atmosphere as the game progresses.
Overall, the music and pictures create a continuous sense of a carnival crew with financial difficulties.
Conclusion
We highly recommend this clown-themed slot with a high RTP and high volatility. This game is a wonderful choice for strategy-conscious players since it has plenty of volatility and a respectably high RTP.
The nasty clown motif is persistent and well-animated, but it will not appeal to everyone. Players that dislike clowns should avoid this realm, but for the rest of us, it's a lot of fun. Join 3 Clown Monty Slot for the chance of a maximum winning of up to 20,000x your stake.
Similar games to 3 Clown Monty