Why Is Gambling Illegal?
Last updated Friday, 01/07/2022 10:26 by Yendrembaam Heroojit
Table Of Content:

Gambling is now recognized as a legal form of entertainment in many countries such as the United Kingdom, some states in the United States, Netherland, Canada, and many other jurisdictions around the world. However, some other regions have opposing views on this. In particular, some countries completely ban gambling to the point where, you must not engage in any form of gambling and if you do, you will face criminal prosecution.
That may leave many gamblers wondering. The most common reason that some places around the world have such an anti-gambling stance is usually related to morality or religion. These places you can refer to Bhuta and some Islamic countries like Indonesia. More specifically, some cultures consider gambling to be an open sin or even a crime, whilst others are mainly concerned with the socioeconomic consequences of gambling.
These consequences entail underage gambling, developing a compulsive gambling behavior, or even taking one's own life due to gaming debt. Simply said, some countries have determined that making gambling illegal is the best way to avoid the loss of human life or the deterioration of their society's mores.
Today's article will analyze why gambling is considered illegal even at the time of its origin, which countries and regions have the most negative views about gambling in the world today, and why some gambling activities is still illegal in the very place where gambling is allowed. Read on to find out.
Why Is Gambling Illegal in the First Place?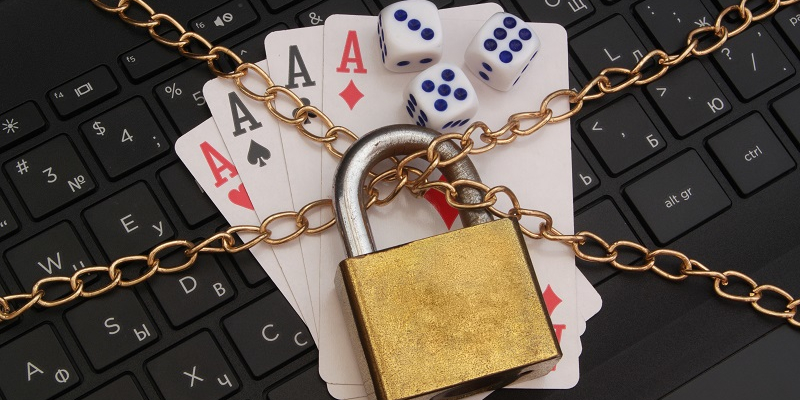 Countries that consider gambling illegal often state their position specifically through their constitution. Gambling is usually considered sinful, however, no faith officially specifies that it is. But why is gambling outlawed if it is not considered a sin by religion? The answer is straightforward: there is an underlying morality to examine in these countries that have prohibited gambling as a crime, and gambling plainly goes against the grain of that code of behavior.
The original intent of the outright ban on gambling was to protect players who were vulnerable to gambling or simply to keep as many people away from gambling as possible. However, the development of public awareness in modern societies has recognized the downside of this, that is, that a somewhat extreme approach often does not bring the desired results.
More precisely, outright banning a form of entertainment such as gambling could somehow increase the public's curiosity towards itself, especially for those who are new to gambling. In other words, the ban comes with the unwanted backfire, as people will continue to find ways to gamble, even in places where it's not legal.
Even, when players have no choice but to go to illegal gambling operators in countries where gambling is illegal, they are at a higher risk of suffering gambling-related harm, losing money, or becoming indebted to criminal organizations, which defeats the original purpose of the authorities making gambling illegal.
Is Gambling Illegal Where You Live?
Another issue that most individuals who want to participate in any sort of gambling have is if it is legal to gamble at home. This is determined by your location as well as the type of gaming you desire to engage in. Varied nations have different rules regarding various types of gambling activities, such as lotteries, sports betting, casinos, and bingo.
These actions might take place online, in a bookmaker, casino, or any other location designated for gambling operations. In any case, determining if you are legally permitted to bet and whether the behavior is regarded a criminal violation is simple and involves only a few moments of investigation.
While many nations have not approved legislation declaring gambling legal, you are not prohibited from gambling even if there are no licensed websites in your country. The disadvantage is that you will be relying on offshore websites that have no duty to pay you back. To be clear, if you are forced to play at casinos based abroad, you are not protected should a financial dispute arise between you and the operator.
However, there are international companies that have established a reputation and may be trusted. However, it is critical to distinguish between legitimate and illegal gaming sites because they are not the same. Honest websites will come with many positive features that you can easily notice, the most prominent of which is that they are licensed by reputable organizations such as the UK Gambling Commission, The Malta Gaming Authority, or Curacao iGaming.
Countries With the Clearest Anti-gambling Stance
In the world today, there are several countries with the view that gambling is completely illegal. As stated at the beginning of the article, if you are a citizen of these countries, you will face criminal prosecution if you engage in any form of gambling. Why did that happen? Does that violate the individual freedom of citizens? And most importantly, why do governments in those countries have such a negative view of gambling? Let's look at each case for the answer.
Cyprus
To begin, a player must understand which games are permissible under Cypriot law. Legal games include OPAP Cyprus's games of chance (such as Kino, Joker, and so on), the state lottery, private or small lottery tickets issued after obtaining a relevant license, horse races authorized by the Nicosia Race Club, and all games that will be provided in the casino-resort that is planned to be built and will be supervised by the National Gaming and Casino Supervision Commission.
In contrast, regardless of the type of game, gambling on a mechanical, electrical, or other equipment for which the player must pay in cash or tokens to play in order to make a profit is banned (i.e. slot machines, poker, horse-racing, or other racing games, bingo, etc.). Online casinos, betting exchanges, spread bets, and dog races are likewise prohibited, as is betting at facilities or on websites not licensed by the National Betting Authority.
Players must also be informed that playing on websites without supplying legitimate identification, address, and e-mail information violate the law. Furthermore, it is a crime for anybody to promote or allow a minor to engage in gambling or to enter a betting business.
North Korea
Is it legal to gamble in North Korea? The simple answer is that, while gambling is prohibited for North Korean natives, there are two casinos that cater to international visitors.
There are now two casinos in North Korea, one in Pyongyang and one in Rason. Apart from the above, two you cannot find any other place in North Korea that allows you to gamble. However, the fact that you can step foot in these two casinos has made you much luckier than all the citizens of North Korea.
Firstly, the Yanggakdo Hotel is noted for having a casino on the ground level. North Koreans are not permitted, nor is alcohol! They have baccarat and blackjack, and there isn't much of an atmosphere, but getting a Gak casino chip as a memento is always popular.
The Imperial Hotel And Casino, located in the Rason Special Economic Zone, is not only North Korea's most luxurious hotel but also one baller casino. Apart from being a magnificent resort, the casino has a 500 Euro entry charge (which you get in chips that have to be gambled). This location was designed for serious gamblers from China and, to a lesser extent, Russia.
Some US States
Gambling is allowed in some form in the majority of the United States. At the municipal level, state-specific gambling laws control or ban various sorts of gaming. So, depending on where you live, the laws of land-based casinos, charitable events, sports betting, lottery, keno, bingo, and skill games differ.
Except for Utah, all of the other 49 states in the United States have some form of legal gambling. Utah is tight, with a complete prohibition on all gambling activity.
Hawaii is another special case, where poker and other social games are only permitted in private houses.
Sports betting and commercial casinos are also restricted in several states. Nonetheless, most states permit native tribes to operate gaming enterprises in accordance with the Indian Gaming Regulatory Act.
United Arab Emirates
It is critical to remember that Islam is the country's official religion, as stated in the UAE Constitution. Gambling is forbidden in Islam, and this serves as the foundation for federal and municipal emirate legislation that bans all types of gambling, as well as the promotion of any sort of gaming.
The legality of gambling and gambling-related ads is problematic in many jurisdictions and remains a hot subject. However, rather than a religious component driving the demand for regulation, these issues are more frequently centered on worries about children or minors' exposure to gambling culture, as well as protecting vulnerable persons.
The UAE rule is rather straightforward: gaming and any gambling-related advertising in any manner, shape, or form are forbidden, except for the exceptions listed below. In our opinion, this includes providing online gaming services to UAE residents from outside the country.
Furthermore, the UAE Civil Code allows wagers in certain instances, such as horse racing, shooting, sports, and strength tests. There must be certain about the reward, certainty about the person who must deliver the prize, and certainty about the subject matter and scope of the competition.
However, it is not as easy as just adhering to the Civil Code's obligations. A prize in a betting contract may only be given to the winner, who is the contracting party who wins the event via his own efforts and talent. The implication is that any arrangement that could result in the prize being paid to a third party (i.e. someone who is not a participant in the race/contest, etc.) would be outside the scope of what is allowed - and thus illegal gambling and subject to the criminal provisions that prohibit this type of entertainment.
Singapore
In Singapore, gaming in a "common gaming house" is an offense under the CGHA (Common Gaming Houses Act). A "common gaming house" includes any place kept or used for gaming, habitual gaming, and public lottery, whether or not the public has access to it.
Thus, whether the gambling behavior in question crosses the line into an illegal act depends on whether the gambling venue is kept as a common gaming house, or a place to be used for gaming.
The first form we want to talk about is private gambling. While the CGHA does not provide a definition for private gambling, it is generally considered as gambling in a place to which the public may not have access, for example, at home.
Private gambling constitutes an offense if the place where such gambling is carried out is kept specifically for the purpose of habitual gaming as a common gaming house.
Anyone found guilty of gaming in a common gaming house will be liable for a fine of up to $5,000, or to imprisonment for a term of up to 6 months, or both.
Next, what happens if you gamble in public? Gambling in public refers to gambling in a place to which the public may have access and includes any place in which 10 or more persons are employed.
It is illegal to gamble in any public place in Singapore. For example, gambling at a funeral held in a void deck may be illegal as a void deck is a public place.
Anyone found guilty of gaming in a public place will be liable for a fine of up to $5,000, or to imprisonment for a term of up to 6 months, or both. Their gaming instruments may also be seized and forfeited.
Placing bets with bookmakers is also worth mentioning. Bookmakers' activities are regulated under the Betting Act. Under the Betting Act, a bookmaker is any person who receives or negotiates bets or wagers on a cash or credit basis in exchange for money or money's worth.
Any person who bets or wagers with a private bookmaker (also known as a "bookie") in any place or by any means shall be guilty of an offense. Offenders will be liable for a fine of up to $5,000, imprisonment for a term of up to 6 months, or both.
On the other hand, it will not be illegal to bet with exempted bookmakers such as Singapore Pools, Tote Board, and the licensed casinos here.
Finally, you will concern about playing with jackpot machines. As jackpot gambling falls under the definition of "gaming" in the CGHA, it is illegal to participate in jackpot gambling in a common gaming house or in public unless the jackpot machine is located in a club that is permitted to operate the machine.
Brunei
Casino gaming is prohibited in Brunei under the Common Gaming Houses Act and is punishable by a $10,000 fine and six months in jail. The restriction is tightly enforced, and arrests are rather common. Brunei, of course, does not have any land-based casinos.
While not officially addressed, online casino gaming is unlawful under the Common Gaming Houses Act. There have been incidents of Bruneian players being convicted and laptops used for unlawful internet gambling being confiscated under this rule.
In Brunei, bingo is not expressly regulated, however playing real money Bingo games is most likely deemed gambling and hence unlawful under the Common Gaming Houses Act. Bingo is also almost unknown in the nation, and there have been no stories of Bingo players being arrested, most likely because virtually no one plays it. Online bingo is likewise prohibited in the nation.
Poker, while frequently seen as a game of skill rather than chance, is also banned in Brunei, as forbidden under the Common Gaming Houses Act. Although online poker is not expressly regulated, the same regulations apply as they do in live poker games. Players found playing in any type of poker game may face fines of up to $10,000 as well as 6 months in prison. There are various worldwide poker sites that welcome Brunei players, however, players would be taking a significant risk.
Sports betting is banned in Brunei and may result in a $10,000 fine and a 6-month jail sentence. Despite this, cock fighting – including betting on the battles – remains a popular hobby in the nation, and is almost a tradition. Gamblers betting on these bouts are frequently detained and charged under the Common Gaming Houses Act, despite the fact that some illegal sports betting establishments remain open.
Online sports betting is not specifically addressed in the legislation, but online sports betting sites, like online casino gambling, can be regarded as public places of gambling, and users in Brunei may face prosecution.
According to the Common Gaming Houses Act, both conducting a lottery and purchasing lottery tickets are unlawful in Brunei. Those who purchase or possess a lottery ticket, unless they can show they did not purchase it, face a $2000 fine. Brunei, of course, has no national or other land-based lotteries.
Online lotteries are not expressly regulated in the nation, but are nonetheless considered lotteries and hence prohibited in Brunei. As a result, there are no online lottery sites in Brunei, and participation in international online lottery draws is also banned.
Cambodia
Gambling operations facilitated a great deal of corruption, which eventually contributed to the country's dismal socioeconomic situation. Cambodian youth are the most vulnerable group in the country. Because of these difficulties, the Cambodian government was forced to adopt harsh measures against the country's most popular form of entertainment.
Gambling is outlawed in Cambodia as a result of the Gambling Law of 1996. It prohibited all forms of gambling in the country and stipulated a variety of penalties, including jail sentences and monetary fines for anyone who violated it. However, gambling is not one of the 28 offenses punishable by imprisonment under Cambodia's General Department of Prisons (DGP). Furthermore, all of the restrictions only applied to citizens. Foreigners who are visiting Cambodia and have valid visas can bet in any land-based or online casino.
Cambodians were formerly able to play slot machines at casinos around the country. However, they were closed down in 2009 due to complaints of obsessive gaming and growing debts.
Is Gambling a Crime Even in Legal Markets?
Certainly, gambling may be considered a crime even in places where it is allowed. While legalizing gambling is an important step toward increasing state income, the prevalence of illegal gambling does not end there. Many people, and frequently organized crime groups, opt to utilize gaming to launder money or transfer criminal proceedings.
In other words, just because gambling is allowed in your country doesn't imply that individuals aren't trying to breach the law by conducting illegal businesses. However, this is also the point at which gambling becomes a felony.
Running illegal gambling establishments implies that the guilty person is penalized by law, and the magnitude and severity of the punishment are proportional to the level of violation.
Conclusion
Although most of the countries of the world are taking a more open view towards gambling, be sure of your country's constitution before stepping foot into this world of entertainment. Illegal gambling could expose you to criminal prosecution, or in other cases, put you at risk of unscrupulous operators ripping your winnings. The best way to deal with that is to choose online operators that are licensed by transparent organizations.
In addition, if you are looking for trustworthy casinos to entertain, you can refer to our "How to choose a safe casino to play" article posted on our website.
Published: 01 July 2022 10:26