Everything you need to know about a casino's house edge is in detailed explanation. Understand the house edge and choose the most profitable site to play at.
Most of us know that going to the casino is risky and the old-fashioned saying "The house always wins" seems to be true. All of that can be explained with House Edge.
What is House Edge?
House Edge plays an important role for the house at casinos. Although casino games are largely based on luck, there's one rule that applies to all of them: it is House Edge. And the saying "The house always wins" seems to be true in all cases.
Obviously, casinos must maintain this advantage. Casinos are places where players come to gamble, of course, casinos need to make sure they can't lose constantly, of course, no matter what, they need to stay in business. In other words, they need to have an edge over the players. In fact, each game has a different House Edge.
For example, if you put $ 100 in a slot, there's a chance the casino will make $ 4 profit from you. Even if you win on that particular time, the casino will beat the majority of the other players, grabbing $4 from most of them. And the saying "The house always wins" seems to be true in all cases.
However, House Edge does not mean you can't win casino games. In fact, there have been tens of millions of winners even if the game they were playing had a high House Edge. Hence, House Edge just means the casino will be making money long enough from many other players.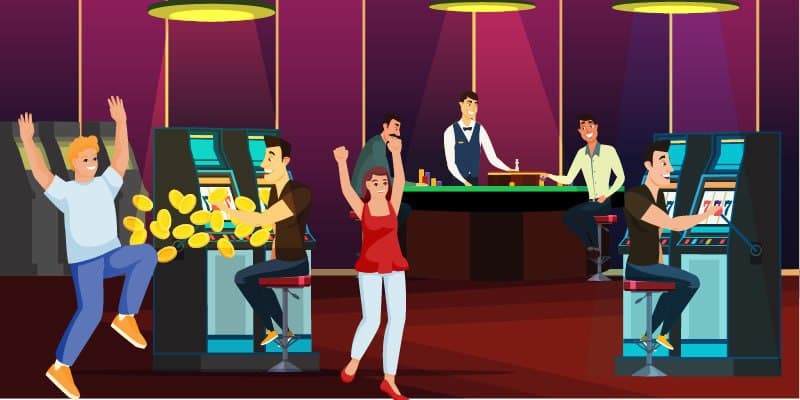 Difference Between RTP (Returns to Player) and HE (House Edge)
RTP stands for Return to Player. It is the money that is returned to you after you have placed your bet. For example, if you bet $ 100 on a slot with an RTP of 96.8%. Theoretically, the profit would be 96.8 dollars but in the long run.
However, if you think you are guaranteed $ 96.8 back from every $ 100, you're wrong. You can easily lose $ 100 in a single play. As a result, you can only understand that $97 of it is being returned at some point to someone. There could be one lucky player who gets $ 968 while dozens of players lose $ 1,000 in total.
Simply put, RTP and HE are two sides of the same coin. Since RTP reflects the total stake returned, it is easy to calculate HE by subtracting the RTP from 100%.
For example, a slot has a theoretical RTP of 96.8%. From there, we can calculate HE by subtracting the RTP from 100%, in this example, we have HE of 3.2%.
Check out "What is RTP" to know more.
Which Games Have the Lowest House Edge?
Games with low House Edge in online casinos include Baccarat, Craps, and Blackjack. In addition, in this section I will also cover House Edge of the popular games in casinos.
Baccarat
Baccarat is one of those games with simple rules and gives players a chance to win big money.
Baccarat games have a very low House Edge, it only ranges from 1.04% (when you play with Player) to 1.06% (when you play with Banker). In the event that you bet on a Draw, the casino operator will have a much higher House Edge: 14.36%.
You can play various baccarat variants for free to know more about the different HE offered.
Blackjack
In fact, there are many people who play blackjack with the goal of making money. One of the main reasons is that it has an extremely low House Edge.
For example, if you were playing a blackjack game, the House Edge would be 0.28%. While that still gives the casino the advantage in the long run, if you use smart strategy, you can win at any point.
More than 1000 free online blackjack games are on-board for you to play now.
Craps
There is no denying that Craps is one of the most popular games in the casino. Though it can make your money multiply quickly. However, you always need a smart strategy.
There are many types of craps bet types and their House Edge ranges from 0% (odds bets) to 16.67% (sevens).
The most awaited craps games are available on our site now. Check it right now.
Keno
Keno does not give the player a big advantage, nor does most lottery games. In fact, there are still a lot of people who still play Keno. One of the main reasons is that Keno is so interesting and that big life-changing victories sometimes happen. Play various Keno games for free at CasinoMentor now.
In fact, House Edge in most keno games ranges from 25% to 30%. If you are just playing keno for fun and do not hope to win, then it isn't a big deal for you. Big win in one shot is also possible and that also attracts many people.
Poker
Almost everyone already knows there are different variations of poker and they have different House Edge
Pai Gow has a House Edge of 1.46%.
Red Dog has a House Edge that is about 2.8%
Caribbean Stud has a House Edge of 5.22%
Heads Up Hold'em has a House Edge of 2.36%
Let It Ride has a House Edge of 3.51%
Roulette
There are actually two types of planned roulette, including American Roulette and European Roulette. Although you can play the different roulette systems you want, you can not change the house edge behind the roulette. House edge for the US variant is 5.26% and the figure for the European variant is 2.7%.
Video Slot
Video slots come in all forms and categories, with diverse and rich features, jackpots and payouts. For Video slots, house edge ranges from 2% to 15%, depending on the game.
Video Poker
Several variations of video poker will give you the edge if you have a smart strategy. Anyway, video poker is the best game if you want to make real money. However, it takes time and effort to master the strategy. However, no matter how sophisticated your strategy is, there are other types of video poker that don't give you an edge. Enjoy an assortment of video poker at CasinoMentor site now.