Gonzo's Quest Slot
Gonzo's Quest slot is one of the most wanted and exciting online slot games in recent years. The game was released in 2010 by a monster in the industry - NetEnt. The slot was the first "platinum" game because of its incredible and attractive graphics and the industry-first game features it revealed as "Avalanche" introduced recently.
Gonzo's Quest welcomes its players with the ultimate slot experience and top-quality video games. There are many bonuses and incentives offered by the slot such as Free Spins and Respins.
Graphics and Theme
Let me clarify its stunning graphics, atmosphere, and theme, which are loved by many gamblers across the world. Play this NetEnt slot, you will feel of a merry ride. It is a voyage of treasure discovery. To play this slot, you need a stable internet connection and a compass that takes you in the right direction to get gold and other treasures. The theme is embedded with the scenes from the ancient temples in a luxurious jungle where it is believed to have their untold riches.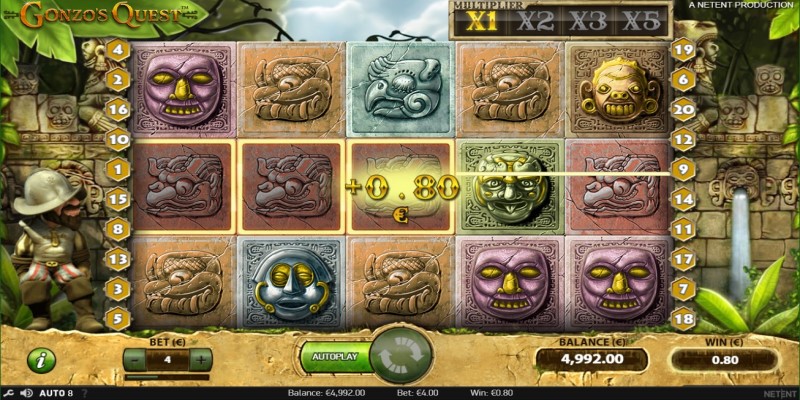 Just like Jack and beanstalks slot with Jack is the main character, Gonzo's Quest Slot is a cute and fun-loving character who gets in your face and walks across the reels. Stay long with him. You will be taken from this surprise to another. If he ever does something which makes you unhappy, then don't be mad at him yet. He will take a lesson and make it up to you Gonzo's Quest Free Spins and other incentives.
How to Play Gonzo's Quest
To play the slot is very easy and simple. This is five reels with 3 rows and features 20 fixed paylines. By following the below steps to get ideas of what to do before spinning.
You need to select the level you want to play, ranging from 1-5, and the coin value.
Your bet per spin will be calculated by using the 2 numbers you select above and then multiplied again by 20 (the number of fixed paylines).
If you are satisfied with the bet, then just hit the spinning button with a big green spin icon.
If you ever hit any winning lines, the icons will then drop from your main section of the screen and drop off the reels. This allows other icons to fall in their place where you can get a free spin.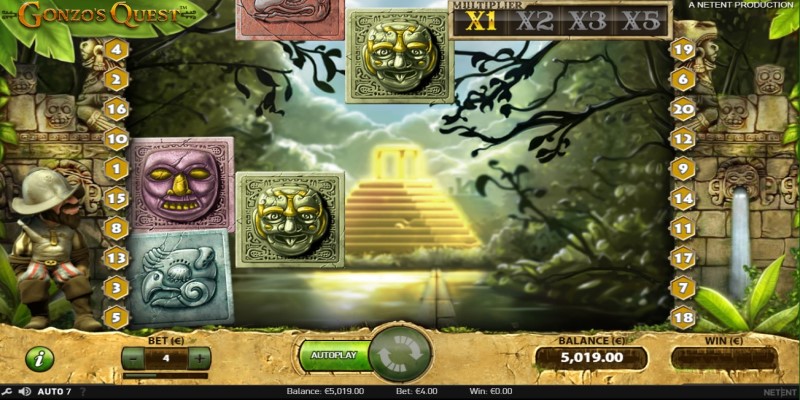 For every consecutive winning pay line triggered, you will get the Avalanche Multiplier feature.
The first winning line is at the x1 multiplier level.
The new icon, which is just replaced, will be an x2 multiplier.
If you get more wins, this will increase to an x3 multiplier and x5 if you win for the next round.
The bet minimum on this 5 reels slot is £0.20 (coin value 0.01 x Level 1 x 20 lines), while the maximum is £50 (coin value 0.50 x Level 5 x 20 lines) per spin.
Gonzo's Quest Features
There are two features that contribute to the success of Gonzo's Quest slot online, which are the game's graphics and, secondly, the Avalanche Multiplier.
The Gonzo character does its role very well in entertaining and constantly moving in the corner of your screen as you play. The soundtrack is also imprinted with an ambient and immersive sound that brings the game to life.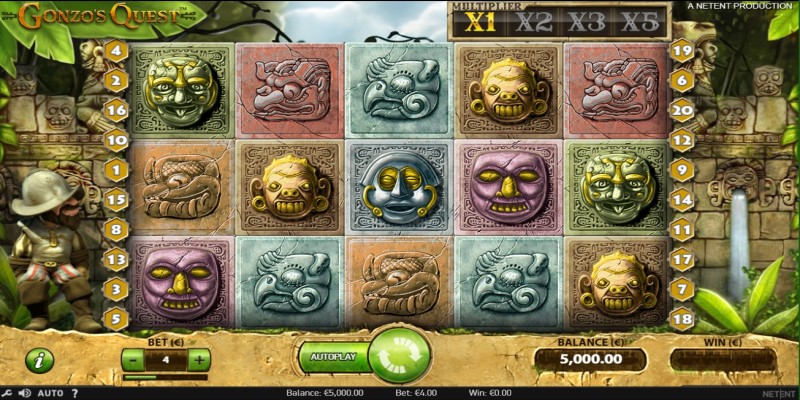 Moreover, the Avalanche Multiplier, which consists of symbols that cascade down the screen like tumbling rocks, is a great innovation from NetEnt Provider. Avalanche Multiplier is triggered by more winning bet lines you get. You will get a 1x multiplier at the first Avalanche. You can get up to a 5x multiplier using this feature.
Of course, the game also has some other special features and symbols, such as the game's Wild symbol and Free Falls symbol, which we'll discuss in the following sections.
Wild Symbols
No slot is complete without Wild symbols, and this famous slot is no different. Wild symbols on this game come in the form of a silver icon with a gold question mark at the center of it.
The wild symbol is found in almost all slots, including Starburst, and it is animated and appears randomly on the reels. You get this The wild symbol in the form of a silver icon with a gold question mark at the center of it.
This symbol is an award that means to increase and maximize your winnings on all of the 20 paylines.
Free Falls Feature
Another interesting feature of this NetEnt slot is the Free Falls bonus round
Free Falls Bonus Round
10 Free Falls will only be triggered by three Free Falls symbols appear on your reels at once. It works like 10 free spins to win. During this Free Spin mode, the Avalanche Meter can increase to 15x.
Expert Verdict
Maybe Gonzo's Quest slot will be your first video slot game, or you already play it. I am sure you will love it because of its incentives and all. Plus, this video slot offers you an RTP of 96%, and because of that, we list them in the average category of medium to high variance slots. Are you ready to win big with this amazing slot?
Similar games to Gonzo's Quest