French Roulette - How to Play & Best Place to Play French Roulette for Free
French Roulette - How to Play & Best Place to Play French Roulette for Free
Last updated Saturday, 26/12/2020 08:19 by Thomas Andrei
Table Of Content:

History of French Roulette
In fact, there are many different rumors about the original place where the French Roulette was invented. According to some reliable sources, the first games using the wheel appeared in ancient China before spreading to Italy. At that time, the ancient Greek soldiers used their round shields to gamble. However, that original game would hardly be recognized as roulettes, while France is the only country that is considered the origin of the roulette we know today. In fact, the word "roulette" is also French and is translated as "a little wheel".
For the early French roulettes version, another interesting fact is that they include both the rules of La Partage and En Prison rules. Today, one of them, En Prison, is considered the European version, and the La Partage rule is called the French variant.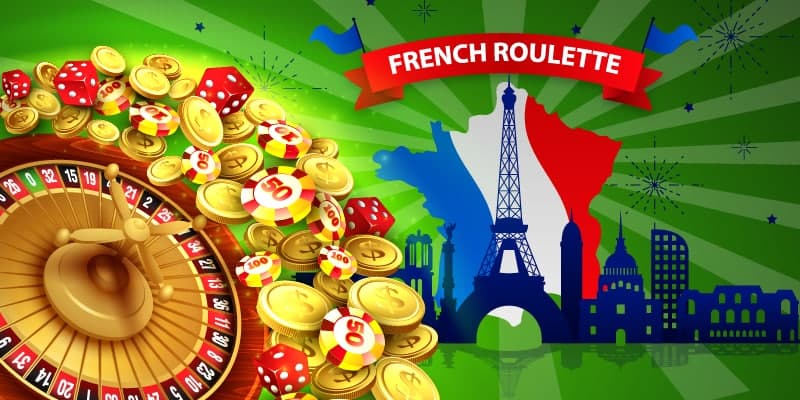 How to Play French Roulette?
French roulette has the game rule like any other traditional version. There are 2 types of bets: inside and outside bets and dependent payouts. To place a bet, you must choose the amount you want to place and click on the table. If you are a beginner, move your mouse over the table to see what bets are available.
The only difference with French roulette is that it applies La Partage's rule. If you place even money bets, you will not lose the full amount if the ball lands on zero. You will receive half of the money and only half of the money lost to the casino. There is no denying that this is much better than losing 100% of your money. Therefore, French roulette has the highest theoretical RTP, which means the casino advantage is much lower.
Although roulette is purely a game of chance, you can apply a few different roulette strategies when playing French roulette. If you are curious about how to boost up your winning odds against the house, take a quick look at the perfect roulette strategies. Any of these strategies are good for playing French roulette.
Therefore, you should use strategies just for entertainment and do not rely on them to make money. In particular, you should not use aggressive strategies like Martingale. Doubling your stake after each loss is a surefire way to break your bank fast.
Types of Betting
French roulette has two separate types of betting: inside bets or outside bets. Let's learn about them.
Inside Bets
This betting type carries more complex odds than the outside bet. However, you will get more profit if you place a winning wager. There are seven types of internal bets available, including:
This betting type carries more complex odds than the outside bet. However, you will get more profit if you place a winning wager. There are seven types of internal bets available, including:
Straight: Odds: 2.7% - Payout: 35:1
Split: Odds: 5.4% - Payout: 17:1
Street: Odds: 8.1% - Payout: 11.1
Trio: Odds: 8.1% - Payout: 11:1
Corner: Odds: 10.8% - Payout 8:1
Basket: Odds: 10.8% - Payout 8:1
Six Line: Odds: 16.2% - Payout 5:1
Outside Bets
For outside bets, you can only choose one of two sets of odds and payouts:
Odds of 48.6% with a payout of 1:1
Odds of 32.4% with a payout of 2:1
Best Place to Play French Roulette for Free
Whether you are a novice or experienced, head to online casino sites and get the game in practice mode. That should not be a problem, as top online casinos often offer free roulette play versions.
Here, I will introduce the two top software providers, Microgaming and NetEnt. In fact, almost any online casino offers word games by these two giants. Hence, you have a good chance of finding French roulette anywhere. A number of developers offer French roulette as well, but the best choices would be Microgaming casinos and NetEnt casinos.
If you are wondering why these titles of the two providers are widely appreciated, try out the NetEnt French roulette for free and online French roulette from Microgaming.
Although Microgaming French roulette is still pretty primitive, some people might like it. If you prefer something more premium, NetEnt is a great choice.
Play French Roulette for Real Money
After you have played the free version to learn about the different French roulette rules and features, get ready to start playing with real money. This is the time when you need to plan carefully to be able to win big money. It is best to choose a reputable and reliable casino. That will also get you a generous welcome bonus. Here are some good suggestions for you:
Ruby Fortune Casino
Royal Vegas Casino
Jackpot City Casino
Gaming Club Casino
French Roulette Tips
While no strategy can increase your chances of winning, you can try using betting strategies that can help you improve your chances and get you off to a good start.
Play for low stakes, and keep a level head!
Understand the betting odds and payouts
Balance outside and inside bets
Familiarise yourself with the French terminology
Look for the en Prison rule
Incorporate a tried and tested betting strategy
Verdict
Considered by many to be the original version of this classic game, French Roulette is an indispensable game at the top casinos. It is widely played at both land-based casinos and online casinos. One of the best things about this game is a low house advantage, which is very beneficial for the player. In fact, the image of the roulette wheel is a symbol of the excitement of the casino. It has also become the face of the casino industry.
Published: 26 December 2020 08:19