Konami Wins the Most Innovative Gaming Technology Award
Konami Wins the Most Innovative Gaming Technology Award
Last updated Monday, 18/01/2021 14:54 by Thomas Andrei
Table Of Content:

Origins of the Company
Konami Gaming is considered to be the fourth-largest video game maker in Japan. After the poor performance of the video game industry, Konami studio diversified and began producing slot machines. Since 1978, the company began to establish close relationships with several game developers in the US to provide the best service to gamblers.
Currently, Konami Gaming is one of the most well-known companies not only for gambling equipment but also for gaming equipment including electronic cabinets, electronic games, and trading cards.
Over the years, Konami studio has produced great online slots. The company's headquarters were relocated to Las Vegas in 2005, where the company makes slot machines. Previously, Konami Gaming was based in Tokyo, USA, and Sydney.
Most Innovative Gaming Technologies
Konami Gaming Inc. won dual titles in the Casino Magazine's Annual Innovative Game Technology Award for 20 DIMENSION 49J slot machines and the SYNK31 Title 31 / Anti-Money Laundering (AML) system.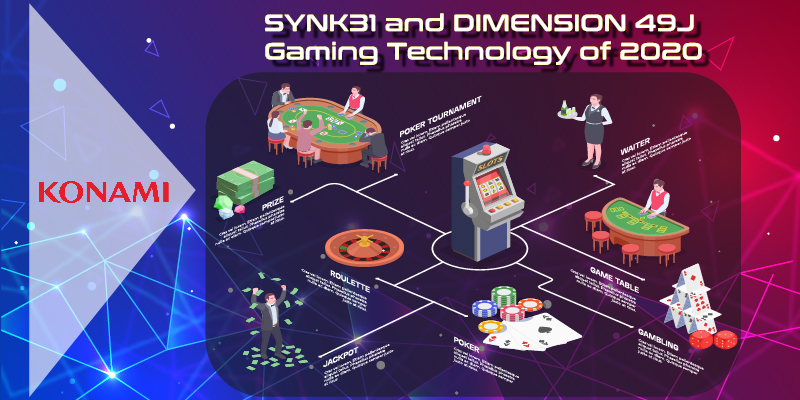 Konami rewards represent the company's investment in systems research and development (R&D), aimed at supporting the casino industry with high-performance entertainment and technology.
Konami's DIMENSION 49J and SYNK31 system were selected by an independent panel of experts as the most innovative products of the year.
Tom Jingoli - executive vice president and chief executive officer at Konami Gaming said that the company's goal is to be committed to championing the future of the Konami video games through innovative products like DIMENSION 49J and SYNK31 to promote operator distinct value, through streamlined design, efficient results, and lasting quality.
The DIMENSION 49J maximizes the comfort and entertainment of gamblers while maintaining optimal size and adaptability for different operators. J-curves and 49-inch slot cabinets are top launchers for game content, developed to maximize excitement for bettors.
The DIMENSION 49J game launch library covers everything from Konami Gaming's unique premium like the first Silent Hill slot to series like Ocean Spin slot with stunning animations across multiple compartments.
The All Aboard is also part of the cabinet's first series of games, now expanding across North America following its proven success in Australian markets.
Jingoli has stated that the DIMENSION 49J is serving a robust combination of slot machines on a machine that maintains long-lasting performance and is highly versatile. He argued that as casino floors continue to change, streamlined, and efficient gambling cabinets like the DIMENSION 49J will help open doors for continued advancement, through thoughtful design and quality.
Konami's SYNK31 is a Title 31 / AML system that allows operators to seamlessly compile all time-stamped reports, notes, document files, emails, etc., that are linked to clients easily.
Casino staff can complete all the necessary forms and reports for compliance, including the Multiple Transaction Log form (MTL), Agreement Instrument Log (NIL), newspaper form report Suspicious Activity Incidents (SAI), Currency Transaction Reports (CTRs), Know Your Clients (KYC) and more, with electronic IRS and FinCEN upload through bulk reporting and individual reports.
All essential AML information is collected and aggregated with near real-time results, allowing operators to identify and respond to problems as they occur.
Konami Games' Unique Feature
Konami code is one of the coolest features of this company. Gradius slot was the first game to have such code as the Nintendo slot was making waves in the market. The classic Contra slot game also has cheat codes. Gamblers engage in cheat-coded games merely by pressing a specific set of buttons on the console after pausing the game.
As a result, bettors can get help in clearing difficult levels or simply enhancing the gaming experience. Konami code quickly gained popularity and was used in other games.
With today's reputation, Konami Gaming begins to license some of the best games that are likely to be transformed into Hollywood movies in the future.
Published: 18 January 2021 14:54