Konami Gaming Inc. announced an essential lineup of attractive new cabinets and a popular series of progressive cabinets at ICE London 2020 at ExCeL London, UK.
Origins of the Konami Gaming
Konami Gaming is a subsidiary of Konami Group, which was established in Japan in 1973. The studio also has been recognized as the fourth largest video game producer in Japan.
The company distributes to the online market through the GameAccount Network (GAN) content distribution system. Konami Gaming has stated that the company will work relentlessly to create an assortment of Konami engaging games that capture the attention, push the boundaries of innovation, and deliver quality in every detail in its gaming products. In addition to participating in the gambling industry, Konami Gaming is also known for producing electronic cabinets, video games, and trading cards.
New Products Launched at ICE London 2020
Konami Gaming Inc. announced an essential lineup of attractive new cabinets and a popular series of progressive cabinets at ICE London 2020 at ExCeL London, UK. This event was held from 4th to 6th February is expected to have over 35,000 visitors, and Konami will fill the # S7-110 Stand to announce the latest in entertainment game that has been verified.
Debut series including Dragon's Law SeleXion slot, Ba Fang Jin Bao slot, and Treasure Ball slot has proved successful on Konami's special 4K Ultra High-Definition (UHD) machines (KX 43 and Concerto Opus).
As part of the ongoing support for dual-display cabinets, Konami Gaming shows more than two dozen original themes on Concerto and Slant from the evolving jackpot into content compatible with multiple SeleXion games. At the event, games professionals and executives will also have an official debut at the ICE of Konami's new 49J machine, offering premium 4K entertainment on the 49-inch J-curve screen.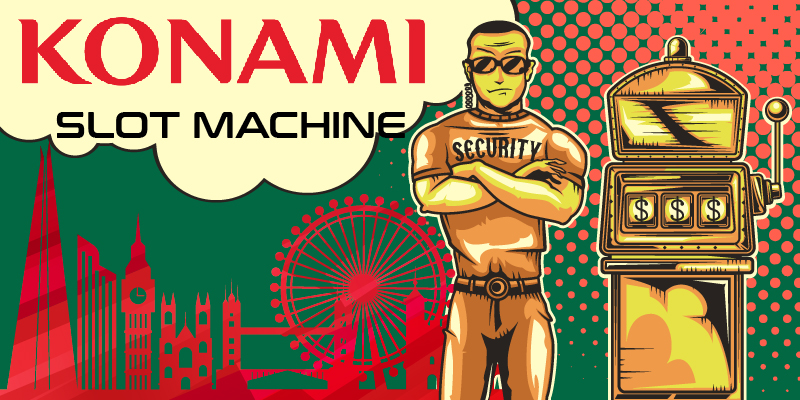 "This year's ICE roster is a testament to Konami's commitment to delivering top-tier games while driving innovation for the casino's future" - said Eduardo Aching - the executive vice president.
Additionally, Aching argued that from the proven performance of Konami Gaming's latest linked processes to innovative advancements in the 49J cabinet, ICE attendees are sure to experience a wide range of top entertainment form.
The ICE 2020 includes two unique Konami cabinets, each with a comfortable tilt top, two rotating buttons, dual cup holders, and an impressive 4K game library. Konami's 43-inch 43-inch Concerto Opus and 65-inch Concerto Opus Cabinets will showcase some of the top-performing slots.
Treasure Ball slot is a top linked new progressive game that offers a mix of basic game options to players through multiple SeleXion games.
ICE 2020 also includes a special release of Dragon's Law SeleXion slot, combining the popularity of Dragon's Law Rapid Fever slot and Dragon's Law Boosted slot in one machine. Inspired by the classic Cai Lai Si Ji slot's success, a brand new 4K linking process called Ba Fang Jin Bao slot has proven successful with its flexible betting options and games. ICE's outstanding programs are now available across international markets.
Aching also said the KX 43 and Opus are reliable game cabinets, backed by an extensive library of successful game series. He is also very confident in these unique slots' entertainment and performance, from compatible multiplayer game content to an entirely new progressive engine.
The event also marked the ICE launch of the 49J, Konami's newest high-end slot segment. With a series of significant launches such as All Aboard, 49J brings top entertainment quality and diversity to global operators.
The movement is a must-see at ICE 2020, complete with spectacular overhead signage and illuminated LED back seats. The two unique All Aboard base games available to launch is the Dynamite Dash slot and the Piggy Pennies slot.
Eduardo Aching said the KX 43 and Opus continue to gain global momentum, and the new 49J is further expanding its premium product offering by combining influential games with premium sales options.
Konami Gaming's ICE 2020 presentation also contains new dual-monitor content for vertical and tilting visuals. The basic game is compatible with SeleXion. Integration and alignment processes are included to support continued investment in core products in international markets.
Top Konami Games Worth Spinning
With many years of experience in game production, it is not difficult to find praise for Konami Gaming in the gamblers' community. The company makes high-quality game products, including elite online slots, that are becoming more and more popular.
Many quality game slots are coming from this Japanese software provider. If you are not sure about the company and the category of games it offers, try the cool games below that are highly recommended by gamblers:
Wealthy Monkey Slot
This is one of the best-rated slot games by Konami Gaming. The monkey in the Wealthy Monkey Slot represents happiness in Chinese culture. The scrolls show Chinese themed symbols and a bright purple background. This slot offers lucrative free spins where payouts can be increased up to 45x. The RTP is 96.1% with low volatility.
Wings Of The Phoenix Slot
Wings of the Phoenix slot machine is an excellent game with a fantasy theme. The game has eye-catching graphics with the theme of phoenix. Wings of the Phoenix slot uses a 5x3 grid and 30 fixed payouts. This game has low volatility with an RTP of 96.02%. To discover how enjoyable your gambling experience can be, try the demo version of Wings of the Phoenix Slot now.
Wonder Rose Slot
Wonder Rose slot is a garden-themed game with beautiful icons like red roses, diamond hearts, birds, etc. Every time they land on a winning combo, the gamblers will hear the catchy sound to announce upcoming rewards. This game has 30 paylines with an RTP of 96.03% and low volatility.