CasinoMentor Interview with Habanero
CasinoMentor Interview with Habanero
Last updated Monday, 23/05/2022 07:58 by Anatoly Abram
Table Of Content:

Continuing the familiar interview series with gaming providers, we are very glad to sit down with Toni Karapetrov - Habanero for a deep discussion regarding their outstanding achievement for 2021 and new orientation for the year 2022 boom.
- Toni Karapetrov, Head of Corporate Communications at Habanero -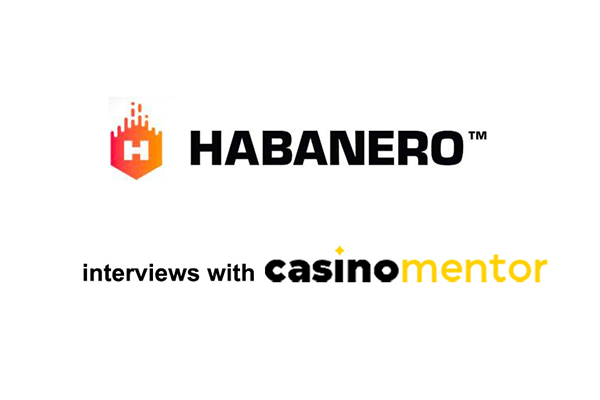 Hi! Thank you for taking the time to answer our questions.
Please introduce yourself, as well as Habanero and its mission?
Hello! I'm Toni Karapetrov, the Head of Corporate Communications at Habanero, one of the world's leading slots and tables games providers. Over the years we've produced an amazingly wide range of games, including some fantastic releases that our players have thoroughly enjoyed, and have truly stood the test of time!
When it comes to our mission, at Habanero we look to deliver games that not only excite players but keep them engaged. We're always on the look out for new and innovative ways in which we can impress our global fanbase, and we truly believe that a great game can work anywhere in the world with the right mathematics behind it. So, in short, our mission is simple. Make fantastic games and give players hours and hours of enjoyment!
How many games have you released so far?
As mentioned, we have a wonderfully diverse game catalog, one which extends into slots, table games, and even video poker verticals. As of now we currently have more than 150 games that have been purpose-built to operate on HTML5.
Each of our games also comes in 34 languages and can support any currency including cryptocurrency payments for super tech-savvy demographics. Thanks to our fantastic offering, we're proud to now live in close to 30 markets worldwide.
What game categories do you focus on?
We primarily focus on slots, with 133 of our 150+ games being slots. Our slots really do speak for themselves, and we certainly feel we've come up with a winning recipe in terms of game mathematics that has been developed with slots in mind. This gives us confidence when developing new slots and allows us to approach their creation more creatively.
While slots take up most of our offering, we do have 13 table games and 10 video poker titles, this gives our players more options and allows them to enjoy different types of games. After all, we're all about entertaining players the world over!
What game are you most proud of developing and why?
It's hard to cherry-pick out of such a diverse and popular portfolio, but if I had to choose titles that we're most proud of I would highlight Mystic Fortune Deluxe, Koi Gate, Hot Hot Fruit, Wealth Inn, and Wild Trucks. These five are our most popular games in key markets including Europe, with our fans still playing these titles well after their release date.
It's no surprise that these titles have performed well, they all feature a beautiful and vibrant design that engrosses players from the very off. While the visuals are outstanding, the allure of these titles doesn't stop there – all five deliver a strong narrative and highly immersive gameplay which is combined with innovative mathematics.
What systems do you use to create game concepts and story characters?
While we can't give away too much about our software of choice, or indeed our proprietary approach, I can certainly talk plenty about the creative side. For us, collecting and analyzing data to craft game concepts and story characters is essential at it gives us a true picture of what our player base is looking for. I also believe that it's essential for game developers to take a customer-first approach when thinking about game design, characterization, features, and gameplay. If you consider what the user needs, then you can guarantee a better success rate with your target demographic. After all, it's all about putting players first.
What are the breakthrough innovations that your team has been achieving in 2021?
2021 was a hugely important year for Habanero, it saw us capitalize on growth and enter a wide range of newly regulated markets across Latin America, Africa and Europe. This has allowed us to not only expand our global reach but also cement our position as one of the industry's most popular casino game developers.
While we experienced great commercial success, during the year we continued to deliver our roadmap, which brought forward some truly amazing titles such as Nine Tails, our horse racing smash-hit Marvellous Furlongs is and of course my personal favorite, Mystic Fortune Deluxe.
2021 also saw us introduce UP! a gamification-focused launch that was developed following extensive R&D. It revolutionized our product offering and was a hit from the very off; processing over 1 billion entries within the first two weeks of its release.
What markets do you find the most suitable for your game selection?
Our games resonate with players across several markets, although we've found that they perform exceptionally well in Europe and Latin America. Our titles have never failed to impress the dedicated player base that you get across these prominent areas. Our carefully curated slots have established us as one of Europe and Latin America's most popular game developers, and with more area for growth, we don't think we'll be loosening our grip in these markets anytime soon.
Can you describe the process that goes into building a game at Habanero from proposing an idea to closing deals with partners?
Our process always starts off with thinking about ways in which we can reinvent our offering, this means collecting and analyzing the behavior of our core audience in order to ascertain what more we can do.
Once we understand the preference of players, we then start to think about game design, maths, and UI. When delving into the more technical side of the development process, it's vital that we strike the right balance between how the game looks and the quality of mathematics behind it. We want to offer a game that encompasses beautiful audio visuals that can captivate players at first glance, but we need robust mathematics and UI in order to retain their attention.
How do you stay up to date with the latest game and software trends?
As a leading developers, we're always looking at what trends and changes are occurring in the industry, this can be done by reading about what companies and markets are doing; understanding why such decisions have taken place, and pointing out what the reaction can be.
We also frequently analyze our own data and try to learn from ourselves by looking at what games are performing well, and which aren't. This gives us a collection of data which can be applied across our portfolio and lets us see what trends are emerging amongst our key demographics, rather than sourcing data from a third party, this gives us a clearer picture, and enables us to keep doing what we do best – making great games!
Published: 23 May 2022 07:58