Aiming to be the first one to crack the multiplayer for slot challenge
Aiming to be the first one to crack the multiplayer for slot challenge
Last updated Monday, 18/10/2021 08:58 by Anatoly Abram
Table Of Content:

Helen Walton, Chief Operating Officer at G. Games, joins the latest series of affiliate interviews on the CasinoMentor Insight series.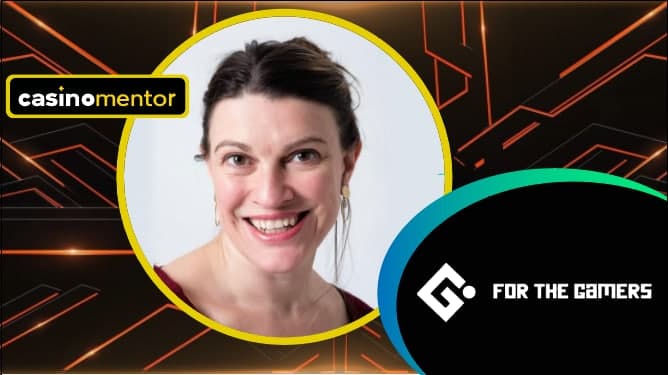 Question 1: Please introduce yourself, as well as G. Games and its mission?
For the gamers. G brings video gaming to slots with gorgeous world-building, wins you care about, and power-ups that keep playing fun. Now we're tackling our biggest challenge yet - multiplayer slots.
We were founded in 2013 to make real-money games more fun. It's been a long road as we've built a team and a thriving business supplying casinos, sportsbooks and lottery operators around the world with a portfolio of games. Now we're ready to return to our roots and bring everything we've learned to crack the multiplayer challenge.
Question 2: How many games have you released so far?
Depends on how you count them! In total we have more than 150 titles live with differing operators, but some of those are skins or exclusives. We produce one hero product a month - by which we mean a game with innovative mechanics, a unique paytable, and using original art. We often experiment with different formats, including cluster/reactor games; expanding reels, and even skill or choice.
Question 3: What game categories do you focus on?
Slots, from classics to crazy, quirky concepts, with hybrid products for our more casual customers, including Solitaire, Video Bingo, and Scratch.
Question 4: What game are you most proud of developing and why?
I'm proudest of what we have in development at the moment. Our developers are doing extraordinary things as they tackle the technical challenges of multiplayer; our designers are going all out for a far more grown-up and sophisticated style of art that looks like nothing else in slots today; our game designers are dealing with inventing entirely new mechanics and modifiers, and our compliance team finds ways of introducing something completely novel to the regulators. I can truly say the entire company is devoted to getting this one right. Even if we fail, I'm still proud that we went all-in on our biggest idea ever.
Question 5: What systems do you use to create game concepts and story characters?
We look at areas that we think are underserved by slots but which over-index on google search terms - for example, Anime or The Good, the Bad and the Ugly. At other times we might start from an idea we think will have high cut-through and then build the narrative around it - Vegans vs Vampires and Vomiting Unicorns. Or sometimes we just ask ourselves how we can update a classic theme that we love with a fresh new look and a mathematical twist - Cheeky Fruits!
Question 6: What are the breakthrough innovations that your team has been achieving in 2021?
We are patent pending on our work for multiplayer - the whole team worked crazily hard to achieve that. But - of course - that's not the only thing we do. This year we've also been finding a way to ensure German players playing with the new tax regime still have a great experience with a Respin paytable that swaps small wins for respins. We're also adding power-ups to our solo slots games to give players a more fun experience and rethinking our art to create games that stand out from the crowd. There's so much coming from G this year!
Question 7: What markets do you find the most suitable for your game selection?
Our biggest markets are UK, Germany, and Nordics with Greece and Italy following after. Of course, there are changes and adaptations to make games that are favorites in a market. We built a lot of German-focused features into 100K Joker and Million Book, for example, when regulation meant operators couldn't offer progressives to ensure we could still support massive top prizes from the 1€ bet. Meanwhile, games like Psycho Candies did really well in the UK and on Norsk Tipping in Norway, and The Good, the Bad, and the Ugly smashed it in Denmark... sometimes the success of a particular game in a particular market surprises us.
Question 8: Can you describe the process that goes into building a game at G. Games from proposing an idea to closing deals with partners?
Anyone can propose an idea. We have products that were suggested by developers as well as ones from artists and formal game designers; we listen to customers as well when they tell us what they're looking for and - sometimes - we ignore everyone and go with something we've wanted to do since we first started, like a crazy entire new genre of gaming.
Every idea goes through an evaluation phase where we start working up a business case around the concept. We then work up a concept brief with the art team and initial sketches might be tested with customers and players (we have a playtest group of G Gamers!). Next, the art and development team work together on the game and once we have a playable demo, there's more testing before the game goes into certification and the roadmap for our partners.
We also keep a close eye on our games as we roll them out. There's a lot to learn from how games perform and what we see players doing in terms of stake, spin number, and stickiness. We get feedback from customers, reviews, and players. Sometimes bad feedback can be painful, but we try to have the humility to learn when we've got something wrong and do better the next time. Honestly, we're grateful for every player, customer, or reviewer who takes the time to play our games and leave a message.
Question 9: How do you stay up to date with the latest game and software trends?
We play a lot of games - not just slots - all kinds of games! And those games are a big part of our inspiration because we believe that real money games should be as fun and engaging as all the other games we play on our phones, with our friends, or with online communities. We talk about the games we play, from Among Us to PUBG and from real-casino roulette to betting on Eurovision! We feel that broad engagement in the world of play and betting is what makes us want to build better games of our own.
Of course, we also stay involved in the industry through events, conferences, and news. We keep an eye on what our competitors are doing and damn! some of them are so, so good we have our work cut out keeping up with them. But that's good - seeing others experimenting and pushing the boundaries - that just makes us try harder.
Question 10: With strict gambling regulations from the UK market, does it have any impact on your business?
Of course, we've had to make some changes to various parts of the games and the UI to work with the new regulations, but our game frameworks are well set up to deal with this kind of change now. We're not really convinced the changes will actually reduce potential gambling-related harm, but of course, we're supportive of the regulator experimenting with ways to do that.
Question 11: What is the most challenging problem you've had to solve while building a game?
There are design problems - how do I make this game compelling, entertaining and get the right balance between familiar and stand out from the crowd? Then there are technical challenges - such as how do I make a slot multiplayer? The technical challenges we face at the moment in multiplayer and the UX and mathematical challenges that go along with it are definitely the hardest we've ever faced. But they are also the most exciting and satisfying.
Question 12: What is your ambition in the near future?
We want to launch the first truly multiplayer slots and become known as the world's most innovative real money developer. Nothing small ;-)
Published: 18 October 2021 08:58