Star Bounty Slot Free Play
In September 2020, Pragmatic Play sent players into space with the explosive sci-fi-themed Star Bounty slot machine. This interstellar journey has tumbling reels, missiles that can convert any number of symbol locations wild, and a bonus round that can grant up to 24 free spins with wild multipliers up to 27x. Thanks to all these exciting features, you'll have a chance to win prizes worth up to 25,000x your wager.
You can unwind here on an excellent interface with supportive, heavy-duty synthetic cushions that add to the ambiance. In our essay, discover everything there is to know about this dangerous game.
What Is Star Bounty About?
Those who enjoy sci-fi genres will find Star Bounty the ideal choice. In the 22nd or perhaps 23rd century, it will transport you to a spaceship where you will start your quest to track down criminals in outer space.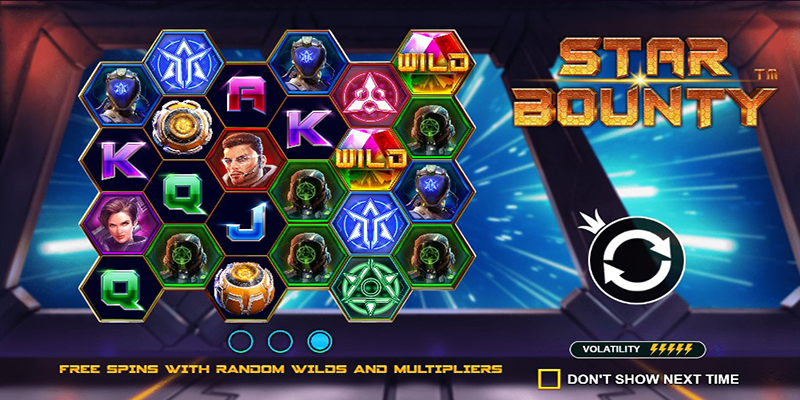 With 6x4 reels, this slot machine has a big field to support 4096 winning combinations. With a high volatility rating, this slot machine might award you a jackpot worth up to 25,000x your initial bet. Pragmatic Play incorporates tumbles. Once a winning combination appears, the symbols that were a part of it explode, and new symbols are added. This fantastic feature facilitates player space exploration and the discovery of valuable prizes.
Storyline
Star Bounty is more than just a Star Wars action space adventure. It's a clever science fiction film on par with expensive productions like Bladerunner 2049 or Dune. It will transport you to a futuristic, space-age human civilization. You will get the chance to become a part of the special forces team that will take out the interplanetary evil guys.
So, make sure your seat belt is fastened before turning because you will be away from Earth for a few hours. This adventure will take you to the future. Here you will see the spacecraft that has passed by the surface of an alien rocky planet. This could be a future version of the Earth, where global warming has stripped the topsoil.
Game Information That You Need to Know
Star Bounty has a strong sci-fi theme, as evidenced by the planet in the game designed with a futuristic structure in mind. You will encounter a spacecraft bridge with a hexagonal grid of 6 reels and 4 rows that are not parallel. The publisher's data indicate that there are 4096 different ways to win. Therefore, your goal is to line up matching symbols in any row as long as they are next to one another, starting with the first reel.
Additionally, you must be familiar with the unique bonus features and crucial game elements like the bet size, volatility, and player return percentage. Your mission to find space criminals will be significantly aided by doing this.
RTP, Volatility, Min and Max Bet
With a generous RTP of 96.6%, this game exceeds the industry standard of 96%. Theoretically, this implies that for each £100 wagered, you will win £96.6.
The volatility of this slot machine is rated a 10 on a scale of 1 to 10. Therefore, it can take some time before you see any of the game's largest prizes. That seems logical since this game offers a max win of up to 25,000x your total bet.
Unlike other traditional slot machines, this game will not be based on the number of lines. To start the spin, you only need to select the bet size that suits you, ranging from 0.10 to 100 credits each. Change the bet level by clicking the plus and minus buttons below the reels.
In-Game bonus feature
This game offers attractive features that increase your chances of winning, even if you are a regular player. It's wonderful to see a jackpot of 25,000x the stake from Star Bounty's 4096 ways because it's a form of jackpot that even many Megaways slots don't provide. To gain that prize, you can utilize the game's hefty wild multipliers, up to 27x.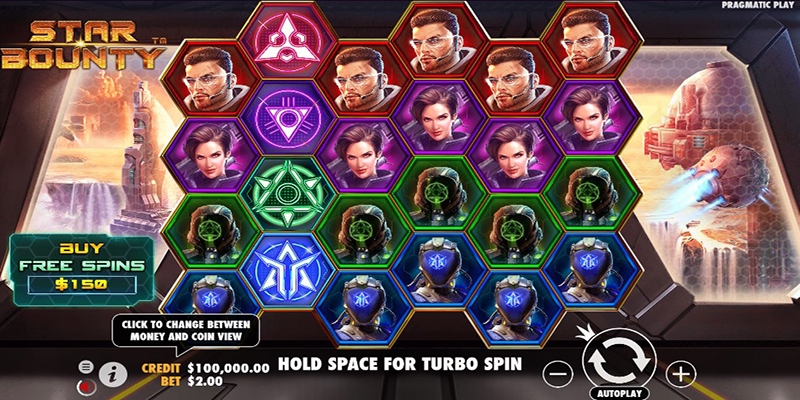 Tumble Feature
The Tumble function activates when a winning combination is made. A new set of symbols replaces the winning symbols as the winning symbols are blasted out of the grid. The next consideration is compensation. If a new winning combination is created, these tumbles continue.
Missile Wilds
You'll see the missile wild in addition to the standard Wild. Only reels 2, 3, and 4 can receive that. In the Missile feature, these symbols launch a barrage of lasers whenever they appear. This makes any position of a symbol struck by a laser become wild. Following the placement of the wilds is a new payment calculation. In essence, additional wild symbols are awarded at random.
Free Spins
The Free Spins Feature activates when 3 or more Scatters are discovered. You'll receive re-spins before the free spins, which will go as long as you keep getting new scatters. After that, the slot machine will count its resources and award you the precise amount of bonus spins.
The excitement keeps building after the free spins function has been expanded. You can find unique Multiplier Wilds that act as both Wilds and 2x or 3x win multipliers. Furthermore, they collaborate like Bonnie and Clyde, which increases the win multipliers significantly.
Theme, Graphics and Audio Sound
Star Bounty transports us to a brand-new SciFi setting, with a future landscape that includes heroes, planes with animations, waterfalls, and other finely designed structures.
There are 12 conventional symbols in the game, which has an intriguing new hexagonal-shaped reel arrangement. The man bounty hunter enclosed in a red hexagon frame is the highest paying emblem, followed by the female bounty hunter enclosed in a purple hexagon frame. This hexagonal frame also serves to distinguish the remaining high-paying symbols. The low-paying symbols are A, K, Q, and J. In addition, there is a Wild symbol that can be used to replace any symbols other than the scatter. Only reels 2, 3, 4, 5, and 6 feature the Wild.
In terms of graphics, the game shows impressive thanks to the amazingly sharp 3D models. Furthermore, futuristic-themed comics inspire the game's animations. Therefore, you will feel the modernity of technology outlined by a unique cartoon style. In addition, the humorous combination of contrasting and vibrant colors fills the player's visual experience and immerses them in a truly futuristic environment.
In addition, the electronic soundtrack that plays in the game's background is integrated with the theme perfectly. It ignites along with the free spins. The background music is carefully invested with the sound of EDM songs in the modern music world, which will help players feel the excitement and energy in the battle in the vast space.
Expert Verdict
Star Bounty is one of those games that makes excellent use of the futuristic space exploration theme. For titles inspired by the fantasy world, the graphics are a core element because they set the atmosphere for the theme, and this slot does it perfectly.
The 25,000x your stake prize is notable as it is much larger than most online slot machines today. However, you will need to be aware of the high volatility regulated by Pragmatic Play, as it will reduce the frequency of wins.
Finally, suppose you are a huge fan of Star Wars and Star Trek. In that case, you will undoubtedly feel a certain familiarity and unique creations that the publisher has applied to the latest game based on the space exploration theme. Try Star Bounty now for a chance to win valuable prizes.
Similar games to Star Bounty