Egyptian Fortunes Slot Free Play
Egyptian Fortunes is a slot game powered by Pragmatic Play. The game is themed on the ancient Egyptian world with 5 reels, 3 rows, 20 paylines, and an RTP of 96.5%. Notable game bonus features include the Energy spins, triggered randomly after each win with a specific combination of symbols, and free spins, triggered from three Scatter symbols in the game. base game.
Introducing Egyptian Fortunes Slot
Egyptian Fortunes slot is a perfect game for those who love history and are fascinated with Ancient Egypt, the brilliant civilization that once ruled the world at its time. You will play as an explorer and travel to the dunes of Egypt to visit the famous Pyramids and the secrets buried by the Pharaoh.
Hidden deep within the Pyramids are special symbols. They are the goals you need to figure out to lead you to the maximum win in the game, worth 1,000x your stake. In addition, the Energy spins allow you to enjoy a much-needed break on your treasure hunt, as they are automatically triggered after wins involving symbols in the game's paytable.
Storyline
Ancient Egyptian civilization has always been an endless source of inspiration for historians and, in some ways, slot game providers. The Great Pyramid of Giza, according to historians, is one of the most complex and influential structures in human history.
The magnificent pyramids are the absolute enclave of secrets and myths from time immemorial, and today we speak of them with different words of mouth. Some people believe that aliens helped humans to build this great work, while some spiritualists believe that the gods helped us. Either way, as the final resting place of the Pharaoh, the pyramids of Giza are a symbol of power and wealth. Therefore, it always gives a solid inspiration for gamblers on their way to riches.
Play Egyptian Fortunes Free Demo on Our Website
You can immediately experience the demo version of Egypt Fortunes at our website. This demo version is exactly like its real-money version. However, you won't need to spend money to experience the sacred spins. It's a perfect test for you to test whether you're interested in the game or not.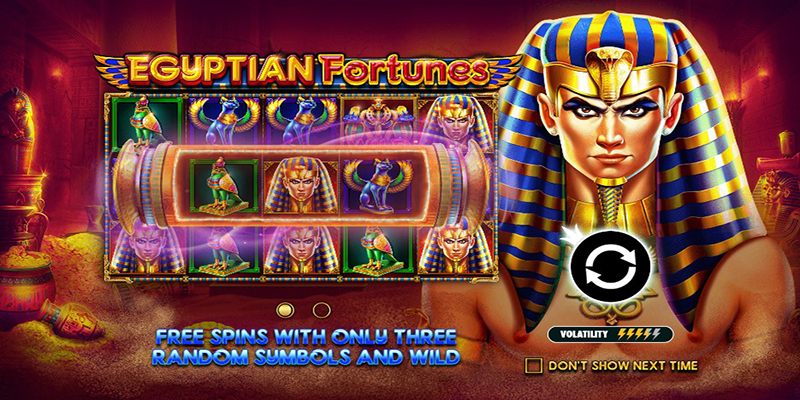 Game Information That You Need to Know
Before embarking on a challenging journey to find Egyptian treasures, you need to master the basics of the game. It is built on a 5x3 grid, combined with 20 fixed paylines. The gameplay is straightforward. Your task is to choose a bet level before each spin, and victory will come if the symbols combine to form a winning combo that matches those available win lines.
RTP, Volatility, Min and Max Bet
RTP of the game is set by Pragmatic Play at 96.5%. This number proves the profitability of the game. It implies that you will get 96.5 credits back if you bet 100 credits on a winning spin, not counting the winnings. Compared to the industry standard of 96%, this should make most players feel satisfied.
The following important metric is volatility. In this regard, the Egyptian Fortunes slot is about average on the scale. That means wins will appear more often in the base game, but if you're hoping for a hefty reward, you'll have to be patient with the Pharaoh's rigor.
Finally, you will have to choose the right amount to bet on each spin. The game allows you to choose from 0.20 to 100 credits per spin, a range that allows low-rollers and high-rollers alike to find a suitable level to start with.
Game Theme
The Ancient Egypt theme, without a doubt, is one of the most popular themes in the slot machine world. Therefore, many players fear this slot will be another boring game without any improvement. Fortunately, that didn't happen. Pragmatic Play shows that their creativity is limitless with the addition of a great bonus feature, which we will talk about below, and an excellent visual experience with impeccable graphics.
The game's setting is a fictional palace inside the pyramids of Giza. On either side of your grid are two impressive flaming torches, along with elaborately decorated pillars with typical motifs of Egyptian culture. In the background, various treasures like gold, silver, and diamonds are everywhere. In the end, the entire game space is covered in red, yellow, and purple. They both create the luxurious feeling of glittering treasures and create a sense of the mysterious power of the keeper of that treasure.
The royal stylized 10 to A cards are where the symbol system comes in. Next, we have different Ancient Egyptian gods representing the higher-paying symbols. They are Anubis, Horus, Bastet, and Hathor. Finally, Pharaoh Tutankhamen, the most powerful, will act as the highest-paying symbol in the game.
The Wilds symbol is designed to resemble the royal crown of the Pharaoh. It can substitute for all other symbols in the game, except the Scatter symbol, to combine into winning combos. In addition, the Scatter symbol, which leads you to free spins, features an image of the pyramid of Giza itself appearing under the bright sun.
In-Game bonus feature
The ancient Pharaohs knew how to challenge adventurers by providing various bonus features for players to try to unlock. In addition to the familiar free spins feature, you will be provided with an unprecedented feature in the world of slot games, the Energy spins.
This feature works like free spins. However, you won't need Scatters to unlock it. It will be activated when you make winning combos involving higher-paying symbols in the base game. Specifically, Anubis, Horus, and Pharaoh Tutankhamen will award 3 Energy spins every time one of them appears in a winning combo. Therefore, if you are lucky enough to land many of them in your winning combo, you will be awarded the corresponding amount of Energy spins. What a great feature!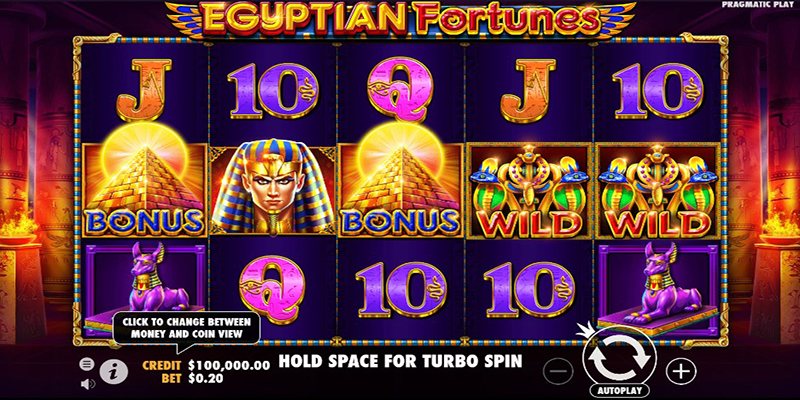 Besides, free spins will still appear as usual as you know it. To trigger 6 free spins, you need 3 Scatters that appear on reels 1, 3, and 5. Once the feature is activated, you will be given a choice of 3 symbols to appear in the free spins. Therefore, the free spins offer a chance to win big when the reels are only filled with the 3 symbols you have chosen. Besides, in this bonus feature, Wilds will only appear on reels 2 and 4.
Graphics and Audio Sound
Among ancient Egypt-themed slots, Egypt Fortunes offers excellent graphic quality. Everything in the game comes with Full HD resolution, thus providing a great visual experience for the players. This visual detail is also reflected in the ancient Egyptian motifs on the torches on either side of the screen. Therefore, realism is definitely what this game guarantees.
In addition, the game's background music is a ghostly track bearing the impression of Egyptian music. This magical and vibrant music will create an excellent atmosphere for explorers to have more interest in the Pharaoh's treasure.
Expert Verdict
Egypt Fortunes by Pragmatic Play isn't the most creatively themed slot, but it does meet the quality criteria that any slot game should have. In addition, a unique bonus feature is also worth discussing, as it helps players get close to free spins without having to wait too long for the Scatters to get into their correct positions. Don't hesitate to try Egypt Fortunes for free on our website now.
Similar games to Egyptian Fortunes