Best Online Casino Sites in Malaysia
Since the gambling law for online casinos is not clear, sifting through countless casino sites and choosing legal and trusted online casinos accepting Malaysia is not an easy task.
To save your time, we have made a list of the best online casinos which were evaluated based on our criteria such as:
Trustworthiness and Fairness
Game selection
Mobile-friendly casino
Customer support
Banking methods
These casinos can provide you the adequate experience with games and supports across devices such as tablets, mobiles, and PC. More than that, Malaysia's online slot, live on should be found at these casinos. Providing various payment methods and the national currency such as Ringgit is an extreme point that helps many Malaysian online casinos laying on the top list.
Overview of Gambling in Malaysia
Gambling is a part of Malaysian culture despite the strict regulations and laws against gambling. We guess not everyone knows about this fact. Malaysian bet on almost everything stretching from local games to international games such as online casino games.
There are two forms of gambling in Malaysia: online gambling and land-based gambling, attracting many players, especially Genting Highlands, one of the most prominent gambling spots in Malaysia. However, some players do not want to risk any bus or flight tickets to the location; they prefer to bet online. Therefore, Malaysia's online gambling becomes a good choice for players to enjoy many popular online slots right on their mobiles.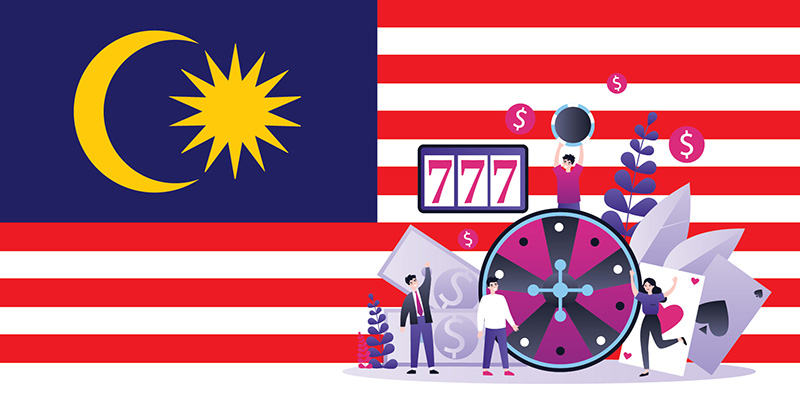 In general, gambling is illegal in Malaysia in any form. Therefore, you can not find any operators based in Malaysia. However, the regulations applied for online casinos are regulated by foreign operators with valid licenses. Thousand of Malaysians still gamble at online casinos without being caught and fined.
Since the gambling market is not regulated, picking a rigged casino is exceptionally high. Do not worry as we are here to help you get access to the best online casinos that process deposits and withdrawals in ringgits, Bahasa support, and great game selections.
Gambling Law and Regulations in Malaysia
In this article, we would like to explain clearly the three types of gambling. In case if you are interested in online gambling in Malaysia, you will find the article interesting.
Betting Act 1953
The Betting Act 1953 is the primary law that regulates the whole scene of gambling in Malaysia. For offshore gambling, the Act states quite clear about telecommunications, and other means of transmitting bets between customers and betting houses are banned. The law has been amended in 1958, 1959, 1961, 1989, 1992 (twice), and 2006.
Twenty pages are covering the acts, and they are written clearly in English. Therefore, for any Malaysia, there should not be any troubles in comprehending it. If a person gets caught red-handed, they will be fined with an amount not exceeding five thousand ringgit or imprison for a maximum of six months or to both. The laws are even stricter for owning or establishing an online casino or evolution in the gambling industry.
Below are some subtracts of the Act which you can find:
Offenses relating to typical betting houses and betting information centers:
(1) Any person who—(a)being the owner or occupier, or having the use temporarily or otherwise, thereof, keeps or uses a place as a typical betting house or betting information center; or(b)permits a site of which he is the owner or occupier, or of which he has the use temporarily or otherwise, to be kept or used as a typical betting house or betting information center; or(c)has the care or management of, or in any manner assists in the government or in the business of, a place kept or used as a typical betting house or betting information center; or
*NOTE—The Telecommunications Act 1950 [Act 20] has since been repealed by the Communications and Multimedia Act 1998 [Act 588]–see s. 273 of Act 588.8
Laws of Malaysia 495(d)receives directly, or indirectly, any money or valuable thing, for or in respect of any bet or wager on any such event or contingency as is mentioned in this Act, in a typical betting house or betting information center; or(e)announces, exhibits or publishes, or causes to be announced, exhibited or published, either orally or employing any letter, circular, telegram, placard, handbill, card, print, writing, design, sign, advertisement or otherwise, that a place is opened, kept or used as a typical betting house or betting information center within or without Malaysia or any other manner invites or solicits any person to commit a breach of any provisions of this Act, shall be guilty of an offense and shall, on conviction, be liable to a fine of not less than twenty thousand ringgit and not more than two hundred thousand ringgit and shall also be punished with imprisonment for a term not exceeding five years.
(2) Any person who occupies or has the use temporarily of a place kept or used by another person as a common betting house or betting information center shall be presumed until the contrary is proved to have permitted such a place to be so kept or used.
Source: Betting Act 1953
The strict of the law only applied to those operating and owning betting operators. Therefore, Malaysia can still be able to gamble at trusted online casino sites.
Common Gaming Houses Act of 1953
Apart from the Betting Act 1953, Common Gaming Houses more emphasis on casino games. Any Malaysia who gets caught engaging illegally in gambling will be fined up to 5,000 ringgits and up to six months in prison. The Act defines gaming as:
"…the playing of any game of chance or mixed chance and skill for money or money's worth…"
As a Muslim country, Sharia Law has been introduced and regulated by more than 60%. As Muslims, they are not allowed to bet at any game regardless of the size or the seriousness of the games. The law is strict because the holy book of Muslims states that Gambling activity is satan work, and people committed to the religion must stay away from gambling.
Shakira law is only applied for Muslims; other races are not bound. Because many races live under one roof in Malaysia, there are still many debates among secular, religious, or both.
Where to Play Free Slots at Malaysia Online Casinos?
If you are new to online casino games, especially slots, you can try our free play slot on our website with graphics and soundtrack 100% match with the real money version.
Click on each game; you will see our detailed review for each game before deciding which casino to play.
Please give it a read so that you can choose the best one for you.
How to Choose the Best Online Casinos
Understanding choosing an online casino in a country where has complicated and religious regulations is demanding. The casinos that appear on the top of the list have qualified all the criteria for us. We give them very unbiased reviews, which we collect in writing checks and communicating with the partners. To make you completely understand the process, we have explained clearly why and how we list these casinos:
The first thing to be considered is the casino should accept players from Malaysia and have been in the industry for quite a while. This must be very important because some casino allows you to open an account to play; however, you need to submit the proof of residence and fail to meet the requirement for withdrawing.
The second element is the regulators: the best casino should be well-regulated by trusted organizations. They will be the middle-man to protect you and your rights. Stay close with those casinos licensed from UKGC, Malta Gambling Authority, and some other more.
Game selection is followed to be the next criteria, likely; you will always prompt to search for online casinos have game slot online for Malaysians or some variants of table games. Our list of casinos will help you with that. Feel free to play at our demo version and read experts carefully and filter to select your favorite provider.
Customer support is also an essential factor to consider. They should meet our requirements:
Fast
Reliable
24/7 available
Various contact methods.
Deposits and Withdrawals at Malaysia Casino Sites
Malaysia is a developed country. Therefore the number of e-wallets has upsurged in the industry. This has allowed the online casino operators to ease the issue with bank cards and has prioritized e-wallet to be the main method in this country.
The most widely used e-wallets are skrill and Netteler, with many advantages, such as Fast, reliable, secure, and anonymous. They do not reveal your information, and there is no tricky verification process.
If you do mind the time-consuming process of Visa and Mastercards, you can enjoy using them with the highest stage of security.
However, we recommend reading the terms and conditions relating to the bonuses and promotions or the general withdrawal policies to make sure there is a mistake being made.
Here is the list of trusted banking methods that can use at an online casino in Malaysia. Please check the bitcoin payment; they are also absorbing to use.