New Live Table Games In Pennsylvania Online Casinos 
New Live Table Games In Pennsylvania Online Casinos 
Last updated Thursday, 14/01/2021 04:10 by Anatoly Abram
Table Of Content:

Live dealer casino games are table games, including Roulette, Baccarat and Blackjack that are streamed directly from the casino for gamblers. Since there is a cost associated with live dealer games, not all casinos offer this type of online play. However, you can refer to our most recommended online casino sites to find out a good one offering this type of casino game.
It should be noted that live table games are not the same as in online games. The biggest difference is the way the game's outcome is determined. In a typical online game, events are determined by a random number generator, meaning each event is independent. In live dealer games, events happen just like in a casino.
Why do Live Casinos Attract so Many Gamblers?
Live casinos have gained popularity because they offer so many opportunities for players to take advantage of.
One of the biggest advantages is that gamblers can enjoy their favorite table game in real-time with a real dealer. This feature allows players to witness gameplay in a realistic setting like land-based casinos. Players can observe the dealer's action and watch the game with ease.
Another benefit is that gamblers can enjoy the most popular table games anywhere, anytime. This way, gamblers will save time and travel costs.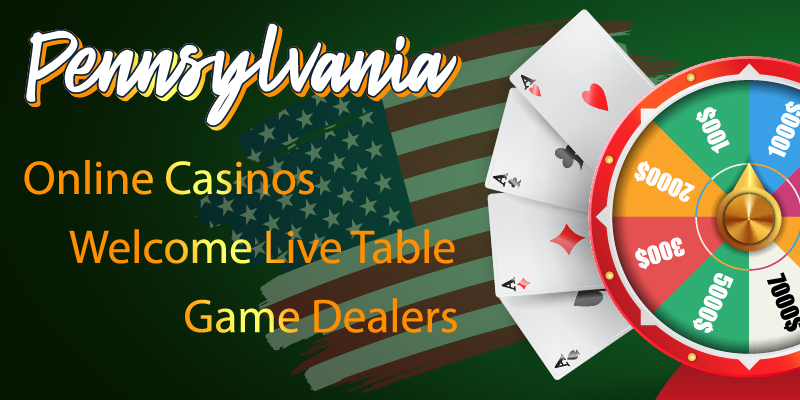 While at land-based casinos, gamblers have to wait for an empty seat to play, with the live casino, they can start playing right away. Since software companies tend to offer a large number of table games with many different servers, gamblers can always start playing live roulette wheel, blackjack, poker, or other casino games that you love.
The other great thing about live dealer games is that most software developers always make sure that any gambler can enjoy the same top-notch gaming experience. This is why players can find variations of roulette, blackjack, baccarat, and poker that offer different betting limits.
The above are just some of the benefits that Live Dealer Casino Games bring to you. Surely the more you learn about the game, the more you will find many other benefits.
New Live Table Game Dealers in Pennsylvania Casinos
Pennsylvania's two online casinos, BetRivers and DraftKings, had a two-day trial with live table game dealers on their interactive platform.
From October 21 to 22, 2020, the Pennsylvania Gaming Control Commission (PGCB) approved BetRivers and DraftKings to operate online dealer games for blackjack and roulette. After testing, the state game governing body will decide on whether to permanently approve the dealership of the live table game.
Rush Street Gaming owns and operates Rivers Philadelphia and Rivers Pittsburgh. BetRivers is the company's interactive casino and sportsbook. DraftKings is licensed to conduct online casino gambling through a partnership with Penn National Gaming's Hollywood Casino outside of Harrisburg.
Rush Street and DraftKings both use the business-to-business, Evolution Gaming business, for their online casino activities in Pennsylvania.
Many gamblers prefer to choose a live dealer because these games have a higher level of transparency in the results.
BetRivers and DraftKings live blackjack and roulette dealers are now streaming from Evolution Gaming studio in Philadelphia.
Online table games have been available in nearby New Jersey for many years. In August 2018, Evolution Gaming launched the game live from Hard Rock Atlantic City. In 2019, Evolution Gaming received approval from New Jersey's Game Enforcement Division to more than double its studio space.
Although Evolution studio wanted to stream its live games from one location to multiple iGaming states, the US Wire Act disturbed the legality of that.
The Justice Department's Office of Legal Counsel issued its amendment in the fall of 2018. That opinion states that federal law prohibiting the transmission of bets or bets between states applies to all forms of gambling.
Although internet casinos are strictly regulated as traditional activities, some players have yet to accept relying on a random number generator to reveal whether to bet the game on a goal. often lose.
PGCB Communications Manager Doug Harbach explained that the testing and tuning of live dealer studio games are similar to other online casino games from a technology standpoint. Except for no cash or game chips and no gamblers present.
The PGCB representative also said that the state had to license studio staff to run the games and that the studio had to be surveyed in a way similar to a traditional casino.
To provide a realistic experience to gamblers, online game dealers on the online table will be required to wear masks during the Covid-19 pandemic.
Pennsylvania's online casinos were doing well during the Covid-19 period and helped reduce some of the total lost land gaming revenue.
Published: 14 January 2021 04:10