What is Single Deck Blackjack and Multi-Deck Blackjack?
What is Single Deck Blackjack and Multi-Deck Blackjack?
Last updated Tuesday, 08/12/2020 07:47 by Yendrembaam Heroojit
Table Of Content:

Gamblers who are new to the blackjack games may have noticed that some blackjack games are played with one deck of cards while others are played with 2, 4, 6, or sometimes 8 decks. So what is the difference between a single deck and a multi-deck Blackjack? If you have not had an idea of what blackjack is and how to play it, you can refer to the basic blackjack guide first.
Single deck blackjack is often considered the "holy grail" because it gives bettors the best chance of making a profit. The house edge in this deck is only 0.15%.
In recent years, online and offline casinos have turned to more deck games to make it harder for players to count cards. Through that, gamblers are not only more challenging to measure cards when using multiple decks, but using multiple decks also increases the house's advantage a bit.
However, don't be fooled into thinking that playing a deck of cards gives you higher odds. Many casinos offer a 6:5 payout for single deck blackjack, while multi-deck offers a 3:2.
If you bet $10 and play blackjack in a 3:2 payout game, the players will leave with $15. In contrast, gamblers are getting only $12 for a one-card game with a 6:5 payout. The house edge slightly increased is not worth reducing the blackjack bonus the dealer offers for the single deck game. Hence, unless gamblers can find a casino that provides a 3:2 payout for a single deck blackjack, then it is a wise decision to join multiple games on the deck.
The casino also often deviates the unfavorable rule for single and multi-deck games to give the dealer an edge. These variations may include asking the dealer to hit the soft spot 17, not allowing the gamblers to double their points after dealing, not allowing aces, and other variations.
The card counter tried to use strategy even when using multiple decks, although it required more computation, and the risk of losing the correct count was higher. The casinos have developed an arsenal of tactical weapons to break the counters, who try to count multiple decks of cards. Many people have decided to use a continuous card mixer to mix the cards into the shoes with all hands.
In this case, you might think finding a set of blackjack cards is the greatest thing ever. However, in practice, there are also some disadvantages to this subject. This article will give some comparisons as well the pros and cons of single blackjack and multi-deck blackjack that you can learn more about.
What Is Single Deck Blackjack?
Blackjack is one of the most played casino games of all time, as it requires not only luck but also skill and knowledge. Many casinos still offer single-deck Blackjack games that may have some restrictions or certain adjustments. However, the main rules of the game cannot be changed, and gamblers need to get used to managing and preparing themselves in advance.
When playing a deck of cards, gamblers are allowed to deal a hand up to three times. Besides, the dealer always hits soft 17 in favor of the casino. Another specification is that no redistribution is allowed when it comes to Aces. They can only be split. Before each session starts, the deck may be shuffled.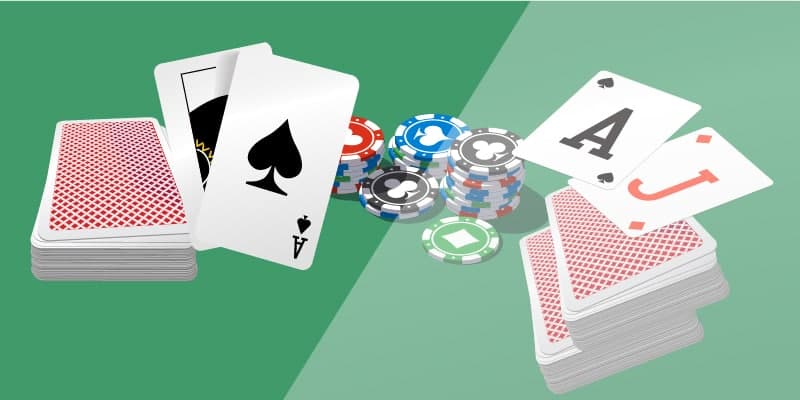 The single deck blackjack card counting system is hugely beneficial for players. Even if a particular method is designed for a single deck, it can always be applied to multiple decks and vice versa because the number of high and low cards will always be the same. So it's not a hindrance to using a specific card counting system.
As long as players are wary of tables offering high unfavorable rules, single-deck Blackjack is still one of the best variations. It can be especially beneficial for card counters because one deck of cards makes the whole counting process extremely simple and more comfortable to perform. Although this version gives players a better advantage over the casino, gamblers need to remember that the card counting system has chosen beside the basic strategy of going back and forth to take advantage of it. Overall, playing Blackjack with a single deck of cards can be very profitable, provided players know what they need to win.
Advantage
One of the most significant advantages of Blackjack on a deck of cards is that the house edge is only approximately 0.15% - the lowest advantage the casino can have. This is why single decks are considered beneficial for gamblers, as long as they apply the basic strategy and card count correctly.
When there is only one deck in the game, bettors can draw the correct conclusions from the cards already dealt with the upcoming cards, which is difficult to do if the game is played with multi-decks. Blackjack is a deck of cards that provides a valuable opportunity to successfully use your chosen strategy and manage to gain an edge over the casino.
Disadvantage
One of the significant downsides is that it's tough to find the casino that offers it. This variation game is hugely beneficial for the card counters, and not many places are reluctant to provide it. However, if lucky gamblers find Blackjack a deck of cards, don't rush to sit at the table. Always check the rules first, as many casinos tend to change them to increase the house edge.
Sometimes, gamblers will get worse and lose more, even though the game is played with only one deck of cards because the rules of the game are severely changed.
What Is Multi-Deck Blackjack?
Many casinos started using multiple decks in Blackjack to prevent the decks from taking advantage and increase the chances of house edge winning. The number of decks involved plays an important role not only for bettors but also for casinos.
Depending on the deck category, the house advantage differs. This is why it is difficult to find a table with a single deck of cards. If this is the case, the rules will likely be changed in favor of the casino. The advantages of the house edge for each deck type are as follows:
Two decks - 0.35%
Four decks - 0.61%
Six decks - 0.58%
Eight decks - 0.61%
One of the card counter adjustments to form to their chosen system, counting on the number of decks involved, is to settle on the acceptable starting amount. It can be set individually since there is no standard number used for each system. The player should choose a number that is not close to 0 to avoid making the math complicated.
Also, gamblers should place rich points or, in other words, when the deck supports them so they can take advantage by placing a higher bet, away from the four numbers they have chosen.
For example, if six decks of cards are involved, the starting number of bettors could be 26, and the richness score is 30.
Note that the higher the number of decks used, the more players need to wait until this point is reached.
Advantage
At some casinos (especially Online Casinos), multi-deck Blackjack games offer better rule variations than single-deck games, like doubles on any two cards than single-deck games. The number of doubles is limited to 10 or 11. The surrendering players can also be offered on multi-decks.
If gamblers are playing online, they won't know when the decks are shuffled, so the number of decks being used matters. Bettors can't count cards or track shuffles, so play where the odds are best.
Players will likely see some small opportunities to improve the odds in Live Dealer blackjack games, but they can be 8-deck shoes in which the cards are placed in 4 decks, meaning real players get half the shoe. The multi-deck blackjack game is fine, but counting is probably useless.
Disadvantage
Counting more decks is more challenging than keeping track of 52 cards. Practice and discipline are critical, and using advanced counting is optimal. The Aces and Matches will not be very successful on a deck of six or eight cards, and there are so many cards in a big shoe. The number can be either positive or negative for many hands.
There are some small considerations for bank accounts regarding multi-deck blackjack. If gamblers bet more actively on the game, sometimes the count goes up to take advantage of the rapid changes in quantity with slower stakes increases, being more methodical when totals go above six or eight decks. Players will have more volatility.
How to Play Blackjack for Real Money?
Nowadays, blackjack fans will benefit from being able to enjoy their favorite game on desktop and mobile as there are now hundreds of hundreds of online casinos where other variations are available. Blackjack's each other is always within reach of gamblers. If you are considering playing online Blackjack, you should take into account the following criteria when choosing an online casino:
Bonus
One of the easiest ways to increase profits when playing online blackjack is to participate in promotions and receive bonuses from the welcome packages that all newcomers are awarded upon signing up for a real money account.
Protect
Security is an important aspect to consider when playing online, as, after all, players are not only risking their money but also their personal and financial information. The first thing to check is the casino's license and regulator.
Varied Games
Choose an online casino that offers a wide variety of blackjack variations, preferably by a number of software developers.
Payment Methods
Most notably is the choice of online casinos that provide safe and reliable payment methods. Ensure that you understand the deposit and withdrawal process from the payment conditions offered by the casino. If you are unsure about anything, do not hesitate to ask customer support. This will also allow you to see how responsive and professional their customer support is.
Here are some suggestions of the best licensed and regulated online casinos where you can play Blackjack games for real money:
Jackpot City;
888Casino;
PartyCasino;
Betway Casino;
King Billy.
How to Play Blackjack for Free
Whether you play Single deck blackjack or multi-deck Blackjack, it is essential to play for free before depositing with real money. Playing for free will help you practice and learn the rules before playing real money blackjack safely. Both free blackjack games and real money games have value, but they give you different benefits and experiences. Here are the benefits of Free Blackjack include:
The best way to learn the rules of every variation of blackjack;
There is no risk of losing money;
Try new strategies;
Learn new blackjack variations;
No stress.
The Strategy of Single Deck Blackjack
Here are the basic rules and strategies you can apply in a single deck blackjack:
Never accepted insurance or money. House edge's return on insurance is 5.9%, based on a deck;
If there are no rows to divide fives and tens, look up the problem as a difficult sum of 10 or 20.
If it cannot be divided because of the redemption limit, treat the cards as a difficult sum, except for an Ace. In the improbable event, the player has a trump pair that cannot be re-divided and is allowed to draw to split the trump, then double it by 5 or 6, otherwise play.
The Strategy of Multi-Deck Blackjack
After players have outlined their strategies and believe in themselves, it is essential to keep an eye on the amount played. One of the most valuable pieces of advice is never to play with money that you cannot afford to lose. While playing, do not make any sudden adjustments to the strategy based on the last hand. Allow the method to prove its worth. Otherwise, make small adjustments based on many different blackjack hands.
Here are some essential strategy tips that can be helpful when playing Multi-deck blackjack:
Players should always check an ace and 8;
Do not sit for 5s and 10s;
Double 10 points unless against dealer 10 or A;
Double soft 15 or 16 with dealer 4 - 6;
Always hit hard 11 or below
Published: 08 December 2020 07:47