Top 10 Largest Land-based Casinos In The US
Top 10 Largest Land-based Casinos In The US
Last updated Thursday, 23/06/2022 10:48 by Yendrembaam Heroojit
Land-based casinos have gradually lost their natural edge, as the spread of the Internet has facilitated the rapid growth of online casinos in recent years. Even so, these establishments have preserved their own charm, with the most authentic gambling experience and exclusive perks that only these casinos have.
There is a common sense in the online gambling community, or at least those who have never been to a real casino, that Las Vegas is home to some of the most flashy and luxurious casinos in the world. It's not the case, though. The desert city may once have had a good reputation for gambling, but now the crown no longer belongs to it.
More specifically, the biggest casinos in the US (and some of the world) are not located within Las Vegas. More surprisingly, Nevada is home to none of America's top ten casinos. They are even located more than 1,000 miles away from this area.
In today's article, we will answer players' questions about the largest casinos in the United States. From there, the information will help you if you intend to refresh your gambling experience by going to a land-based casino in the US. If you don't intend to, well, you will also learn more interesting things about the world of gambling. So come on, let's get started.
WinStar World Casino & Resort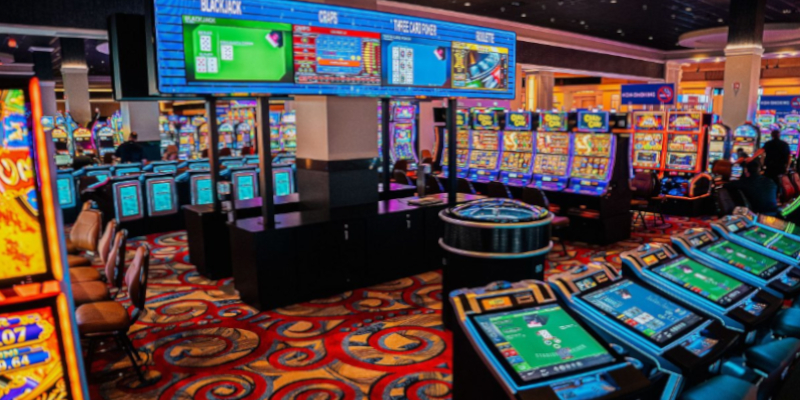 The name that starts on the list is not only the largest casino in the US but the fact that it is the largest casino in the world at the time of this writing, based on the Guinness record it has set since 2003. Located in Thackerville, Oklahoma City, this luxury casino also functions as a state-of-the-art resort.
This casino has a huge gaming space, covering up to 600,000 square feet. Its gambling offerings include over 8,000 casino games and various slot machines available. It also provides over 100 table games, 55 poker tables, 800 capacity bingo rooms, and a non-smoking poker room.
A prominent element of the casino is the four gaming plazas, which are decorated to reflect the atmospheres of New York, Paris, Beijing, and Rio de Janeiro. Among the additional attractions are a resort with roughly 1400 rooms and two 18-hole resorts, the WinStar Golf Academy, Cabanas, Shopping, nightclub, sports lounge, pool bar, spa, and a 3500-seater Global Event Center that hosts international performances.
Mohegan Sun in Uncasville, Connecticut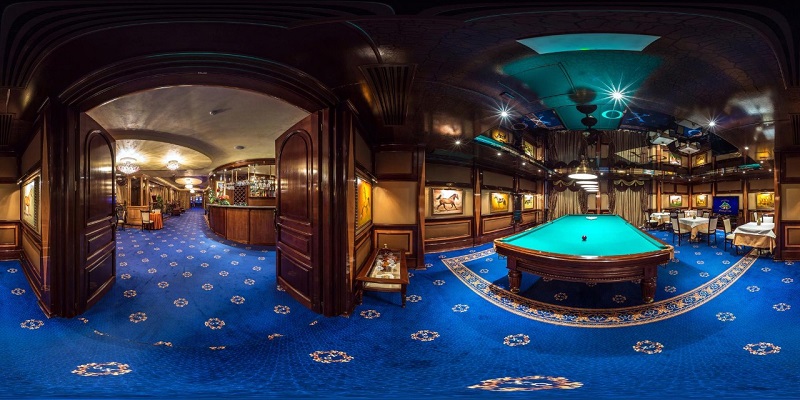 With an area of ​​over 366,000 square feet, Mohegan Sun is among the largest casinos in the world, and it ranks second in the US in terms of casino size. Founded in 1996 by the Mohegan family, this casino is sure to bring the most enjoyable gambling experiences to its players with visual luxury and quality services attached.
The Mohegan Sun is also famous for being home to two professional sports teams: the WNBA's Connecticut Sun and the National Lacrosse League's New England Black Wolves. This casino has approximately 6,500 slot machines, 370 table games, 45 restaurants, bars, and lounges, and a 130,000-square-foot retail mall.
The helipad at 'The Sun,' as it is fondly called, provides helicopter service to and from Manhattan. The Sun is the world's largest casino due to its ambiance, massive casinos, and gaming space.
Foxwoods Resort Casino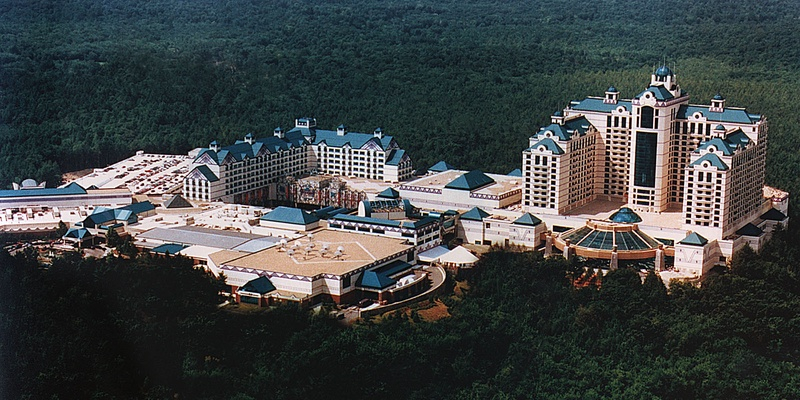 If you are looking forward to a vacation in the United States and don't mind its gambling service, then Foxwoods is the perfect option for you. While this casino also possesses excellent service quality, what makes it best known is its resort with its luxurious nightlife.
The Mashantucket Tribal Nation owns and operates Foxwoods Resort, which debuted in 1992. It is located in Mashantucket, Connecticut, and there are six distinct casinos inside this vast resort.
Foxwoods Resort Casino is the largest casino in North America and the third-largest casino in the world, with a wide landmass and extensive gaming and non-gaming amenities. This Native American casino, 140 miles northeast of New York City, has a massive interior space of 9 million square feet, of which 344,000 square feet are dedicated to gambling.
Foxwoods offers the largest casino resort in the world, featuring over 80 premium stores. Over 4,500 slot machines and 260 table games are available at Foxwoods Resort Casino, and you can also try your luck at games like Bingo, Keno, Slots, Poker, and so on. There's also a retail mall featuring upscale stores, a spa, golf, and entertaining activities such as bowling and zip-lining.
One of Foxwoods' most famous features is its 114-table poker area, which is the casino's third-largest poker room. Foxwoods Resort is the largest casino resort (larger than WinStar) and the fourth-largest outside of Las Vegas. Its 2,266 hotel rooms rank fourth in the United States, after only Disney's Pop Century Resort, Opryland, and Harrah's Atlantic City.
Thunder Valley Casino Resort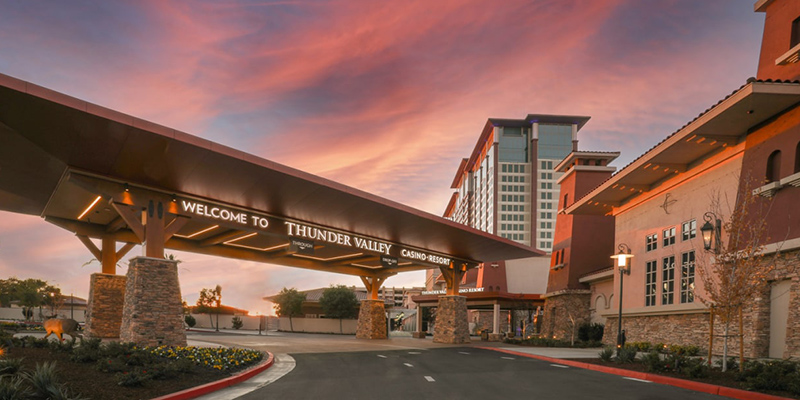 was founded in 2003 with the intention of replicating the feel of a Las Vegas casino. It is located in Lincoln, California, and offers roughly 250,000 square feet of gaming space as well as 42 acres of parking. In terms of gaming space, it is the fourth-largest casino in the United States. Thunder Valley is also the Auburn Indian Community's most notable Indian casino.
The casino includes 3,500 slot machines as well as 125 table games. It has Whitney Oaks Golf Club, an 18-hole golf course utilized for yearly events and competitions, which is common among the largest casinos in the United States. In 2010, it was rebuilt and expanded to include a luxury hotel and spa for its visitors and gamers.
However, that is not all that this casino has to offer, and you have countless other entertainment options when you visit this venue. Thunder Valley Casino offers bingo, high-limit gambling, and other games. Moreover, VIP amenities, such as concierge services and extra attention from casino hosts, are also available.
Whenever you get bored with gambling activities, relax with a massage, a facial, or a two-hour spa and fitness retreat at the resort's spa and fitness center. Thunder Valley is an excellent weekend getaway due to its low hotel rates, or you can rent it to organize your conferences or lavish parties at a competitive price.
Seminole Hard Rock Hotel & Casino
The Seminole Hard Rock Hotel & Casino is the largest casino in Florida and the sixth-largest in the United States. It is located in Tampa, Florida. The Seminole is named after the Florida Seminole Tribe and is owned and controlled by them. The casino is approximately 245,000 square feet in size and contains 5,000 slot machines, 179 table games, and 46 poker gaming tables.
Music is the breath and source of madness in this 2004 premiere venue. As you enter the property, you'll be immersed in music culture, with guitar-shaped buildings and music-themed hotel rooms. Music videos featuring an incredible waterfall are continually displayed on the televisions, while lyrics are scribbled on the walls to create an impressive atmosphere.
With a 13,000-square-foot gaming area dedicated to $1,000 per pull slot machine, this casino is, without a doubt, home to high-rollers. Besides, smoking is banned at Seminole casinos, and there is a 26,000-square-foot smoke-free section with tables and high-limit slot machines.
San Manuel Indian Bingo & Casino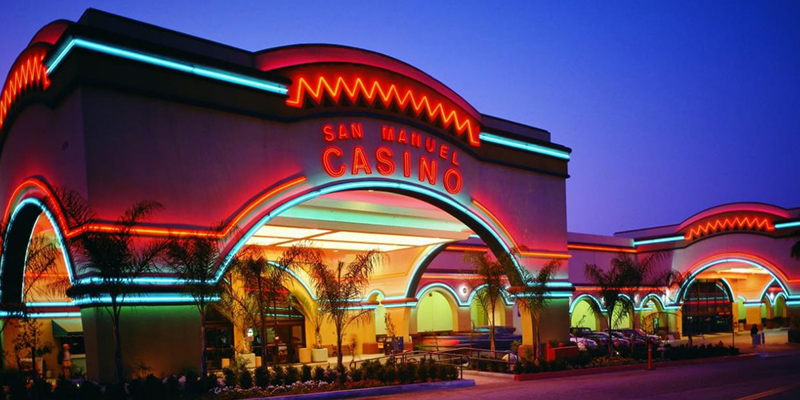 The San Manuel Indian Bingo and Casino separated itself from other casinos on our list of America's largest casinos. It was constructed in 1986 in Highland, California. With 222,000 square feet, it is America's sixth-largest casino. San Manuel is also the second-largest Indian-owned casino in the United States.
There are over 4900 casino games and slot machines, as well as over 100 table games. San Manuel is well known as one of the world's largest casinos.
The casino offers the world's biggest assortment of slot machines, with almost 600 different slot machines in its casinos. In addition, it boasts a Lotus 8 Palace, which has Asian-themed table games and slots like baccarat and Pai Gow.
Unlike the other notable casinos in its league, San Manuel Casino does not have a resort or hotel. However, that is not a big deal as it provides other alternatives like several low-cost chain hotels in the neighborhood, ranging from Days Inns to more upscale hotels.
Riverwind Casino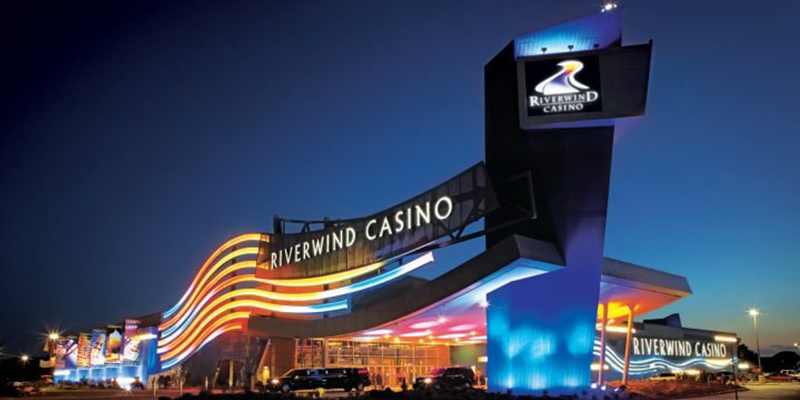 The next name on the list is the seventh-largest casino in the US. Established in 2006, this casino is located in Norman, Oklahoma, and is currently owned and operated by the Chickasaw Nation of Oklahoma.
This casino was located five miles from the prestigious University of Oklahoma. Its gambling services include 2,700 slot machines as well as 30 table games, including Three Card Poker, Baccarat, Card-Based Roulette, Mississippi Stud, and 17 poker tables. In addition, the facility also has a gaming area of ​​219,000 square feet.
Riverwind Casino, with its massive gaming space and great service, is one of the world's largest casinos. The casino, unlike other competitors, only has 100 rooms for customers to stay in. However, it has a significant off-track betting activity that is easily accessible and operates five days a week for players to entertain.
Choctaw Casino Resort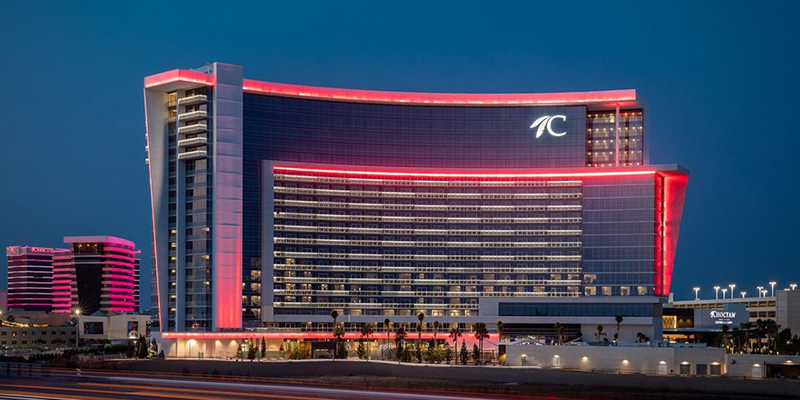 The Choctaw Casino Resort is the world's eighth-largest casino. It is a wonderful place for gamblers who love to explore, with over 218,000 square feet of gaming space. Opened in 2006, the casino offers 4,300 casino games and slot machines.
Although the precise number of table games is unknown, classic games like poker, off-track betting, craps, roulette, baccarat, and blackjack are all accessible. They will satisfy all the most complex entertainment needs of players from all over the world.
This casino and resort complex is located in Durant, Oklahoma. A world-class movie theater and a vibrant 20-lane bowling facility are also available. What's more, Choctaw Casino also includes a separate 26-table poker facility where the World Poker Tour is held each year.
Every year, over 300,000 people visit the Choctaw Casino and Resort, with over 70% of them traveling from Texas. Thus, Choctaw is widely regarded as one of the largest casinos in the Texas-Oklahoma area.
MGM Grand Hotel & Casino, Las Vegas, Nevada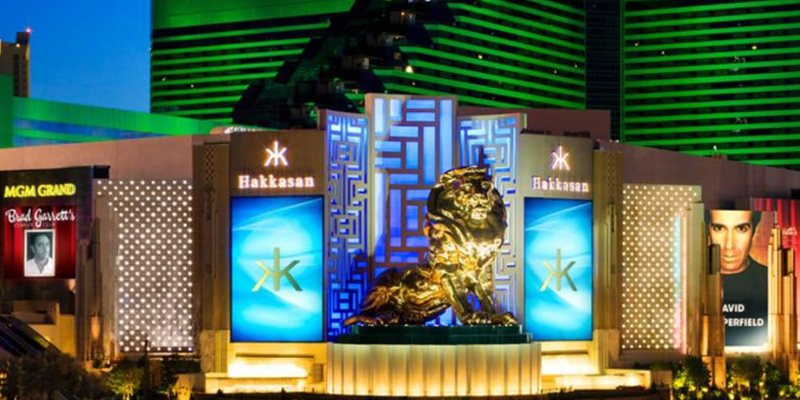 If you're considering visiting famous American casinos, MGM Grand Hotel & Casino is the most suitable and well-known venue. Located in the Strip and established in 1993, the destination provides one of the city's largest gaming floors at 171,500 square feet.
There are 150 table games and 2,500 slot machines, as well as a non-smoking poker room, lots of conference and exposition space, and exclusive high-roller lounges. Skylofts, a premium hotel at the top of this, has a secluded retreat buried between the clouds.
There are 6,852 available rooms for registration. Guests may enjoy a jacuzzi that fizzes with small champagne-like massage bubbles, VIP villas, 15 restaurants, two theaters, an arena, a pool complex, a spa, a nightclub, and 25 luxury retail shops.
Besides, some of the biggest stars in music, comedy, magic and other types of entertainment have performed at MGM Grand Hotel & Casino. That says something about the reputation as well as the attractiveness of this gambling establishment.
Encore Boston Harbor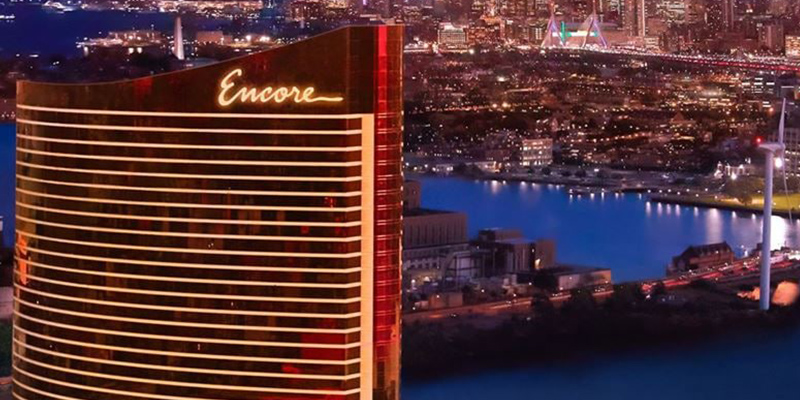 Encore Boston Harbor (previously known as Wynn Everett and Wynn Boston Harbor) debuts in 2019. It is one of the largest casinos in the country, with approximately 210,000 square feet of casino floor area. The Encore features two stories and a 40-foot ceiling with glass chandeliers that reach forty feet into the air on the main level. On the second floor, table games and high-limit rooms are accessible.
The Wynn Resorts complex comprises a five-star hotel with nearly 600 rooms, 2700 slot machines, 185 table games, and 74 poker tables. Wynn Rewards members may stay at the hotel and resort for reduced prices and anticipate the greatest bargains, but everyone will appreciate the five-star accommodations.
The 33-acre park is filled with art, including a $20 million statue of Popeye the Sailor, 13 restaurants, and a row of luxury retail shops. Encore Boston Harbor Resort provides it all, from relaxing spa treatments to exciting blackjack games.
Conclusion
Today's article has compiled the most basic information about the largest casinos in the United States. We hope they will be of help to you if you are planning to travel to the country and are looking for an enjoyable gambling experience at land-based establishments.
Published: 23 June 2022 10:48