Betting exchange allows customers to offer odds to, or request odds from, fellow bettors.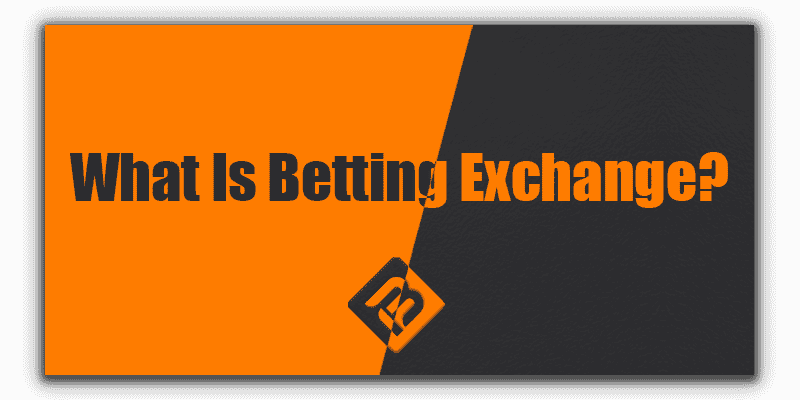 The world of gambling has taken a surprising turn towards providing bigger, better and more favorable opportunities for bettors almost everywhere. You have tons of fancy sportsbooks and betting exchanges now operating to serve one purpose – deliver the best possible gambling experience along with the opportunity to make real money.
With such a vast variety of online platforms available to choose from, it is integral to understand what a betting exchange is exactly!
What is a betting exchange?

A betting exchange is a gambling marketplace or online website which allows members to place their bets against each other. This differs from a sportsbook in one basic manner, which is, that in a sportsbook, bettors are placing their bets against the bookmaker.
However, in a betting exchange, people wager against each other on the results of sporting events and the betting exchange keeps a small portion of the winnings as commission in order to keep their operations running. Some of the most popular and first-ever betting exchanges to come into existence were Betfair and Flutter.com. Now, there are various more renowned ones such as Degens, Smarkets, BETDAQ, and Matchbook.
Key differences between betting exchange and sportsbooks
Variable Odds: With betting exchanges, there are no odds to start with. Customers can set their odds which guarantees that you will get great value odds. Bookmakers have specified and pre-decided odds which they offer to all their customers, whether these odds are favorable or not. With unfavorable odds, the winnings go to bookmakers, but this is avoided in betting exchanges.
In betting exchanges, if you do not like the odds which are being offered, you can make up your odds and find someone to take you up on your offer and bet against you. This gives you an upper hand as you possess the power to play the odds which is impossible at bookmaker websites.
Back and lay bets: Betting exchanges have an added option in which you can make lay bets along with your backing bets. Now, instead of placing your bets on the winning team or player, you can lay selections, which means that you can place your bets on the losing team or player as well.
Now you may wonder, what exactly is the benefit of lay bets? With lay bets, you instantly minimize your losses or enhance your profits, which is a win-win for you in either case. For example, in a horse racing match, you have chosen 3 players who could win, and you place bets on their winning outcomes.
Now, it is obvious that one of them will lose, but with betting exchanges, you can place lay bets on the other ones you think may lose. This way, even if your selective backed players may not win, you will still acquire profits from your lay bets.
This feature is only available on betting exchanges and you can not place lay bets on any sportsbook all over the world. This puts gives betting exchanges a more preferable reputation in the gambling market.
Winner or loser – it's commission-based!
The thing with sportsbooks is, that these bookmakers revolve around a money-making model and they aim to make money from the bettors. So, in a sportsbook bet, you lose all your money to a bookmaker and that is exactly what they want.
However, in a betting exchange bet, people bet against each other. This ensures that there will be a winner and a loser at all times and with each bet, the betting exchange makes their fixed commission. So, here, there is no money-hoarding scheme set by the betting exchange sites as they only have a fixed commission rate and that is it – they do not fully loot you and they do not care whether you lose or win as long as they get their commission.
A fair experience: Betting on bookmaker sites is like playing against the computer at fixed odds where the computer is just trying to beat you to make money off of you. The pre-set odds already throw you off and restrict your chances of winning in the first place.
But, in a betting exchange, it is a fair game as you are betting against normal, regular players just like yourself and each of the sides has an equal chance of winning. The bookies use technical, complicated algorithms to beat you, but this is not the case with a betting exchange as they only care about their fixed commission and the rest of the bet is between you and the other members.
Trading the market: It is easier to think of betting exchanges as stock exchange markets. Just like you buy and sell shares at the stock market, similarly, you back and lay the outcomes of any sporting event on betting exchanges. There are comprehensive graphs that guide you regarding market trends and if at any point during a game you feel like your backing bet is not going to make it, then you lay the outcome and trade out of the market.
This is excellent in making guaranteed profits and cutting your losses. It is known as smart betting and requires basic betting common sense instead of thorough sports knowledge.
With bookmakers, you certainly do not have the opportunity to cash out so easily or place lay bets and still make some profit as bookies have their fixed built-in margins.
Disadvantages of betting exchanges
Considering the unbeatable advantages of using betting exchanges now, it is only sensible to also take a quick look at their disadvantages to achieve a better idea. The greatest news is, that the drawbacks of betting exchanges are so minor that they would hardly ever bother you.
Unmatched bets: As you create your odds and set your bets, it is not always necessary that you will be able to easily find someone willing to play on those odds with you. So, this could pose a small problem that requires you to be able to find someone willing to play your bet. For example, if you want to place a £10 bet on a tennis player to win at 10/1 from which you make a profit of £100, you need another player who is willing to risk £100 to at 1/10 to win £10.
However, it is quite a minor inconvenience and usually, members almost always find their competitors as the gambling marketplace is quite vast and full of enthusiastic bettors from all over the world.
Lack of bonus offers and promotions: Bookmakers have always been famous for attracting their audience by setting up exciting bonus offers and promotions on their sites. They offer some highly interesting welcome bonuses and boosted odds to their customers to pull them towards their sites.
This really draws a lot of attention because let's be real! Who does not like bonuses and promotional benefits at gambling sites? This is truly one factor that betting exchanges are lacking as they do not offer exceptional promotions to their members as bookies do.
Which sportsbooks have Betting Exchanges?
Since betting exchanges have earned quite a bit of name for themselves, it is no shock that there are so many competitive ones in the industry which offer a diverse variety to select from. So far, the best betting exchanges which offer sports are:
Betfair: This company has been one of the father figures of all betting exchanges and they have been the controlling power for as long as we can remember. At Betfair.com, there is a great range of sports betting options to choose from.
Betdaq or Ladbrokes: These two are exactly the same company as one bought out the other one. In recent years, they have both worked their way up and built quite a competitive image in the industry.
Matchbook: Matchbook has also been around for 15 years and has become a hot betting exchange website with remarkably low commission rates. It is one of the most trusted companies in all of Europe. It offers all popular markets and is quite easy to use.
Smarkets:Smarkets.com live up to their name and have smartly taken the industry by storm. They recognize and attack the weaknesses of other betting exchanges by converting others' flaws into their own strengths. They take 2% commission only compared to Betfair's 5%, which sets the former at a stronger advantage.
Conclusion
Betting exchanges have acquired immense popularity amongst punters who are frequent gamblers and enjoy pure, raw and favorable betting. According to statistics presented by the UK Government, one-fifth of the gross gambling yield in the country came from betting exchanges. Hence, it goes to show how great of an impact betting exchanges have in the gambling industry. With the advancement of technology, betting exchange mobile applications have also been introduced which have enabled people to take their passion for gambling on the go with them as these apps make the betting exchanges even more easily accessible. The future of the gambling industry is deeply intertwined with the successful growth and expansion of more betting exchanges.